"The climate crisis is madness" - Naderev Yeb Sa
ñ
o.


April 22 2015:

Earth Day announcement.

F

ormer Philippines climate envoy announces he is stepping down from the Philippine Climate Commission to work on sustainable future with faith groups

"

Why I'm leaving diplomacy to fight climate change

.
The climate change challenge will make the world a better place. Simply because it is our only option
."
link

_____________________________________________________________



Below:
Fast for the Climate

1,000 km walk for the climate

Warsaw speech

The People's Pilgrimage - Rome to Paris 2015



Throughout 2015, Yeb
Saño
will be t
raveling across the world (by low-carbon means) to places at the heart of the climate crisis, to sites at risk, and to visit communities who are fighting back.
More here

Yeb Saño:
"Climate change is the biggest problem we face as a human family"
–
Guardian
Unlikely climate justice star.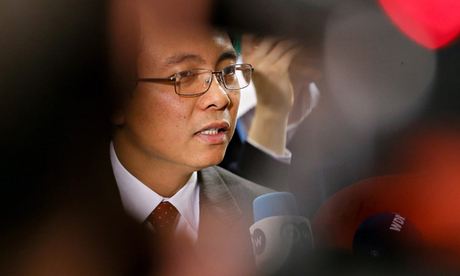 "

Climate change is
an emergency for us. We don't care
much about what history should dictate, but the present. Those countries that have achieved a certain level of wealth have a responsibility. But the notion of sovereign states is problematic. You cannot compare one country with another. This is not just about the environment, but climate justice

."
link
With a working group on five continents, a growing movement of youth, environmentalist and people of faith are showing their strength of commitment by going without food once a month to call for world leaders to do more to solve he climate crisis. Show your support by signing up to join them. There are prominent world citizens leading this action, and world organizations giving support. Specifically, the international call to action involves demanding all countries to finalize a fair, ambitious, meaningful, and equitable global agreement on climate change by 2015. Click here to sign up and join.
"The climate battle will not be won or lost at the international level:
it will be won or lost at the grassroots level."
Yeb Saño
1,000 km "Walk for the Climate"
On October 2, 2014, the International Day of Non-Violence, Yeb Saño joined a group of environmental advocates and set out from Kilometer Zero in Luneta Park, Manila, embarking on a 40-day 1,000 kilometer journey that took them to Super Typhoon Haiyan's Ground Zero in Tacloban City on November 8, the first anniversary of typhoon Haiyan, the strongest storm ever to make landfall and recently calculated to have caused over 18,000 deaths. (See also my blog page on that walk - link)
As the climate crisis is upon us, and already, millions of people have lost lives, homes and their livelihoods as a result of climate change, on October 2 2014, International Day of Non-Violence, Yeb Sano began a 40-day march from Manila to ground zero where typhoon Haiyan caused massive devastation in 2013. A pilgrimage to sacred places reminds us of our true home. The walk from Manila (Kilometer Zero) to Ground Zero (Tacloban) can be likened to a pilgrimage to a sacred place, with the disasters wrought on these communities revealing the sacred in them in much the same manner as those who suffered from those disasters or even those who witnessed their suffering with empathy are revealed as pilgrims in search of the sacred.
Why walk? Historically, non-violent action – long walks in particular – have served as critical catalysts for mobilizing mass movements of people in the name of peace, justice, equality, abolition of slavery, people empowerment and social-political reform. Walks such as that in 1930, the 240-mile Salt March led by Mahatma Gandhi, was a significant milestone in India's struggle for independence, In1965, Dr. Martin Luther King Jr. led the five-day march for voting rights from Selma to Montgomery.
Mission. The ultimate goal of the Walk for the Climate is to inspire people around the world and encourage world leaders to take urgent ambitious action to confront the climate crisis, highlighting the impacts of climate change on vulnerable countries like the Philippines. Specifically, the walk is intended to drive momentum for grassroots social action that would strengthen global public opinion on climate change and provide the push for countries to finalize a fair, equitable, ambitious, and durable new climate agreement in 2015 in Paris.
During his speech at the COP 19 talks in Warsaw, Yeb Saño added an unscripted pledge to fast during the conference, until meaningful progress had been made. He said:
"In solidarity with my countrymen who are struggling to find food back home and with my brother who has not had food for the last three days, in all due respect Mr. President, and I mean no disrespect for your kind hospitality, I will now commence a voluntary fasting for the climate. This means I will voluntarily refrain from eating food during this COP until a meaningful outcome is in sight." video
Other extracts from his speech: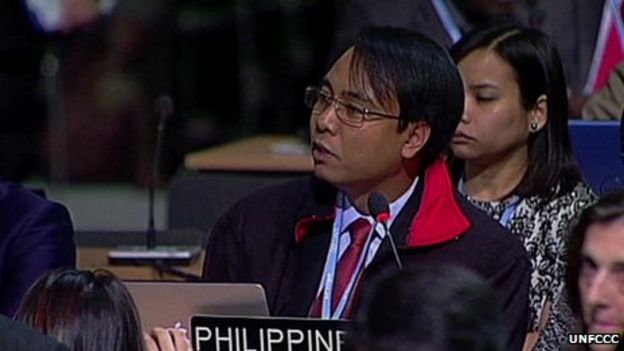 I thank the youth present here and the billions of young people around the world who stand steadfast behind my delegation and who are watching us shape their future. I thank civil society, both who are working on the ground as we race against time in the hardest hit areas, and those who are here in Warsaw prodding us to have a sense of urgency and ambition. We are deeply moved by this manifestation of human solidarity. This outpouring of support proves to us that as a human race, we can unite; that as a species, we care.
It was barely 11 months ago in Doha when my delegation appealed to the world… to open our eyes to the stark reality that we face… as then we confronted a catastrophic storm that resulted in the costliest disaster in Philippine history. Less than a year hence, we cannot imagine that a disaster much bigger would come. With an apparent cruel twist of fate, my country is being tested by this hellstorm called Super Typhoon Haiyan, which has been described by experts as the strongest typhoon that has ever made landfall in the course of recorded human history
.
To anyone who continues to deny the reality that is climate change, I dare you to get off your ivory tower and away from the comfort of your armchair. I dare you to go to the islands of the Pacific, the islands of the Caribbean and the islands of the Indian ocean and see the impacts of rising sea levels; to the mountainous regions of the Himalayas and the Andes to see communities confronting glacial floods, to the Arctic where communities grapple with the fast dwindling polar ice caps, to the large deltas of the Mekong, the Ganges, the Amazon, and the Nile where lives and livelihoods are drowned, to the hills of Central America that confronts similar monstrous hurricanes, to the vast savannas of Africa where climate change has likewise become a matter of life and death as food and water becomes scarce. Not to forget the massive hurricanes in the Gulf of Mexico and the eastern seaboard of North America. And if that is not enough, you may want to pay a visit to the Philippines right now.
The climate crisis is madness. It is the 19th COP, but we might as well stop counting, because my country refuses to accept that a COP30 or a COP40 will be needed to solve climate change.

We find ourselves at a critical juncture and the situation is such that even the most ambitious emissions reductions by developed countries, who should have been taking the lead in combatting climate change in the past 2 decades, will not be enough to avert the crisis. It is now too late, too late to talk about the world being able to rely on Annex I countries to solve the climate crisis.
We have entered a new era that demands global solidarity in order to fight climate change and ensure that pursuit of sustainable human development remains at the fore of the global community's efforts
.

This is why means of implementation for developing countries is ever more crucial.
We cannot sit and stay helpless staring at this international climate stalemate. It is now time to take action. We need an emergency climate pathway.
I speak for my delegation. But more than that, I speak for the countless people who will no longer be able to speak for themselves after perishing from the storm. I also speak for those who have been orphaned by this tragedy. I also speak for the people now racing against time to save survivors and alleviate the suffering of the people affected by the disaster.
We must stop calling events like these as natural disasters. It is not natural when people continue to struggle to eradicate poverty and pursue development and gets battered by the onslaught of a monster storm now considered as the strongest storm ever to hit land. It is not natural when science already tells us that global warming will induce more intense storms. It is not natural when the human species has already profoundly changed the climate.
Disasters are never natural. They are the intersection of factors other than physical. They are the accumulation of the constant breach of economic, social, and environmental thresholds. Most of the time disasters is a result of inequity and the poorest people of the world are at greatest risk because of their vulnerability and decades of maldevelopment, which I must assert is connected to the kind of pursuit of economic growth that dominates the world; the same kind of pursuit of so-called economic growth and unsustainable consumption that has altered the climate system.
To read the entire text of Yeb Saño's speech, link here