Rome to Paris pilgrimage - 2015

The People's Pilgrimage reached Paris November 28 2015

The People's Pilgrimage called for action on climate in 2015 ahead of the UN climate talks in Paris. Every step counts and we asked our Leaders to have the courage, imagination and generosity to work through difficulties and bring the world to a meaningful climate agreement which keeps global average temperatures below 2degreesC. .
The pilgrimage was set up by OurVoices and other groups from around the world, and across faiths. You can follow Yeb's journey on Twitter, Facebook, on the story-map, and on The People's Pilgrimage blog. Please share his story with your own networks, using the tag #PeoplesPilgrimage. (My blogs from the Pilgrimage - link)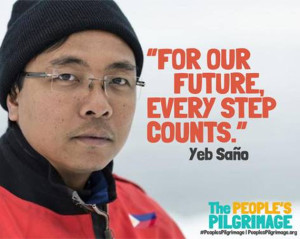 The People's Pilgrimage
These pilgrims are part of a worldwide movement of people of faith and goodwill, who are taking their own journeys, big and small, to visit the places at the heart of the climate crisis at risk or ​affected ​already,​ or showing the way forward - places of hope and resistance.​
These pilgrimages are a chance to reflect on our future. Our journeys, our stories are also the key to this crisis. Every step we take, every story we share, lifts up the human face of climate change. Bringing hope to those without it, or showing the reality to those that doubt it.
Every step counts.

A better future is possible. The technology for a clean world is here now, and the solutions to the climate crisis will unlock a prosperous, safer, more just world.

see also page on the Walk for Climate Justice in 2014




The walk leaves the St. Peter's Square at the Vatican in Rome on September 30 2015 and will be in Assisi on October 4 for the Feast of St Francis where each year the feast commemorates the life of St Francis, who was born in the 12th century and is the Catholic Church's patron saint of animals and the environment.

We reach northern Italy by November 5 after walking over 717 kilometers. After walking over the Alps walkers continue from Geneva in Switzerland into southern France, passing via Lyon, Taize and arrive in Paris after 60 days on November 28.

Bike for a Future: why ride a bicycle from
Vietnam to Paris?

For most of 2015 Simon Nelson and Nguyen Kim Ngan cycled through Asia and Europe to arrive in Paris before the COP-21 talks. Read their amazing story at Bike4afuture.com
Other pages:

Walk for the Climate (Philippines) link
Yeb Saño link
Return to Home Page