MOUNTAINTOP REMOVAL - MTR
What is Mountaintop Removal?
Mountaintop removal is just what the name suggests. Peaks are cleared of trees. Often hardwood trees are simply burned for convenience. Giant steam shovels then scrape away the topsoil. The rock beneath is blasted away until the coal is exposed. Some blasts have lopped as much as 800 feet off a mountain. Tons of rocks, debris and other waste are trucked away and dumped into valley areas. The overburden is often scraped into the adjacent drainage valleys in what is called a valley fill. Regulations dating from the Reagan administration, said that no surface mining may occur within 100 feet of a stream unless there'd be no harm to water quality or quantity. Data suggests that mountaintop mining accounts for 10% of America's coal output providing 5% of its electricity.
Mountaintop removal has become an increasingly contentious issue over the past several years, particularly in the southern United States. The U.S. Environmental Protection Agency (EPA) estimated that by the end of 2010, 1.4 million acres of Appalachian forests would have been disturbed or cleared by mountaintop removal, an area larger than Delaware.
_______________________________________________

Latest news:
Dec. 7 2016: Feds ban mountaintop mining in Tennessee. The federal government has banned mountaintop coal mining from more than 500 miles of ridges in East Tennessee's Cumberland Mountains, handing a victory to the state and to conservationists who have long sought to protect the region's forests and streams. The Department of Interior said it is designating nearly 75,000 acres of mountain ridges as unsuitable for surface mining, in essence barring a controversial form of mining known as mountaintop removal. link
_______________________________________________
Below:
EPA action
Government oversight
Around Appalachia
July 2014: Court sides with EPA on science-based MTR permitting. In a major victory for Appalachia and clean water advocates, a federal appeals court has reaffirmed the U.S. Environmental Protection Agency's authority to coordinate with the U.S. Army Corps of Engineers when reviewing Clean Water Act permits for mountaintop removal mines. link
(March 2014) EPA victory. The U.S. Supreme Court declines to take up the continued efforts by Arch Coal lawyers to overturn a federal government veto of the permit for one of the largest mountaintop removal coal mines in West Virginia history. The move is a victory for the U.S. EPA and for coalfield residents who continue to oppose mountaintop removal. link
July 2011: EPA issues final mountaintop mining guidance. U.S. EPA Administrator Lisa Jackson has said that "no or very few valley fills" would be approved under new guidance that EPA regional offices will now impose on state regulators for permits under the federal Clean Water Act. The announcement pleases environmentalists, but criticized by industry. link
Spruce Mine in West Virginia - a test case on EPA authority.


March 2012: Largest MTR project allowed. A federal judge has reversed a decision by the EPA to revoke a critical permit for one of the nation's largest mountaintop removal mining projects. Judge Berman said that the E.P.A.'s unilateral decision in January 2011 to rescind the waste disposal permit for the Spruce No. 1 mine in Logan County, West Virginia, exceeded the agency's authority and violated federal law. She declared that the permit was now valid, paving the way for a mining project covering 2,278 acres to go forward. In 2007 the E.P.A. said that mining would have done unacceptable damage to rivers, wildlife and communities. link (Note - judgement reversed - see latest news)

January 2011:

Veto on West Virginia Spruce mine project.

The Obama administration vetoes one of the biggest coal projects in the US in a historic decision against mountaintop removal practices. The agency said it was the first time it has revoked a previously issued permit in 40 years, but the action was warranted because the environmental damage was truly unacceptable. link

April 2010: EPA raises the bar for mountaintop mining. The Obama administration effectively called time today on one of the most destructive industries in America, proposing new environmental guidelines for mountaintop mining removal. The move was seen as a bold action from the White House, which has in the past disappointed environmental organizations for failing to move more aggressively on pollution and climate change. In a conference call with journalists officials spelled out guidelines that they acknowledged would make it virtually impossible for mining companies in Appalachia to carry on with business as usual. link
April 2010: Putting EPA's decision in perspective - Matt Wasson, Director of Programs for Appalachian Voices, writes - To the extent that some in the media overstated the impact of the EPA's new guidance, they can be forgiven. During the press conference, Jackson said, "You're talking about no or very few valley fills that are going to meet standards like this." The EPA's move is a big first step that provides immediate protection to Appalachian families threatened with new mountaintop removal permits above their homes. It's a tourniquet that will stop the hemorrhaging, but here are five reasons why this guidance doesn't immediately or permanently put an end to mountaintop removal . . . more
April 2010: Interior Department moving to curb coal mining pollution. The Interior Department is writing new regulations for mountaintop-removal coal mining that would expand protection for waterways and require the restoration of dynamited areas. Also states' rights to set their own standards for granting exemptions would be revoked, and a federal definition for "material damage" to watersheds would be established. link
National campaign to end Mountaintop Removal coal mining kicks off.



June 2009:

14 people were arrested in Coal River, WV for protesting mountain top removal coal mining at an elementary school only a few hundred yards from a recently erected toxic coal sludge impoundment. Those arrested included retired coal miner and former Congressman Ken Hechler, NASA climate scientist James Hansen, Goldman Environmental Prize Winner Judy Bonds, and actress Daryl Hannah. Bonds was actually assaulted by a Massey Coal employee, who was in turn arrested. Sierra Club




Past background by the Bush & Obama administrations.

During the Bush Administration, EPA never opposed or challenged a permit, despite the fact that they clearly violated laws on the books to protect clean water and public health. Apparently, those days are over. A dramatic announcement by EPA that every single one of the 79 pending permits violates the Clean Water Act is a condemnation of the quality of permits being churned out during the Bush Administration and is a testament to the Obama Administration's sincere commitment to science, transparency, and enforcing environmental safeguards. The Army Corps now has 60 days to revise the permits and address EPA's concerns. link


February 2014: Court throws out Bush administration rule on MTR. The Washington DC federal district court threw out President GW Bush's rule, which repealed the 1983 requirement that coal companies must leave a 100-foot buffer between mining operations and waterways. Repealing the long-standing rule allowed coal miners to dump the enormous amounts of debris from mountaintop mining directly into streams and rivers in Appalachia. When the Obama Administration took over, the Department of Interior went to court to re-instate the 1983 rule, but was unsuccessful. But because it didn't consider the impacts on endangered species, last week the court declared the rule invalid. And the court re-instated the 1983 law that requires buffers between mining operations and waterways. However, advocates in the House of Representatives say they plan to vote on HR 2824, which would not only revive the rules, but would apply them in every state. link

October 2008: In the waning days of the Bush administration, the Interior Department's Office of Surface Mining issued a final environmental analysis that would ease restrictions on dumping mountaintop mining waste near rivers and streams, modifying protections that have been in place, though often circumvented, for a quarter-century. The proposed rule change had been under consideration for four years and was a priority of the surface mining industry. The rule change essentially would eliminate the buffer by allowing the government to grant waivers so that mining companies can dump the rubble from mountaintops into valleys, burying streams. read

April 2009: The Obama administration's reversal of that last-minute Bush rule was a blow to the coal industry, which defends mountaintop mining as a safer, cheaper alternative to traditional underground mining. Interior Secretary Ken Salazar said he had asked the Justice Department to ask a federal court in Washington, DC, to throw out the rule and send it back to the EPA. Mr. Salazar said the rule "simply doesn't pass muster with respect to adequately protecting water quality and stream habitat" in affected communities. link

Who controls the permits for MTR - the EPA or Army Corps of Engineers?




In February 2009, overturning a lower court's ruling, the 4th U.S. Circuit Court of Appeals, based in coal-friendly Virginia, found that the Corps does indeed have the power to issue mountaintop permits without broader reviews.

Adora Andy, spokeswoman for the EPA, said there were between 150 and 200 permits on backlog awaiting the 4th Circuit decision. If approved, those projects would impact at least 211 miles of streams in West Virginia and Kentucky, according to Margaret Janes, senior policy analyst for the Appalachian Center for the Economy & the Environment, who analyzed 102 of the permits

.

Peggy Noel, spokeswoman for the Corps' Huntington district, said the EPA's recent letters don't change the task or the direction of her office, where it's "just business as usual." Noel continued, "We are a neutral agency. We're not for [the mines]; we're not against them. We're just here to evaluate and approve permits."


The EPA and other departments responsible for clean water laws will now subject all applications for mountaintop-mining permits - routinely fast-tracked for the last few years - to rigorous, case-by-case environmental review. These agencies will also exercise stronger control over state regulators. But it still leaves in place the destructive Bush rules that essentially legalized the practice of dumping harmful waste in valleys and streams. The Obama administration has pledged to restore the old buffer zone restriction. But it has said nothing at all about redefining mining waste as an illegal pollutant, which it was before the Bush people came along. A bill before the House would do exactly that. The administration should do it first - New York Times, June 20 2009. link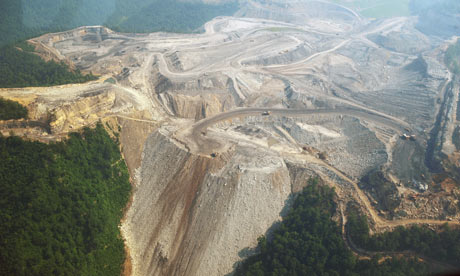 Appalachia. Mining operations have blasted away hundreds of peaks in West Virginia, eastern Kentucky and Tennessee and have permanently altered stream flows and wildlife habitats in those watersheds, according to studies by the Environmental Protection Agency. Mountaintop removal opponents have cited those studies in court papers. (Above - Mountaintop coal mining operation in West Virginia.) Mountaintop removal accounts for a third of West Virginia's coal production. The technique has been around since the 1970s. More than 700 miles of streams across central Appalachia were buried by valley fills from 1985 to 2001, according to a 2005 EPA report. The report says that, without further restrictions, 2,200 square miles of Appalachian forests - an area twice the size of Rhode Island - will be eliminated by 2012. Without the ability to fill valleys with the rocky debris, mountaintop mining can't be performed. Lower-court decisions found that permits issued by the Army Corps of Engineers violated the Clean Water Act. link

February 2016: MTR destruction quantified by science. A new study says the impact of mountaintop removal is extreme. It is similar to volcanic eruptions, where the entire landscape is fractured, deepened, and decoupled from prior landscape evolution trajectories, effectively resetting the clock on landscape and ecosystem coevolution. The study estimates that, in southern West Virginia, more than 6.4 km3 of bedrock has been broken apart and deposited into 1,544 headwater valley fills. link

July 2015: Mountaintop removal coal mining has declined 62% since 2008. New U.S. Energy Information Administration data show it is being displaced by natural gas, wind and solar power and other renewables that are becoming the favored choices for electric power generation. Nationwide, all coal production fell 15% from 2008 to 2014. While coal produced from surface mines fell 21% in that period, coal produced at mines that have permits for lopping off the tops of mountains in Kentucky, Virginia and West Virginia fell 62% link

April 2015: Barclays Bank to end MTR support. Barclays, the biggest financier of MTR in 2013 when it loaned MTR companies $550m, has ended its financing of a controversial coal mining method known as mountaintop removal. Barclays reversed its position saying companies that engage in MTR coal mining will no longer receive support from the bank unless they commit to moving out of MTR "within a reasonable timeframe". link

March 2014: Coal company to clean up toxic discharges. NPR interview with Dina Cappiello of AP. EPA hands out the biggest fines ever for a company (Alpha Natural Resources – formerly Massey Coal) that violated its water pollution permits in Appalachia. "You're talking over 6,000 violations, violations over 300 state-issued permits, hundreds of streams, tributaries and rivers, 79 active coal mines, 25 coal processing plants, where they put the coal and wash it before it's shipped, over five Appalachian states. So it's a pretty massive coverage area for the settlement," said Capiello. $27.5 million in fines and $200 million for the cleanup. NPR link

S

ince 1992, nearly 2,000 miles of Appalachian streams have been buried by mining refuse. Furthermore, nine out of every ten streams downstream from surface mining operations have been found to be polluted.

April 2013: EPA's veto on West Virginia MTR project legal. U.S. Court of Appeals for the District of Columbia Circuit confirms EPA's contention that the Clean Water Act's Section 404 grants the agency authority to scrap specifications in dredge-and-fill permits issued by the Army Corps of Engineers for Arch Coal Inc.'s Spruce No. 1 mine in Logan County, W.Va. The ruling reverses U.S. District Judge Amy Berman Jackson's decision last year that threw out EPA's veto. link

August 2010: New maps reveal massive forest loss in Appalachia. The U.S. Environmental Protection Agency (EPA) estimates that by the end of 2010, 1.4 million acres of Appalachian forests will have been disturbed or cleared by mountaintop removal, an area larger than Delaware. link

July 2009: Mountaintop mining legacy: Destroying Appalachian streams. Of all the environmental problems caused by mountaintop projects - decapitated peaks, deforestation, the significant carbon footprint, scientists have found that valley fills do the most damage because they destroy headwater streams and surrounding forests, which are crucial to the workings of mountain ecosystems. link

August 2011: Opposition to MTR in coal heartland.

Appalachian voters in the heart of coal country oppose mountaintop removal coal mining, according to a poll released by Earthjustice, Appalachian Mountain Advocates and the Sierra Club.
The poll sampled 1,315 registered voters in Kentucky, West Virginia, Virginia and Tennessee and found wide opposition to the destructive mining practice in all four states and across party lines. The number of voters who oppose mountaintop removal dwarfs those who support it. The results of the poll indicate that 57% oppose the practice, and with noticeable intensity (42% strongly oppose), compared to just 20% who support it (10% strongly supporting). lin

Appalachian Voices. This North Carolina-based organization opposes mountaintop removal. From their web page on MTR, they write: "While the environmental devastation caused by this practice is obvious, families and communities near these mining sites are forced to contend with continual blasting from mining operations that can take place up to 300 feet from their homes and operate 24 hours a day. Families and communities near mining sites also suffer from airborne dust and debris, floods that have left hundreds dead and thousands homeless, and contamination of their drinking water supplies.

"In central Appalachian counties, which are among the poorest in the nation, homes are frequently the only asset folks have. Mining operations have damaged hundreds of homes beyond repair and the value of homes near a mountaintop removal sites often decrease by as much as 90%. Worst of all, mountaintop removal is threatening not just the people, forest and mountains of central Appalachia, but the very culture of the region. Coal companies frequently claim that mountaintop removal is beneficial for the people, economy and the environment, but the facts just don't hold up."

Kentucky. In eastern Kentucky, coal companies now blast as much as 600 feet off the tops of mountains to reach the seams of coal. Some of the most biologically diverse and productive temperate hardwood forests in the world are being eliminated by mountaintop removal, replaced by "reclaimed" grasslands sewn with exotic, invasive weeds. Coal companies dump millions of tons of "overburden" (the rock and soil that lies above a coal seam) into headwater mountain streams in under-regulated structures called "valley fills." Thousands of underground miner's jobs have been eliminated as giant machines do the work of hundreds of men. link

Tennessee. SOCM (Save Our Cumberland Mountains). There is a new form of mountaintop removal which is spreading in Tennessee: Cross Ridge Mining! Like MTR, Cross Ridge Mining operations will mine through an entire mountain peak and remove an entire seam of coal. But unlike MTR operations, these Cross Ridge Mines will not get a "variance from AOC (approximate original contour)", that is they will not leave the mountain flat. Instead they propose to remove the mountain and then PUT IT BACK AGAIN! In practice, however, the post-mining rubble is piled in terraces that cruelly mimic the "original contour" but bear little resemblance to the pre-mining mountain. Once the mining company gets its reclamation bond released, the steep terraces of sterile soil are left to erode into the streams that flow in nearly every Appalachian holler (see pdf). Since 2003, permits have been issued to remove the tops of four mountains in Tennessee. There are 8 more mountains that can be destroyed, depending on the outcome of a study TVA (Tennessee Valley Authority) is doing on whether to mine the coal it owns under the Royal Blue Wildlife Management Area. The Strip Mine Committee is currently working to stop MTR from spreading in Tennessee. link

_______________________________________________
August 2009: Larry Gibson is a leader in the fight against MTR. This Guardian video/article features the background to the campaign and the disillusionment with President Obama's lack of action on the destructive process. While the state of West Virginia implores that coal is vital, it only comprises 7% of the state's economy - less significant than Wal-Mart even. Guardian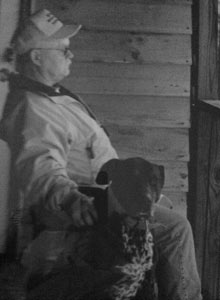 In memory of Larry Gibson: West Virginia anti-mining crusader dead at 66. (September 2012) In his decades-long struggle, Gibson brought national attention to mountaintop removal – described by activists as strip mining on steroids for the epic destruction it visits on mountains and streams. A diminutive man, who was not a great orator or well connected, Gibson's courage and persistence won a roster of celebrities for his cause. Robert Kennedy Jr was a supporter, as were actor Daryl Hannah and climatologist James Hansen, both of whom were arrested at mining protests. Guardian
September 2009: "I am exercising a spiritual obligation as a steward of Creation. It was not God's intent that these mountains be destroyed to enhance the wealth of a few individuals," said Roland Micklem, 81 one of four citizens blocking Massey Energy's regional headquarters in West Virginia.
"It is so critical that we not allow this industry (coal) to run rampant over our ecosystems. The most vital of all our natural resources is water and it's more vital than coal."

Dr.

Ben Stout, aquatic biologist, Wheeling Jesuit University West Virginia.
Coal River Mountain Watch (CRMW) is a grassroots organization begun in 1998 in response to the fear and frustration of people living near or downstream from huge mountaintop removal site.
In December 2009, the late Senator Byrd said: "It is a reality that the practice of mountaintop removal mining has a diminishing constituency in Washington. It is not a widespread method of mining, with its use confined to only three states. Most members of Congress, like most Americans, oppose the practice, and we may not yet fully understand the effects of mountaintop removal mining on the health of our citizens. West Virginians may demonstrate anger toward the Environmental Protection Agency (EPA) over mountaintop removal mining, but we risk the very probable consequence of shouting ourselves out of any productive dialogue with EPA and our adversaries in the Congress. . . I believe that the notion of holding the health care of over 300 million Americans hostage in exchange for a handful of coal permits is beyond foolish; it is morally indefensible. It is a non-starter, and puts the entire state of West Virginia and the coal industry in a terrible light." link
October 2016: Mountaintop removal still continuing. Mining has declined, due to natural gas competition, but mountaintop removal mining has never ended despite the documented health crisis and cancer link from millions of pounds of strip mining explosives, silica dust, and contamination of waterways from pulverized heavy metals. Goldman Prize recipient Maria Gunnoe, who lives under a mountaintop removal operation in West Virginia, said "People need to stop saying mountaintop removal is over: It is not over! We are seeing new permits weekly." link
July 2011: 60,000 additional cancer cases linked to MTR. A new study indicates that the cancer rate in areas where MTR takes place is twice as high than comparable locations in West Virginia resulting in 60,000 additional cases among the 1.2 million people living in the affected counties. link
Other site worth checking: I love Mountains