Facts



Solutions





International



| | |
| --- | --- |
| | AUSTRALIA |
| | BRITAIN |
| | CANADA |
| | DENMARK |
| | SPAIN |
| | CHINA |
TRANSCANADA & THE KEYSTONE PIPELINES
The proposed Keystone XL Project would consist of approximately 1,711 miles of new,

36-inch-diameter pipeline, with approximately 327 miles of pipeline in Canada and approximately 1,384 miles in the United States. The project would cross the international border between Saskatchewan, Canada, and the United States near Morgan, Montana and would have a nominal transport capacity of 700,000 barrels per day (bpd) of crude oil.

(Note: one barrel = 42 US gallons.)

The pipeline won't just be carrying ordinary oil.

Sweet crude, for example, is moved through pipelines at around 150 pounds per square inch, smooth as molasses. The Keystone pipeline will carry tar sands, also known as DilBit, a highly corrosive and benzene-laced mixture of sand, clay water and bitumen at some

1,400

pounds per square inch. The pressure is so great a leak in another Keystone pipeline once shot tar sands six stories high.





Concentration of CO2 in the atmosphere has risen from 280 parts per million to over 400 ppm over the last 150 years. The tar sands contain enough carbon - 240 gigatons - to add 120 ppm

________________________________________________________



Below



Latest updates

Why this pipeline is important / jobs argument

U.S. State Department role


Problems ahead for Keystone

What's happening in Canada

The European connection


Why Nebraska is a prominent factor - is the pipeline safe?

Washington DC protests August/September 2011


The controversial pipeline from Alberta is once again in the spotlight as the Trump administration alters course from Obama and moves to approve development.

August 7 2017:

Nebraska hearings begin.

Nebraska's Public Service Commission is meant to weigh whether the project is in the state's public interest, and will announce a decision by November. The arguments of opponents are constrained by the rules of the commission, however: the commission is not permitted to consider the risk of spills because the route already has an environmental permit. link
August 4 2017:

Keystone XL: Low oil prices, tar sands pullout could kill pipeline plan

.

It will be close to three years, at least, before oil could possibly be moving through the controversial Keystone XL pipeline - if the pipeline is completed at all. Company officials now concede that after battling protests and regulatory hurdles for nearly a decade, market forces could scuttle the project.

link
July 31 2017:

The company behind Keystone XL isn't even sure if there's a need for the pipeline anymore

. Pipeline developer says it is looking for more customers before moving forward with the project. link


July 11 2017:

Ranchers fight pipeline by building solar panels its path

.

Solar panels one of several creative protests against pipeline companies trying to use eminent domain to take private land in Nebraska.

link



President Obama on Keystone XL: highlights





President Obama on Keystone approval.

"Our national interest will be served only if this project does not significantly exacerbate the problem of carbon pollution . . . The net effects of the pipeline's impact on our climate will be absolutely critical to determining whether this project is allowed to go forward."
A decision by the Obama administration was delayed until after the November 2014 mid-term elections (June 2013) -

link


November 2015:

Obama rejects Keystone XL pipeline

. The move reinforces Obama's commitment to making climate change the domestic and international legacy of his second term in the White House – even in the face of Republican hostility - link




Why this pipeline is important




September 2015:

Understanding Keystone from the Daily Climate

.

Keystone XL has become a proxy for a much bigger debate about North America's energy boom, which is creating jobs and lowering energy prices, but also threatens to cook the planet.

link



January 2016:

TransCanada files $15 billion trade appeal.

TransCanada opened one of the largest trade appeals ever brought against the U.S., seeking to recoup $15 billion tied to the Obama Administration's rejection of the Keystone XL oil pipeline. The Canadian company intends to start a claim for costs and damages under the North American Free Trade Agreement against the U.S. after rejection of the $8 billion project. The pipeline builder also sued the U.S. government, arguing Obama didn't have the constitutional power to decide on the cross-border line.

link



August 2013:

Would the Keystone XL tar sands pipeline significantly exacerbate the problem of carbon pollution?

The Sierra Club, Oil Change International, and 13 partner groups have released a report that settles the issue unequivocally: Keystone XL would be a climate disaster.

Start with the one fact that the State Department, the U.S. EPA, climate scientists, and even Wall Street and industry analysts all agree on: The Keystone XL tar sands pipeline will create massive amounts of carbon pollution. However the State Department argued in its environmental review of Keystone XL that tar sands development was inevitable, regardless of whether the pipeline is built. That's not true for several reasons. Tar sands can be processed only at specialized refineries. The accessible U.S. and Canadian refineries capable of handling it are already at or near capacity. In order to expand production, tar sands producers must reach the U.S. Gulf Coast, where the heavy crude can be refined or, more likely, exported. .link

The decision on Keystone is watched around the world – link

March 2012:

Tar sands exploitation will increase global temperature.

A recent study has found that if the entirety of the tar sands were exploited it would raise global temperatures 0.64 degrees Fahrenheit (0.36 degrees Celsius). This represents around 45% of how much the world has warmed since the Industrial Revolution. link



July 2016:

Environmentalists target alternative TransCanada route

. TransCanada is behind the Energy East pipeline project, a 4,600km pipeline that would carry crude oil from tar sands in Western Canada to the East Coast, where it would then be shipped to refineries along the Texas Gulf Coast. Environmentalists fear this would send hundreds of supertankers laden with crude oil down the Atlantic coast to refineries in Texas and Louisiana. link



January 2014:

TransCanada looks at dangerous alternative if Obama says 'No'

. TransCanada CEO Russ Girling

said his company will look to the more dangerous alternative of building rail terminals in Alberta and Oklahoma if the Obama administration doesn't approve the controversial Keystone XL pipeline

.

link

(Enbridge is responsible for the 840,000 gallon spill in the Kalamazoo River -see below under 'is pipeline safe?')





Bush administration legislated against tar sands oil




In 2007, President Bush signed into law Section 526 of the Energy Independence and National Security Act of 2007 which prohibits the US government, the largest single fuel purchaser in the U.S., from using taxpayer dollars to purchase fuels that have a higher carbon footprint than conventional oil. This little-known law is significant because Congress crafted it, in part, with the explicit intent to block the US from buying Canadian tar sands oil, considered the dirtiest oil on the planet.

link



July 2013:

Two more problems for Keystone.

The actual route is known only to TransCanada, but not the State Department. Without the actual routing, an environmental impact study becomes an issue. link





The jobs argument.

A Cornell study finds only 2,500 to 4,650 temporary jobs over two years would result from building the pipeline, not the 20,000 claimed by the TransCanada Corp. (

A one year extension of a federal solar grant program could create 37,000 jobs.

) Another downside is that during 2010, spills and explosions in America caused one billion dollars worth of damage and 22 oil workers were killed during that period. link



April 2013:

Keystone XL will create just 35 permanent jobs and emit 51 coal plants of carbon.

Secretary of State John Kerry has the State Department's Draft Supplemental Environmental Impact Statement, but if that is all the information he relies on, he won't get the full picture. While he will see that the project will only bring 35 permanent jobs, he would also see almost no discussion of the pipeline's impact on the climate. To learn the consequences of approving the Keystone XL pipeline he could peruse a new report from Oil Change International called: "Cooking the Books: How The State Department Analysis Ignores The True Climate Impact of the Keystone XL Pipeline." The report's recommendation: The State Department should base critical decisions on whether the project makes sense in a world that is actually seeking to minimize the real dangers of climate change. On this basis, we recommend that decision-makers consider the total amount of carbon that will be released by the project into the atmosphere. link





U. S. State Department role


February 2015:

EPA: Keystone XL to emit extra one billion tons of GHGs.

The energy it will take to process Canadian tar sands oil and pipe it through the proposed Keystone pipeline

is so great that it will lead to about 1.3 billion more tons of greenhouse gas emissions over the pipeline's 50-year lifespan than if the pipeline were carrying conventional crude. That's the U.S. EPA's conclusion in its comments to the U.S. State Department. link





March 2013:

State Department report on pipeline biased.

The EIS (Environmental Impact Statement) recently concluded that the Keystone XL pipeline "is unlikely to have a substantial impact" on the rate of Canada's oil sands development. However the report was based on analysis provided by two consulting firms with ties to oil and pipeline companies that could benefit from the proposed project – InsideClimate



July 2011:

State Department blamed for inadequate assessment

.

For the second time in a year, the State Department has issued an environmental impact statement about the proposed Keystone XL pipeline.

link

August 2013:

Interior Department contradicts State on impact study

.

The Interior Department has warned that the proposed Keystone XL pipeline could have long-term, damaging effects on wildlife near its route, contradicting the State Department's March draft environmental assessment, which concluded the project would have only a temporary, indirect impact. link



Environmental Protection Agency officials found the first two drafts to be far from satisfactory and gave the first draft its lowest grade of 'inadequate'

almost a year ago. They also report that on a well-to-tank basis the heavy crude extracted is 82% more carbon intensive than conventional oil.


April 2013:

EPA raises fresh concern over pipeline.

The EPA weighed in rebuking the State Department's review, saying it found environmental objections to

the Department's controversial draft environmental impact statement, issued in March, which it deemed "insufficient."

A 200-page comment submitted by environmental groups said perhaps the most glaring error is the State Department's assertion that the tar sands will be developed at the same rate regardless of whether Keystone XL is built.

link

(

The EPA says developing the tar sands would indeed have a negative impact on the environment, releasing as much as an additional 935m metric tonnes of greenhouse gas emissions into the atmosphere over the next 50 years

- link)



October 2011:

E-mails released in response to a Freedom of Information Act request filed by the environmental group, Friends of the Earth,

paint a picture of a sometimes warm and collaborative relationship between the lobbyist for the pipeline company, Trans-Canada, and officials in the State Department, the agency responsible for evaluating and approving the $7bn project.

link





Some problems ahead for Keystone


August 2014:

Keystone XL emissions four times higher report

. A new report concludes the Keystone XL pipeline could produce four times more global warming pollution than the State Department calculated earlier this year. Researchers estimate that the proposed pipeline would increase world greenhouse gas emissions by as much as 121 million tons of carbon dioxide a year, compared to the State department's 30 million tons figure. link

December 2013:

Canada's oil sands look like a shaky investment

.

A new study examining the economics of Western Canada's oil sands finds that even if the Keystone XL pipeline gets built, it's unlikely that extracting the heavy, tar-like oil around Alberta will remain commercially viable over the next decade. link

October 2013:

Canadian study spells trouble for polluting tar sands.

A new Canadian study report on the country's greenhouse gas emissions reveal that the CO2 emissions associated with a barrel of tar sands bitumen have been rising, not falling, in recent years, a trend that may well continue. link


September 2011: Is the pipeline safe? Semantics are being used to assure the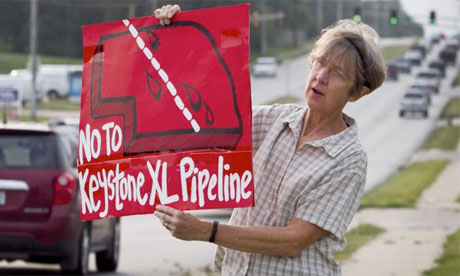 pipeline is safe according to the NRDC whose research shows that only 12 of the 57 conditions set by federal regulators differ from the minimum standards already required for pipeline safety. Environmental watchdogs counter that those much-boasted-about claims are based on nothing more than smoke and mirrors. And they have compiled evidence to back up their accusations. "The State Department is saying it doesn't need to do a study because Keystone XL will be safer than any pipeline built in the United States," NRDCs Anthony Swift said. "That's why we're concerned. In a lot of respects, the State Department is taking TransCanada's assertions at face value." link
(The first stage of Keystone had 14 accidents in its first year of operation. link)
May 2013:

Major democratic donors urge Obama to reject Keystone pipeline

.

In the latest show of force by opponents of the Keystone XL pipeline, a group of 150 major Democratic donors sent a letter Friday to President Obama, urging him to reject Keystone. The signatories comprise business leaders, philanthropists and celebrities. (

Letter included in

link)
July 2012:

Top scientists urge Secretary of State Clinton to reassess pipeline.
link
April 2011:

States have authority to accept route of pipeline.

A

federal memo suggests states have ultimate say on keystone pipeline's route. Advocates say the memo proves that states have the authority to regulate or reroute the controversial oil sands pipeline. link
February 2011:

Some landowners mount legal bid to deny right-of-way to pipeline

.

TransCanada has gathered easements to use the property of 5,354 landowners along the oil pipeline's route. Some in Oklahoma are among the last holdouts.

Oklahoma attorney Harlan Hentges said "The prospect of a foreign company using the U.S. law to take land from U.S. citizens, this is problematic."

link
What's happening in Canada
December 2016:

PMTrudeau says Trump very supportive of Keystone XL pipeline
.
Trudeau, who also supports Keystone XL, said,

"

I'm confident that the right decisions will be taken."

link

February 2013:

Tribal members sign treaty calling for an end to Alberta oil sands development and Keystone XL

. People from about 25 U.S. tribes and Canadian First Nations came to South Dakota for three days last week to craft and sign a mutual-support treaty. Called the Gathering to Protect the Sacred from the Tar Sands and Keystone XL, the meeting was triggered in part by the new proposed pipeline route and related environmental issues. The signing ceremony for the landmark new International Treaty to Protect the Sacred from Tar Sands Projects served the dual purpose of commemorating the 150-year anniversary of the January 1863 Pawnee Nation and Ihanktonwan Dakota/Nakota Peace Treaty. The contemporary treaty-making was "a profound ritual for our time—this is what our ancestors did," said one tribal member. link
50% of Canadians oppose Keystone XL pipeline. link
(More on Tar Sands on Canada page.
November 2011: Battle brewing over pipeline plans in B.C. So far British Columbia has been spared the kind of intense pipeline fight that buffets the proposed Keystone XL project to carry Alberta crude from the oil sands to Texas. But not for much longer. Pipeline politics in this province are heating up. This week, the pivotal Tsleil-Waututh Nation declared its strong opposition to the potential expansion of Kinder Morgan's existing oil pipeline to Burrard Inlet and the increase in oil-tanker traffic it would bring to their traditional waters. link
May 2014: Canada's China alternative in serious jeopardy. With the Obama administration endlessly delaying a decision on the Keystone XL pipeline, PM Harper's alternative – the Gateway project exporting tar sands oil via Canada's west coast to China, has hit hurdle after hurdle. Included are political factors such as Canada's granting honorary citizenship to the Dalai Lama among other unfortunate geopolitical statement. Then there's the outcry over a pipeline through First Nations' lands in British Columbia. This Bloomberg article summarizes the history, and indicates doubt over future Alberta production has serious problems ahead. link
The European Commission has been debating whether to accept tar sands oil
February 2015: New hopes that tar sands could be banned from Europe. Landmark EU fuel quality directive gets a reprieve, opening the way for more-polluting tar sands oil to be taxed at a higher rate effectively pricing it out of the market. link
February 2014: European parliament again votes against tar sand oil. The European parliament voted for a continuation of the fuel quality directive beyond 2020, which would affect the import of high-carbon fuels such as those from tar sands. link Update - December 2014: The fuel quality directive, as written, may be overturned and will now go to a ratification vote early in 2015 - link
Why Europe is connected to the Keystone project - link
Stephen Harper's Canadian government, allied with big oil and is lobbying Europe not to regulate tar sands oil. link
January 2013: European Commission sticks to a plan to label fuel from tar sands deposits as highly polluting, deterring refiners bound by environmental rules. link (As of October 2013, the European Commission has said it is standing by its value for tar sands – of 107 grams per megajoule – making it clear to buyers that the fuel source had more greenhouse gas impact than average crude oil at 87.5g.)

October 2011: Britain at odds with Europe. The European Commission had decided that under the Fuel Quality Directive (FQD) it would classify oil from tar sands according to its life-cycle emissions, but the British Government is reported as trying to persuade other EU countries to adopt a compromise motion described by green groups as a "wrecking amendment". According to an official document seen by the Financial Times, the UK is opposed to "singling out oil sands and oil shale" and is instead pushing for a different methodology that would account for the greenhouse gas emissions of all crude oil sources. The Government says that it is a distortion of the truth to say that the UK is intervening in favour of oil from tar sands. It says it wants to drive down emissions from all sources, not just tar sands, and wants to see all heavy crudes dealt with equally. Britain has come under attack from environmentalists for seeking to delay attempts by the European Union to penalise oil derived from tar sands. link
Why Nebraska is a prominent factor
May 2017: Nebraska to become battleground over fate of Keystone XL pipeline project. There are 90 remaining landowners in Nebraska yet to sign easements with TransCanada. The route already has the necessary permits in Montana and South Dakota, where activists have begun preparing to oppose the pipeline if construction goes ahead. The route is set to cross underneath dozens of rivers and streams and under one of the world's largest groundwater sources, the Ogallala aquifer, prompting serious concerns about the consequences of a major leak. link
April 2017: Last stand: Nebraska farmers could derail Keystone XL pipeline. Backed by conservation groups, Nebraskans plan to cast the project as a threat to prime farming and grazing lands - vital to Nebraska's economy - and a foreign company's attempt to seize American private property. Opponents are mostly farmers and ranchers, making a last stand against the pipeline - the fate of which now rests with an obscure state regulatory board, the Nebraska Public Service Commission. link
February 2015: Eminent domain in Nebraska halted. A Nebraska district judge has halted TransCanada's attempts to use eminent domain to force landowners to turn over their land for the construction of the Keystone XL pipeline, an act that anti-Keystone activists are calling a major win after Judge Mark Kozisek issued a temporary injunction against TransCanada. The injunction will remain in place until Nebraska's Supreme Court takes up the landowners' case against the state law giving TransCanada the right to use eminent domain against the landowners. link
January 2015: Nebraska Supreme Court removes a serious hurdle to construction of the controversial Keystone XL pipeline, ruling that then-Gov. Dave Heineman had the authority to approve the project's route without review by a state agency. link

February 2014: Judge sides with landowners in eminent domain case. The law granting power of eminent domain to Nebraska's governor, and in turn TransCanada, is ruled unconstitutional preventing authorization to advance pipeline construction in the state. link

December 2012:
Keystone XL fails to use aquifer safeguards as used in Texas.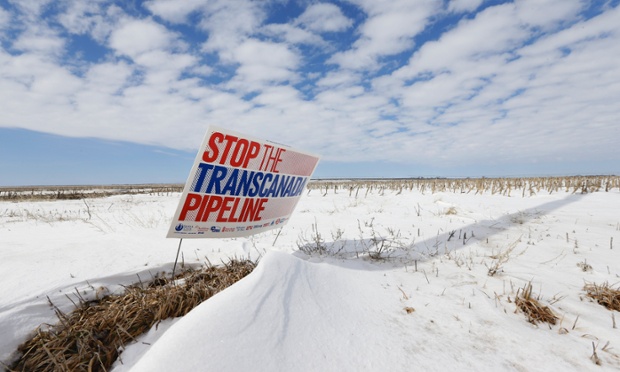 The leak detection technology that will be used on the Keystone XL is standard for the nation's crude oil pipelines and rarely detects leaks smaller than 1% of the pipeline's flow. The Keystone will have a capacity of 29 million gallons per day, so a spill would have to reach 294,000 gallons per day to trigger its leak detection technology. The Keystone XL also won't get two other safeguards found on the 19-mile stretch of the pipeline over Austin's aquifer in Texas: a concrete cap that protects the Longhorn from construction-related punctures, and daily aerial or foot patrols to check for tiny spills that might seep to the surface. link
January 2014: Cash offers skyrocket as much as 700% for landowners resisting Keystone. Among all states along the proposed route, Nebraska stands alone. Landowners have signed in every other state but, in Nebraska, nearly one-third are still fighting. link
Why Michigan spill concerns Nebraskans.
July 2011:
Study argues the pipeline operators
have significantly underestimated the chances of a spill
and painted an overly optimistic picture of how long it would take to shut down the pipeline, noting that TransCanada, in its estimates, sees the possibility of 11 serious spills on the pipeline during the course of 50 years where a more realistic estimate would be 91 accidents during that half century. Issue is also taken with TransCanada's claims that it could shut down a pipeline within 19 minutes of a leak. A slow leak in a remote area of Montana or Nebraska could go undetected for days or even weeks between inspections, he warned. It took 56 minutes before ExxonMobil crews managed to stop the leak into the Yellowstone this month.
link
March 2013:

Enbridge warns Kalamazoo cleanup could approach $1 billion

.

Increasing dredging requirements resulting from Enbridge's massive oil spill into Michigan's Kalamazoo River in 2010 could push the cleanup bill to almost $1-billion, above and beyond what is covered by insurance. Earlier this month, the U.S. EPA ordered Enbridge to perform additional dredging to remove submerged oil and to maintain sediment traps throughout the river as a result of the rupture. link
July 2011: Montana leak may have carried tar-sands oil. link
July 2011: Keystone XL pipeline fight flares in wake of Yellowstone river oil spill. link
August 2012:

Tar sands in Utah
.

There are about
25 billion barrels of bitumen (oil sands) buried on state and federal land in Utah according to the Utah Geological Survey which would supply all the nation's current oil needs for a little more than three years
.
link
February 2013:

Biggest environmental rally in decades attracts nationwide media attention

. As many as 40,000 protesters descend on the White House
- link

As the 2-week protests end, 1,252 have been arrested in total
August 2011 - New York Times opposes the Keystone XL pipeline - tcktcktck

August 2011:

An open letter from 20 prominent scientists to President Obama
"We are researchers at work on the science of
climate change and allied fields. We are writing to add our voices to the indigenous leaders, religious leaders, and environmentalists calling on you to block the proposed Keystone XL Pipeline from Canada's tar sands.
The tar sands are a huge pool of carbon, but one that does not make sense to exploit. It takes a lot of energy to extract and refine this resource into useable fuel, and the mining is environmentally destructive. Adding this on top of conventional fuels
will
leave our children and grandchildren a climate system with consequences that are out of their control. It makes no sense to build a pipeline system that would practically guarantee extensive exploitation of this resource.
When other huge oil fields or coal mines were opened in the past, we knew much less about the damage that the carbon they contained would do to the Earth's climate system and to its oceans. Now that we do know, it's imperative that we move quickly to alternate forms of energy—and that we leave the tar sands in the ground. We hope those so inclined will join protests scheduled for August and described at tarsandsaction.org.
If the pipeline is to be built, you as president have to declare that it is "in the national interest". As scientists, speaking for ourselves and not for any of our institutions, we can say categorically that it's not only not in the national interest, it's also not in the planet's best interest."
Activist leaders explain how they beat the Keystone XL pipeline - link
,[HOME]
Copyright © 2008 thinkglobalgreen.org All Rights Reserved