Below:

The 2015 People's Climate Pilgrimage to Paris
2014 Climate Walk to Tacloban, 2014
Other walks
Yeb

Saño

and Fast for the Climate
The 2015 People's Pilgrimage
The People's Pilgrimage left St. Peter's Square at the Vatican in Rome on September 30 2015 and arrived in Assisi on October 4 for the

Feast of St Francis

where each year the feast commemorates the life of St Francis, who was born in the 12th century and is the Catholic Church's patron saint of animals and the environment. The walkers reached northern Italy by November 5 after walking over 700 kilometers. After crossing the Alps, walkers continued via Geneva in Switzerland into southern France, later walking via Lyon, Taize and arriving in Paris after 59 days on November 28.
The People's Pilgrimage called for action on climate in 2015 ahead of the UN climate talks (COP21) in Paris. Every step counts and we xalled on world leaders to have the courage, imagination and generosity to work through difficulties and bring the world to a meaningful climate agreement which keeps global average temperatures below 2 degrees Celsius.
The pilgrimage was set up by OurVoices and other groups from around the world, and across faiths.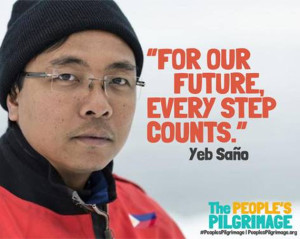 The People's Pilgrimage
These pilgrims are part of a worldwide movement of people of faith and goodwill, who are taking their own journeys, big and small, to visit the places at the heart of the climate crisis at risk or ​affected ​already,​ or showing the way forward - places of hope and resistance.​
These pilgrimages are a chance to reflect on our future. Our journeys, our stories are also the key to this crisis. Every step we take, every story we share, lifts up the human face of climate change. Bringing hope to those without it, or showing the reality to those that doubt it.
Every step counts.

A better future is possible. The technology for a clean world is here now, and the solutions to the climate crisis will unlock a prosperous, safer, more just world

(

ThinkGlobalGreen blogs from the Pilgrimage

- link)

Philippine Walk for the Climate - 2014

On October 2, 2014, the International
Day of Non-Violence,
Yeb
Saño
joined a
group

of

environmental advocates, setting out from Kilometer Zero in Luneta Park, Manila, embarking on a 40-day 1,000 kilometer journey to bring them to Super Typhoon Haiyan's Grou

nd

Zero in Tacloban City by November 8, the first anniversary of typhoon Haiyan, the strongest storm ever to make landfall, causing as many as 15,000 deaths
.
Some media coverage at end of walk
Climate envoy's epic walk ends in ground zero
link
Marathon walk to storm city spotlights Philippine climate risks link
Climate Walkers Reach Typhoon's 'Ground Zero' link
Great American Walk
.
The organizers of 2014's Great March were looking to inspire many of their fellow citizens to join them on a cross-country trek – for the entire stretch or even for just a single day – to raise awareness about human-caused climate change and the urgency to do something about it.
The walk, set to begin in Los Angeles on March 1 and finish up in Washington, D.C. on Nov. 1, is the brainchild of 55-year-old Ed Fallon, who served 14 years in the Iowa State House of Representatives and knows well the impact a single march can have on the public's consciousness.
"Marching in and of itself is not going to change anything. But the march represents the commitment that hundreds of people are willing to make to get the rest of the country thinking about, talking about the commitment we all need to make to move beyond this crisis." – Ed Fallon. link

There were 399 marchers from 37 states and 7 countries. Here is a small selection of their biographies - link
Bike for a Future:
why ride a bicycle from
Vietnam to Paris?

For most of 2015 Simon Nelson and Nguyen Kim Ngan cycled through Asia and Europe to arrive in Paris before the COP-21 talks where they met up with walkers from the pilgrimage from Rome and walkers.cyclists from Europe. Read their amazing story at Bike4afuture.com
A proposed walk is being planned for which will close in Katowice, Poland ahead of the COP 24 UNFCCC talks scheduled for December 2018.
Yeb

Saño and Fast for the Climate
Fast for the Climate.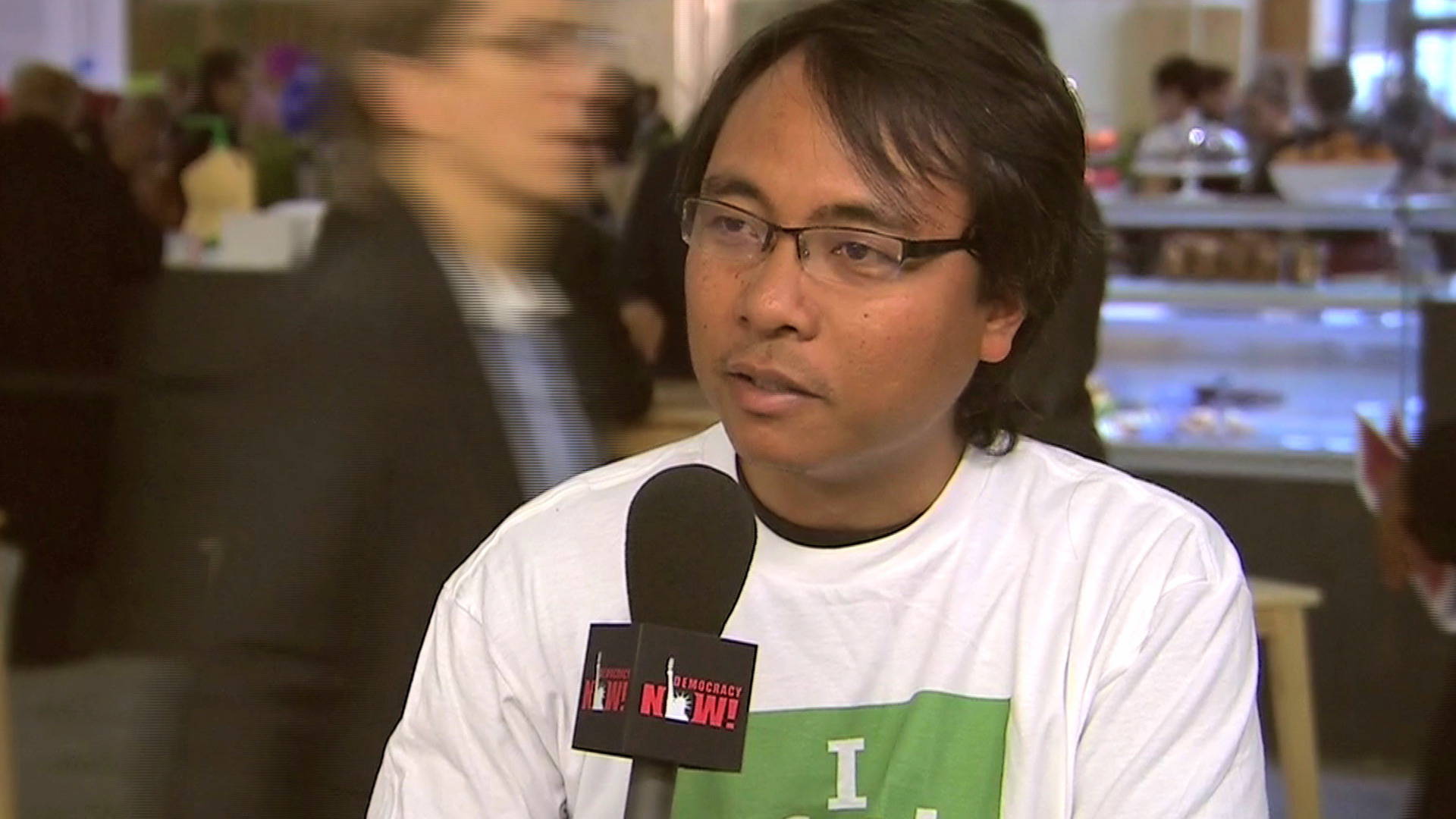 The Fasting for the Climate movement started at the UN climate negotiations in Warsaw in November 2013. Typhoon Haiyan had just devastated the Philippines and that country's climate commissioner, Yeb Saño, who's own family was caught up in the disaster, said he would not eat until the Warsaw conference delivered actions by countries to "stop the madness" of the climate crisis. Hundreds of others from around the world chose to fast with him in solidarity. Despite this, the Warsaw meeting saw countries, like Japan, actually winding back their climate commitments, seemingly in denial that all countries will need to commit and contribute to the comprehensive, global climate action plan which is due in Paris in 2015. link
April 2015: Earth Day announcement. Former Philippines climate envoy announces he is stepping down from the Philippine Climate Commission to work on sustainable future with faith groups "Why I'm leaving diplomacy to fight climate change. The climate change challenge will make the world a better place. Simply because it is our only option."
"The climate crisis is madness" - Naderev Yeb Saño.