Better storage batteries and the framework to support renewable energy is key. Without the right infrastructure in place we may not be able to capture and transport all the energy renewables are providing. Unlike fossil fuel plants, wind and solar power are intermittent sources of energy. If the wind isn't blowing strong enough or there are too many clouds the supply of electricity might not meet the demand for it. On the opposite end, if there's strong winds or persistent sunlight, the supply could exceed the capacity to capture and use it. Curtailment occurs when the renewable energy supply exceeds the capacity of the transmission lines that carry electricity from a power plant to your outlets. Large-scale battery storage is one of the newer storage solution, and, researchers argue, is a far more plausible solution than other clean energy storage solutions of the past. For example, pumped hydro storage has been around since the early 20th century, but it has failed to prove itself to be functional or economical. In this type of storage, using the excess electricity from a turbine, water is pumped from a lower-altitude reservoir and stored in a higher altitude one. When the water flows back down through a turbine, it generates electricity. link
_________________________________________

Latest news:
Feb. 8 2018: World's biggest wind turbine maker pivots to solar and batteries. Danish company Vestas is looking for new ways to keep its market-leading position and broaden the scope to sustainable energy as it sees wind, solar and storage technologies combined in hybrid plants as complementary to one another. Vestas won't manufacture solar panels or batteries but will be able to supply all components to build and maintain hybrid systems. link
Feb. 3 2018: Solar panels and Tesla batteries for 50,000 South Australia homes.
South Australia premier, Jay Wetherill, said a trial was already under way to install solar panels and Tesla batteries on 1,100 Housing Trust homes. A network of at least 50,000 home solar systems backed up by battery storage will create the world's largest "virtual" power plant to cut energy bills. The cost would be financed by the sale of electricity. The power generated by the solar panels and the batteries would not be owned directly by the households. The program would later be rolled out to another 24,000 public housing properties and also offered to other households with a view to having at least 50,000 Adelaide homes connected. The plan would essentially create a 250MW power plant and participants could expect a 30% cut in electricity bills. link
Below:
Residential systems
Large-scale systems
Trends

Residential systems
January 2018: How do four systems for residential solar battery storage compare? - link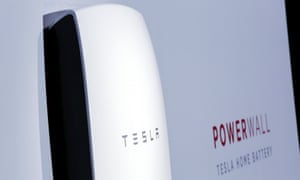 Tesla's Powerwall. (November 2016) At the moment, residential batteries cost too much and don't do enough for most homeowners to benefit from purchasing them. Dramatic growth in usefulness from year to year will be necessary to establish energy storage as a mass-market product. The latest Tesla Powerwall 2 wields 7 kilowatts of power capacity and 14 kilowatt-hours of energy storage. For context, the average American household uses about 30 kilowatt-hours per day depending on location, climate and size of a household, but now two Powerwalls put together could power the entire daily needs of the typical home. The consistent doubling of power density will ultimately result in a situation where manufacturers can affordably package more energy than a household actually needs. link
January 2015: Battery storage companies to watch – there are 43. There are now quite a number of battery startups and battery departments within big corporations that seem to have promising products arriving on the market or soon to arrive on the market. There are also some that have been on the market for years but are now getting a lot more competitive. link (Some of these may already have failed.)
Large scale systems

How energy storage works.
The electricity grid requires power supply and demand must be equal at any given moment. Energy storage plays an important role in this balancing act and helps to create a more flexible and reliable grid system.
Because some renewable energy technologies, such as wind and solar, have variable outputs, storage technologies have great potential for smoothing out the electricity supply from these sources and ensuring that the supply of generation matches the demand. The U.S. has about 23 gigawatts of storage capacity, approximately equal to the capacity of 38 typical coal plants, though 96% of this total comes from pumped hydroelectric storage.




Large-scale batteries.

There are many different types of batteries that have large-scale energy storage potential, including sodium-sulfur, metal air, lithium ion, and lead-acid batteries. There are several battery installations at wind farms; including the Notrees Wind Storage Demonstration Project in Texas, which uses a 36MW battery facility to help ensure stability of the power supply even when the wind isn't blowing.

Advancements in battery technologies have been made largely due to the expanding electric vehicle industry. As more developments are made with EVs, battery cost should continue to decline. Electric vehicles could also have an impact on energy storage through vehicle-to-grid technologies, in which their batteries can be connected to the grid and discharge power for others to use. Union of Concerned Scientists

July 2017:

Tesla wins giant battery contract in Australia, has 100-day deadline.

Tesla has won an Australian contract to install the world's biggest grid-scale battery, in what experts say will be a litmus test for the reliability of large-scale renewable energy.

The battery, designed to light up 30,000 homes if there is a blackout, will be built on a wind farm operated by France's Neoen - parts of which are still under construction.

link
January 2018: Tesla's battery efficient and profitable. On December 1, Tesla's 100MW batter system went online in South Australia after meeting founder Elon Musk's self-imposed 100-day construction deadline. In the weeks since, the massive battery system has seemingly lived up to its potential as a reliable source of clean energy. When a coal plant tripped on December 14, Tesla's Australian battery stepped up within milliseconds to keep the grid running. Currently, 70MW/39MWh of the battery's capacity is reserved for the South Australian government to use when needed. Neoen, who own the system, has control over the remaining 30MW/90MWh, which they can choose to trade on the wholesale market. link
January 2018: USA - Deployment of energy storage, especially batteries, will increase substantially in the next few years. Three underlying trends in the energy markets will drive the growth. They are favorable federal and state regulations on energy storage, falling costs for batteries due to advances in technologies, and an improved ability by energy storage owners to tap into multiple revenue streams. The storage market is poised for exponential growth, with analysts projecting an annual market of 2,600 MW by 2022, which is nearly 12 times the size of the 2016 market. (Battery cell costs declined from $3,000 a kilowatt hour in the 1990s to $200 a kilowatt hour by 2016.) link Risks. At the federal level, the risk currently is the lack of clarity about the regulatory treatment for energy storage. This is becoming more relevant in projects that combine energy storage with renewable power generation. link
March 2017: Tesla is powering the Hawaiian island of Kauai with more than 54,000 solar panels and its giant battery packs. The solar farm is composed of 54,978 solar panels with 13 megawatts of solar generation capacity. Tesla has also installed 272 of its large commercial battery, Powerpack 2, to store the solar energy to use at night. The project is expected to reduce fossil fuel use by approximately 1.6 million gallons per year . link
January 2018: USA - Deployment of energy storage, especially batteries, will increase substantially in the next few years. Three underlying trends in the energy markets will drive the growth. They are favorable federal and state regulations on energy storage, falling costs for batteries due to advances in technologies, and an improved ability by energy storage owners to tap into multiple revenue streams. The storage market is poised for exponential growth, with analysts projecting an annual market of 2,600 MW by 2022, which is nearly 12 times the size of the 2016 market. (Battery cell costs declined from $3,000 a kilowatt hour in the 1990s to $200 a kilowatt hour by 2016.) link Risks. At the federal level, the risk currently is the lack of clarity about the regulatory treatment for energy storage. This is becoming more relevant in projects that combine energy storage with renewable power generation. link
December 2017: Europe's energy storage market is in transition. A new report predicts Italy could be poised to overtake Germany as Europe's top energy storage market after the turn of the decade. Italian behind-the-meter installations could soar after 2021. The market will be driven by local subsidies, coupled with a strong solar market. Unlike previous reports, which tended of focus on single European energy storage markets, this market monitor has a pan-European scope, covering Germany, the United Kingdom, Italy, France, Iberia, the Nordics, Central and Eastern Europe, and the rest of the continent. It shows, for example, that the Nordic countries could see strong demand for commercial and industrial energy storage systems, coupled to the growth of data centers in the region. link