The Global Wind Energy Council's figures showed 54GW added in 2016, bringing the total cumulative installations at the end of 2016 at 487GW

. link.
During 2014 wind power avoided over 608 million tonnes of CO2 emissions. In Europe, one 6MW offshore wind turbine can power 5,500 homes, and currently in the EU wind power capacity covers 10.2% of electricity consumption powering over 73 million homes. Source
Around the world wind power is emerging as the most serious source of new clean energy.
The most comprehensive study to date found the potential of wind power on land and near-shore to be approximately 72 terawatts. Currently humans use about 7 TW from all sources globally.

(A terawatt is 1 trillion watts, the power generated by more than 500 nuclear reactors or thousands of coal-burning plants.)

Wind energy alone could provide enough power ten times over to provide for all of our needs. This page explores its continuing expansion and application and how other nations see it as a crucial response to global warming.



Extreme weather and wind turbines.

As of August 2017, no wind farm in the United States has been destroyed by a hurricane - link

Also the tsunami which struck Fukushima in 2011 left wind farms unaffected and supplying power - link





Below:



Wind power globally
Wind power in the USA
Europe
New technologies / energy storage

Wind power at sea
Small-scale wind power & wind turbines effect on wildlife
Other links:


American Wind Energy Association - AWEA
European Wind Energy Association - EWEA
World Wind Energy Association - WWEA


April 2017:

GWEC wind power forecast - more than 800GW globally by 2021.

In 2016, more than 54GW of clean renewable wind power was installed across the global market, which now comprises more than 90 countries, including nine with more than 10,000MW installed, and 29 which have now passed the 1,000MW mark. Cumulative capacity grew by 12.6% to reach a total of 486.8GW. Wind power penetration levels continue to increase, led by Denmark pushing 40% followed by Uruguay, Portugal and Ireland with well over 20%, Spain and Cyprus around 20%, Germany at 16%, and the big markets of China, the U.S. and Canada get 4, 5.5, and 6% of their power from wind, respectively. Looking at our rolling five-year forecast, we see just under 60GW installed globally in 2017, a more or less flat 2018 and then growth again out through the end of the decade to bring total installations up to just over 800GW by the end of 2021, with the annual market rising to 75GW in that year. link

March 2017:

World's largest floating windfarm to be built off Scottish coast.

Scotland hopes to become a world leader in floating wind turbine technology. Eight six-megawatt turbines will be installed about 15km south-east of Aberdeen and will provide enough power for about 56,000 homes. link

July 2016:

Global wind market report for 2015

.

In 2015, 63.1GW of wind power capacity was added globally, a 23.2% increase from the 51.2 GW installed in 2014. On a cumulative basis, global wind power capacity grew to 434.1 GW in 2015 from 372.3 GW in 2014.

The degree to which the Asian markets are driving wind demand, particularly China, cannot be overstated. The combined markets of South and East Asia represented 52.6% of global wind power capacity, up from 50.6% in 2014. Almost all of this annual record was driven by China, which installed a remarkable 30.2 GW, up from a record 23.3 GW in 2014, itself was an incredible achievement. link



February 2016:

China becomes wind power leader

. In 2015 China added an "astonishing" 30.5GW to boost installations to 145.1GW,

according to the Global Wind Energy Council (GWEC)

. It overtook the EU total for the first time, which added a record 6GW to increase its capacity to 141.6GW. link

May 2013:

2012 record -breaking year for wind energy

.

link
February 2013.

Wind power expanded by almost 20% in 2012.

link



Intermittency of wind power – just a myth.




July 2009

: Three reports published over the last month dismiss the variability of wind as an obstacle to large scale deployment of wind energy, says the British Wind Energy Association, which has welcomed the findings of

Managing Variability

, which resonate with the conclusions of two other independent studies published in June on wind power by National Grid, and earlier in July by Povry. With strong evidence from grid operators across Europe that it is within existing technical capabilities to manage input from windfarms in real time, the report notes that "thermal plant breakdowns generally pose more of a threat to the stability of electricity networks than the relatively benign variations in the output of wind plant."

The report is the final nail in the coffin of the myth of intermittency.

link




Off-shore wind expanding
More than 90% of the world's offshore wind power is currently installed off northern Europe, in the North, Baltic and Irish Seas, and the English Channel. Most of the rest is in two 'demonstration' projects off China's east coast. China has set itself a target of 30 GW of installations off its coast by 2020. At the end of 2014 the total offshore global wind capacity was 8,759MW. link
October 2016:

IRENA: Off-shore wind could grow 65% in 15 years. Falling costs of offshore wind energy technology and ongoing technological innovations within the sector could drive a surge in worldwide uptake and deployment. Wind energy innovations are set to reduce the overall costs of energy from windfarms by 57% over time, IRENA says.

link
November 2012:

On-shore wind costs falling rapidly.

Research firm finds the cost of operating and maintaining wind farms is falling by an average of 11% a year, based on confidential cost data from 38 large wind farm operators around the world. link


November 2011:

Onshore wind to

reach grid parity by 2016

.

Analysts say perception of wind power as 'expensive and intermittent' is out of date as equipment costs fall and output soars. Electricity produced by onshore wind farms will cost the same as that from fossil fuel plants by 2016, as efficiency increases and equipment costs plummet. Research published by Bloomberg New Energy Finance said that the best wind farms in the world already produce power as economically as coal, gas and nuclear generators, and predicts a 12% drop in price over the next five years. link



Wind power in India

December 2012: India's wind capacity to expand rapidly by 2020. India's installed wind power capacity is expected to reach 89GW by 2020 and 191GW by 2030, according to a new report. This expansion in wind power is expected to attract $16.5 billion of annual investment, create 179,000 jobs and abate 179 tonnes of CO2 annually, the Wind Energy Outlook reported. link
India is currently the fifth largest generator of wind power in the world. The Indian wind energy sector has an installed capacity of 17,365MW (as on March 31, 2012). In terms of wind power installed capacity, India is ranked 5th in the World. (India Wind Energy Agency)

Wind power in Africa:

July 2015: Kenya's new wind farm will provide around 17% of country's power. Ground has been broken on a major renewable energy project for Kenya. The 310MW wind farm will be some 300 miles north of the capital city of Nairobi. The farm, which will consist of 365 turbines when fully completed in mid-2017, will be the largest in Africa - overpowering Morocco's Tarfaya wind farm, currently Africa's biggest project with 131 turbines. link

February 2015: 2015 may well become the year of the wind farm in Africa. A flurry of signed deals and ground breaking for new wind farm projects has taken place during the last few months, including several finished projects that have just gone online. And there is no sign of the pace slowing. The Wind power capacity in sub-Saharan Africa increases by around 12 gigawatts by 2040, according to the "New Policies Scenario" of the October International Energy Agency's Africa Energy Outlook Report. In sub-Saharan Africa, high quality wind resources are confined to a few areas, mainly the Horn of Africa, eastern Kenya, parts of West and Central Africa bordering on the Sahara and parts of Southern Africa, according to the Africa Energy Outlook report. Somalia has the highest onshore potential of any country, followed by Sudan, Libya, Mauritania, Egypt, Madagascar and Kenya. The report notes that sub-Saharan Africa's wind potential could "produce several times the current level of total African electricity consumption. link

July 2013:

AfDB expects African wind power capacity to increase ten-fold.

According to a report by the

African Development Bank (AfDB) countries with significant wind power potential include Somalia, Sudan, Libya, Mauritania, Egypt, Madagascar, Kenya and Chad. There are 76 wind power projects examined in the report, which also breaks down the projects by technology manufacturers. link



USA overview:
(May 2016) Wind energy update in USA. The cost of emissions-free wind energy has declined by two-thirds in the last six years thanks to the availability of cheaper, more efficient turbines. An annual analysis determined that wind energy is now the lowest-cost energy source, even before federal green-energy tax incentives are factored in. Now the U.S. leads the world in wind energy with about 48,800 utility-scale turbines operating across the country, generating enough electricity to power about 20 million homes. By 2030, the Energy Department estimates wind will provide 20% of the nation's electricity. America's coal mines now employ about only about 56,700 people - by contrast, the fast-growing solar industry now employs more than 210,000 workers.
Map showing wind power growth by state from 1999 to 2016 - link


July 2017: 2GW wind farm announced for Oklahoma. A new wind farm that could become the largest in the U.S. will be taking shape across the plains of the Oklahoma Panhandle over the next three years. American Electric Power and wind developer Invenergy plan to complete a $4.5 billion wind farm called the Wind Catcher Energy Connection by 2020, along with a 350-mile electric power line. Wind Catcher's claim to fame as the largest single wind farm in the U.S. comes with an asterisk, however. Another project of similar size is being developed in Iowa, but it will be composed of multiple separate wind farms. A 3GW wind on two sites is being proposed in Wyoming. link

October 2016: Wind power helps economy of US farmers. A five-year extension of a federal tax credit on wind production, passed late 2015, should accelerate the construction of turbines and help double U.S. wind power capacity to 167GW, enough to power 50 million homes, by 2030, according to Bloomberg New Energy Finance. By 2030 rural landowners are projected to reap as much as $900 million a year by leasing land to wind developers. Wind is also keeping power prices low across much of rural America. In the 11 states that produce more than 7% of their power from wind, electricity prices fell from 2008 to 2013 whereas nationwide power prices were up 7.7 %. link


April 2017: Wind's bright future in USA. The U.S. onshore wind industry is now at such cost parity that it is booming across America, from liberal California to the conservative Great Plains and Texas. In fact, 80% of U.S. wind farms are in Republican congressional districts, according to the AWEA. Wind energy surpassed hydroelectric power in generating capacity for the first time in 2016 and domestic wind industry jobs have crossed the 100,000 mark. link

December 2015: Wind energy reaches new record in USA. Wind energy production in the United States is still growing as there are enough projects to generate energy for a record 19 million homes, according to data released by the American Wind Energy Association. The latest record of 70 gigawatts through 50,000 turbines was achieved in November. While it achieved 50 and then reached 60 gigawatts energy generation in 2012, the industry stalled as uncertainty over whether tax credits would expire in 2012, as they did, dissuaded investors. In 2013, Congress gave tax credits a one year extension giving some oxygen to the industry that however suffered a 92% drop in installations that year. Still, wind energy currently meets less than 5% of the nation's electricity demand, although wind energy prices have reached all-time lows. link

May 2016: Iowa now gets 31% of its electricity from renewable energy, more than any other state. Also Iowa, Kansas and South Dakota all generated more than 20% of their electricity from wind in 2015. link

December 2015:

Wind industry gains certainty as tax credits extended.

The new bill includes a five-year retroactive extension of the previous bill and steps down the tax credits through December 31, 2019. Wind projects that begin construction in 2017 will receive an ITC/PTC of 24%; projects that begin construction in 2018 will receive an ITC of 18%

and projects that begin in 2019 will receive an ITC of 12% These figures represent an ITC/PTC that "steps down" by 20% each year. link

November 2015: Texas – free electricity at night thanks to wind power. Texas has more wind power than any other state, accounting for roughly 10% of the state's generation. Alone among the 48 contiguous states, Texas runs its own electricity grid that barely connects to the rest of the country, so the abundance of nightly wind power generated here must be consumed here. Wind blows most strongly at night and the power it produces is inexpensive because of its abundance and federal tax breaks. A shift of power use away from the peak daytime periods means lower wholesale prices, and the possibility of avoiding the costly option of building more power plants. link

(September 2016)

What would a US powered only by wind actually look like?


Wind farms still provide less than 5% of the nation's energy, according to the American Wind Energy Association. John Hensley, AWEA's manager of industry data analysis, calculated

approximately 583,000 onshore turbines

would be needed which would take up about the total land mass of Rhode Island.

link

January 2015: Wind power quadruples in 2014. At year-end there was more than 12,700MW of capacity under construction, the majority in Texas. link

August 2012:

More of America's wind turbines now built in America.

In 2007, just 25% of turbine components used in new wind farms in the U.S. were produced domestically. By last year, that figure had risen to 72%, and exports of such equipment rose to $388 million up from $16 million in 2007. link

May 2015: Wind power poised to spread to all states. All 50 states could become wind energy producers, according to an Energy Department report once the next generation of larger, taller turbines in development hits the market. Energy officials and executives are now pushing toward machinery that would reach 360 to 460 feet high. That would increase the wind development potential in an additional 700,000 square miles, more than a fifth of the United States, bringing the total area to 1.8 million square miles. link

A

wind turbine emits no CO2 or other pollutants, and over its 20-year life it will produce 80-120 times more en­ergy than it consumes.

The European wind energy sector employed 160,000 people directly and indirectly in 2008.

Europe's wind energy avoided the emission of 108 million tonnes of C02 in 2008 – equal to 31% of the EU-15's Kyoto obligations and the equivalent of taking more than 50 million cars off the roads.


February 2014:

What happens at the end of turbines' life?

There is a global market emerging for used turbines. While earlier attempts by U.S. companies to sell the models at home have waned, demand appears to be picking up in developing countries and island nations - places where wind power costs far less than electricity from imported fossil fuels. link




Off-shore wind in USA

October 2016: 2016 will be remembered as "the year U.S. offshore wind arrived." Five

wind turbines in the Deepwater Wind project (Rhode Island) installed this summer, mark the first "steel in the water" for U.S. offshore wind power. The 30MW wind farm is set to be operational this fall and power 17,000 homes.

Scientists confirm there's enough wind off the coast of the most-populous, power-hungry cities (Boston, New York, Philadelphia, Baltimore, Los Angeles, Washington, DC) to supply all the nation's electricity, twice over.

The East coast's offshore-wind potential, 1,001GW,

could power the entire Atlantic seaboard.

link

(

October 2016:

The "Time is Now" for offshore wind in the USA

- link )

September 2016:

US plans 86GW off-shore wind by 2050.

The U.S. just completed its first off-shore wind farm, with 30MW of capacity off the coast of Rhode Island, and has laid out a plan to reach 86,000MW by 2050. There's enough potential wind power off U.S. coastlines, 2,000GW, to almost double the nation's total installed capacity, yet the high cost of turbines at sea have prevented development. link

August 2016:

The first U.S. offshore wind farm is complete

and will be operational November 2016.

link

July 28 2016:

US finally gets first off-shore wind farm.

Deepwater Wind has partnered with General Electric Renewable Energy to build the first offshore wind farm in the United States, off the coast of Block Island. Hooked up to the grid by the end of 2016, the system could supply 90% of the tourist destination's power within the next few years. link


March 2015: European-tested ocean-based wind turbines coming to USA. There are currently 12 offshore wind projects in various stages of development spanning 10 states off the East, West, Great Lakes and Texas coasts. The Northeast coast is particularly well-suited as an incubator of offshore wind, owing to its close access to major cities like Boston and New York. From Maine down to North Carolina, there exist over a thousand miles of coastline with a wide continental shelf on one side and major population centers on the other within a proximity of 15 miles or more. link

February 2014: Go-ahead for first US off-shore wind farm. A Seattle wind company has gotten the go-ahead to develop plans for a 30MW offshore wind pilot project off of Oregon's Coos Bay, officials announced this week. The project would employ five floating wind turbines about 15 miles off the coast of Oregon. link

September 2012: Offshore wind on the Atlantic coast could create 300,000 jobs. America has some of the best offshore wind resources in the world — especially along the Atlantic coastline. Harnessing a realistic fraction of offshore wind's potential, 52GW, could power 14 million homes with clean electrons while creating over 300,000 new jobs and $200 billion in new economic activity in some of our biggest cities. link
(According to the United States Energy Information Administration, of the 48 contiguous states, 28 that have coastal boundaries consume 78% of the nation's electricity.
September 2012: Off-shore turbines could power entire eastern states. link
January 2013: First part of offshore wind power line moves ahead - link





June 2017: Offshore wind breakthrough. 'A remarkable achievement,' is the only thing to say about where the European offshore wind industry finds itself today. It has taken a lot longer and cost a lot more money and effort than thought back in the late '90s, but the industry has exceeded its pricing targets by a significant margin and well ahead of the timeframe it set itself. We now have another large-scale and cost-competitive renewable energy technology to add to onshore wind and solar (and of course hydro) with which to bring about the energy revolution in the power sector. link

June 2017: Europe about to go into overdrive with offshore wind power. The governments of Germany, Denmark and Belgium backed a pledge to install 60GW of new offshore wind power next decade, more than fivefold existing capacity. The statement builds on an agreement by 10 northern European countries last year to work together to cut the cost of installing wind turbines at sea; prices for offshore wind in Europe fell by 22% in 2016 alone. (There were about 13.8GW of offshore wind globally in 2016.) link

January 2014: Off-shore wind in Europe. The total offshore wind capacity in Europe is now 6,562MW. The European Offshore Wind Industry estimates that by 2020 Europe's offshore grid should have a capacity of 40 gigawatts and by 2030 it should have 150 gigawatts, enough to provide 14% of the EU's electricity demand. Britain has the most installed capacity with 3.68 gigawatts while Denmark is a distant second with 1.27 gigawatts. link

March 2013: EU wind power exceeds the 100GW threshold. 2012 proved to be a milestone for EU wind power, as installed wind power generation capacity increased by 12.3% to exceed the 100 GW threshold, according to EurObserv'ER's 2012 Wind Power Barometer. At the end of year, EU wind power capacity accounted 105.6GW due to a new capacity of 11,840 MW which came online in 2012. link


Move towards the European super grid

.



April 2014:

The creation of a single European electricity market has been moving in a positive direction. With the EU Electricity Liberalization Directive agreed by all Member States forming the framework of EU energy policy, the overarching goal is for consumers to benefit from an internal market governed by coordinated rules — for the implementation of renewables and development of the electricity network. Naturally, there is still a long way to go in terms of establishing a single market, particularly in terms of the connection and integration of national electricity markets, the physical interconnections between Member States, and the promotion and facilitation of cross-border market-balancing.

link

January 2010:

Sun, wind and wave-powered: Europe unites to build renewable energy 'supergrid'

. By autumn, nine EU governments (Germany, France, Belgium, the Netherlands, Luxembourg, Denmark, Sweden and Ireland and the UK) hope to have a plan to begin building a high-voltage direct current network, a super-grid of renewable energy sources, within the next decade. It will be an important step in achieving the pledge that, by 2020, 20% of its energy will come from renewable sources. link

December 2010: A North Sea off-shore electric grid serving Europe agreed. The grid will link the ten member countries across Europe making it easier for member states to trade energy. The off-shore wind farms in the North Sea are expected to exploit 140GW of energy. link


February 2011: 11% increase in EU wind capacity in 2011. The EU added 9,616MW of wind energy capacity during 2011, making up more than a fifth of total new power installations. link


June 2010: EU plans for 50% electricity from wind energy by 2050. The European Union has launched a 6 billion euro ($7.2 billion) research and development program that will help pave the way for the region to source half of its electricity supply from wind energy by 2050. The plan aims to bring energy to power 20% of the bloc's electricity by 2020, 33% by 2030 and 50% by 2050. link

The European Wind Energy Agency (EWEA) set a new 230GW target for 2020, an example of the industry's confidence and the growing recognition of what wind power can offer European citizens. Britain has an ambitious goal of 33 gigawatts of wind power by 2020.

[The

2010 target set by the European Commission was 40 GW.]

More on U.K. wind.



New technologies and energy storage

April 2016: Vestas to challenge scaling rule with multi-rotor turbine. Vestas has unveiled a multi-rotor concept machine that it says could help challenge the rule that wind turbines must always increase in scale to boost power output. The four-rotor demonstrator turbine at the Risų test site is part of a process of continuous innovation and exploration designed to help reduce the cost of energy from wind. link

September 2016: New wind turbines proposed in Japan. Atsushi Shimizu is the inventor of the world's first typhoon turbine, an extremely durable, eggbeater-shaped device that can not only withstand the forces generated by a typhoon (Japan received six in 2016), it can convert all that power into useable energy. Shimizu's calculations show that a sufficiently large array of his turbines could capture enough energy from a single typhoon to power Japan for 50 years. link
May 2015: A wind turbine without blades. The turbine is just a hollow straw that sticks up 40 feet from the ground and vibrates like a guitar string when the wind thrums by. Instead of capturing energy via the circular motion of a propeller, the Vortex takes advantage of what's known as vorticity, an aerodynamic effect that produces a pattern of spinning vortices. At the base of the cone are two rings of repelling magnets, which act as a sort of nonelectrical motor. When the cone oscillates one way, the repelling magnets pull it in the other direction, like a slight nudge to boost the mast's movement regardless of wind speed. This kinetic energy is then converted into electricity via an alternator that multiplies the frequency of the mast's oscillation to improve the energy-gathering efficiency. The result is a turbine that's 50% less expensive than a bladed one, and nearly silent. And while each Vortex turbine is also 30% less efficient at capturing energy, wind farms can double the number of turbines that occupy a given area if they go bladeless. That's a net energy gain of 40%. Plus, the turbine has no gears or moving parts; theoretically maintenance could be much easier than a traditional bells-and-whistles spinning one. link
July 2011: Technology has impacted all stages and aspects o
f the wind development
business

.
Over
the past 10 to 15 years
, enhancements in
technology and computing power have
revolutionized the wind development business. From prospecting the best sites to constructing wind farms, from mapping cadastral data to estimating the wind resource at specific proposed turbine locations, technology has improved our ability to efficiently select, develop, and ultimately construct utility-scale wind farms. link
Wind turbines and hurricane winds. (December 2013) Wind turbines have a hurricane mode, designed to let them ride out major wind storms without damage. Basically, the blades get pitched to neutral so that wind forces them to not rotate, then they are locked down facing into the wind. It's engineering, just as turbines are slimmed down for areas with lower breezes so that they could generate better there. link
December 2014: Innovative wind turbines 1,000 times more efficient. A team at the University of Wollongiong is in the final stages of developing offshore wind turbines that are 1,000 times more efficient at one-third the cost of traditional turbines. Using superconductors to replace gearboxes, this converts wind energy into electricity without any loss of power, and cuts the cost of turbines from today's $15m to $3-5m each. link
T

here are well over 30 different significant manufacturers currently delivering wind turbines rated at more than 1 M

W and more than 130 different models of varying capacities.
Read here to learn of the factors taken into account for on-shore or off-shore turbines

.





8MW turbine announced by Danish company.

Danish wind turbine specialist Vestas was already looking to claim the title of the world's largest offshore wind turbine with its proposed V164 that ups the capacity from seven to eight megawatts. The current titleholder for the largest swept area goes to the G10X prototype installed by Gamesa in Spain, with a capacity of 4.5MW. Meanwhile, with a rated capacity of 7.58MW the Enercon E-126 has held the title for the world's largest capacity wind turbine since its introduction in 2007.

link (

Update - January 2014

: 8MW turbine starts generating power link)

December 2010: Just how big can a wind turbine get? With lots of manufacturers developing 7 to 10MW turbines (the ones prevalent today average about 1.5 - 2MW), a Spanish consortium plans to dominate the market with a 15MW turbine which could be ready for market by 2020. link (June 2017) Plans for a 50MW turbine - about ten times more powerful than a conventional wind turbine - link
(August 2017: Could a 50MW turbine be in the future - link)
January 2013: Apple re-inventing the wind turbine. Apple patent suggests using wind turbines that converts rotational energy from turbine blades into heat, which is then stored and used to generate electricity when necessary. Today's turbines often turn kinetic energy from turbine blade rotation directly into mechanical energy or electricity - more
Floating turbines:

May 2016:

World's largest floating windfarm to be built off Scottish

coast

after its developers were granted a seabed lease on Monday. Statoil, the Norwegian energy company, expects to have five 6MW turbines bobbing in the North Sea and generating electricity by the end of 2017. The company has already operated a single turbine off Norway. link



June 2014

:

The global race for floating wind farms.

Floating wind farms in the North Sea alone could meet the EU's electricity consumption four times over.

link



June 2015:

Huge 7MW floating wind turbine is Fukushima's energy solution. A mere 12 miles from the wrecked Fukushima Daiichi nuclear plant will soon sit a 620-foot, 1,500-ton windmill atop a 5,000-ton podium. It'll be the biggest floating wind turbine on Earth. The turbine will generate up to 7MW of electricity, making it Japan's most powerful wind turbine, and the most powerful floating turbine in the world. link

October 2010:

Floating wind turbines may be more efficient.

Floating wind turbines are a little more complicated and require higher initial costs. But a new study by the Energy Technologies Institute (ETI) in the UK has found that due to their greater ability to access stronger and more consistent winds deeper out at sea, they are more economically efficient in the long term.

link

(November 2013)

Norwegian oil company to build largest floating wind farm off coast of Scotland - link

Portugal: December 2011 The offshore wind industry passed a milestone recently with the installation of the world's first floating offshore wind turbine off the coast of Portugal. The WindFloat project consists of a 2MW semi-submersible wind turbine that can be deployed without heavy machinery. The turbine was transported to the sea and towed more than 217 miles to open water. link
February 2011: An alternative to large turbines. Vertical axis wind turbine (VAWT), is classified as a " the spinning mechanism that sits at ground level, rather than atop a tower, with two arms reaching up and out in a V-shape that spans 900 feet across. The vertical orientation means its weight does not alter its efficiency as it rotates, which does occur in horizontal axis turbines, and it can take advantage of wind coming from any direction. The new turbine design causing a lot of excitement, promising 10 megawatts per machine and potentially more as the design scales up--around three times the current yield of wind-power generators. A prototype is slated for completion by 2013. link
February 2017: Small home turbines get a fresh look - link
August 2013: Turbines do not affect house prices study. link
July 2011: Direct drive may replace less efficient gearboxes. A different drive train design that eliminates the gearbox between a turbine's rotor and generator is attracting wind turbine manufacturers in the quest for higher power output, increased offshore reliability, and potential cost savings over the system's lifetime. link
Energy storage: Important new industry
January 2017: Edison and Tesla unveil giant energy storage system. Tesla and SoCal Edison have unveiled one of the world's largest energy storage faciities. link
July 2010:

Storing wind energy proceeds for release at peak times

. The rapid growth of wind farms, whose output is hard to schedule reliably or even predict, has the nation's electricity providers scrambling to develop energy storage to ensure stability and improve profits. Storing in batteries allows wind energy to be bought at a low price, such as in the middle of the night, and resold hours later at a higher
price.
link
April 2010: Giant gravel batteries could make renewable energy more reliable. Wind and solar power are often criticised for being too intermittent, but Cambridge researchers could change that. link
December 2013: New storage technologies. Three new technologies are now emerging as potential long term solutions as alternatives to battery storage technologies, which many consider either simply be too expensive, or not have enough capacity to solve some of the long term issues. link
June 2010: Large kites could harvest the fast crosswinds at high altitude. Airborne wind turbines will take off and fly to around 2000 feet, where they will float, generating power that can be transferred to the ground via a tether. "Global wind is a tremendous source of energy carrying nearly 870 terrawatts in global tropospheric winds," says JoeBen Bevirt who is developing the wind turbine technology. "In comparison, the global demand is 17 terawatts. Harnessing a tiny fraction will transform the way we power our civilization." link
Kite Wind Generator, or KitGen.

December 2009: Kite wind generator. Some experts estimate that the total energy contained in wind is 100 times the amount needed by everyone on the planet. However, most of this energy is at high altitudes, far beyond the reach of any wind turbine. The catch is that we have to learn and devise ways to trap this wind power blowing across the planet earth. The Kite Wind Generator, simply known as KiteGen, is an Italian company. link
March 2017: "Spinning sails." Invented a century ago, rotating columns fixed to ships interact with wind to provide forward thrust and could lead to 10% fuel savings on ocean tankers. link
Sail-powered cargo ship test results in: It cut fuel by 20 percent

Early 2008, the MV Beluga SkySails, a cargo ship rigged up with a billowing 160-meter sail from Sky Sails, used approximately 20 percent less fuel than it would have without the sail during a two-month voyage. Put another way, that's 2.5 tons of fuel, or $1,000 a day, in operating costs. Beluga Shipping ultimately hopes to save $2,000 a day with the technology. The ship left Bremen, Germany, on the 22nd of January, sailed to Venezuela, and then headed toward the Norwegian port of Mo-I-Rana, docking on March 13. In all, the ship sailed 11,952 nautical miles. The sail was up, depending on the winds, from between 5 minutes and 8 hours a day. link [Ships engaged in international trade account for 2.7% of the world's carbon dioxide emissions from human activities - this contributes about a billion tonnes of CO2. That's more than the entire economies of Germany or the UK.
Small scale wind energy / Effects on wildlife
July 2012: Thailand - where turbines power a country that isn't windy. 70% of the area in the world has a low wind speed. Dr. Roy is a Lecturer in Mechanical Engineering in Bangkok and owner of a company that specializes in low wind-speed turbines. He is excited about the prospects for wind energy in Thailand, but insists that it must be done correctly.
A few years ago, during the fuel crisis in Thailand, wind energy suddenly became popular. Regular large windmills from abroad look like a monument but they don't rotate until a storm comes. Low speed, decentralized wind turbines can be put anywhere and are small, light structures, like ants feeding the grid. link
March 2011:

Small wind energy systems are experiencing significant growth

as the technology finally appears to be coming of age. These systems are now more reliable, quieter and safer than those introduced in past decades. Typically generating just enough power to meet the demands of a home, farm or small business, small wind energy systems belong to a renewables genre that continues to grow.

Currently, some 250 companies in 26 countries manufacture, or plan to manufacture, small wind turbines, according to latest figures released by the American Wind Energy Association. The world's leading 15 manufacturers continue to predict exponential sales growth in the US market over the next five years, with projections of over 1000 MW of cumulative installed small wind capacity in America by 2015. link
A new design wind-powered turbine overcomes height restrictions and noise problems and is said to be friendly to birds and bats. The Helix Wind Savonious 2.0 is a 2kW rated turbine that can be tower-mounted between 14 and 35 feet or roof mounted just 2 feet above roof line. The rotor measures 6ft by 4ft and utilizes long helical blade scoops to maximize energy performance in turbulent, gusty or multi-directional wind conditions. link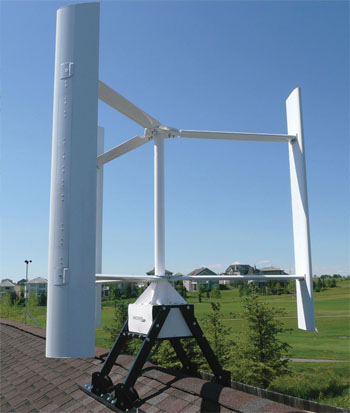 VAWT's or Vertical Axis Wind Turbines. VAWT's are an economical alternative for residential and small commercial applications where wind power can now be harnessed at lower wind speeds and without expensive towers. Due to the unique design of their vertically installed blades, VAWT's are less affected by turbulent air than standard horizontal axis wind turbines or HAWT's. This makes VAWT's better suited for residential areas where obstacles such as other houses, buildings and trees generally disturb the airflow. link
Bringing wind turbines to ordinary rooftops. Rooftop turbines send the electricity they generate straight on to the home's circuit box. Then owners in a suitably wind-swept location can watch the needle on their electricity meter turn backward instead of forward, reducing their utility bills while using a renewable resource. link

Wind turbine effects on birds and bats.





September 2013:

Latest study on wind farms – bird deaths.

As a new study that finds wind-energy farms directly caused the deaths of hundreds of eagles since the late 1990s, fatalities of golden eagles at modern wind facilities represent only 2% of all documented sources of human-caused eagle fatalities. Other studies have found that wind farms are responsible for a variety of bird deaths, but ultimately concluded that their avian death toll is negligible when compared to that of other power plants. One study identified 20,000 avian deaths

from wind farms in 2009 but found that in that same year, 330,000 birds were killed by nuclear power plants, and more than 14 million were killed by fossil-fueled power plants.

link British Trust for Ornithology finds 99% of birds avoid wind turbines - link



April 2012:

Windfarms do not cause long-term damage to bird populations

.

A new study, the largest carried out in the UK into the impact of onshore windfarms on bird life, quashed fears that onshore windfarms are causing long-term damage to bird populations, but found new evidence that some species are harmed when windfarms are built. The study concluded that a large majority of species can co-exist or thrive with windfarms once they are operating. link



March 2009:

British bird society calls for more wind farms.

Ruth Davis, head of climate change policy at the Royal Society for the Protection of Birds (RSPB) said it was in favour of such an expansion because of the "truly terrifying" impact that global warming was increasingly having on birds. "Left unchecked, climate change threatens many species with extinction," she said. link



September 2009:

Fossil fuel plants pose a much higher threat to birds than wind turbines.

Fossil-fueled facilities are 17 times more dangerous to birds on a per GWh basis than wind power. Wind turbines may have killed 17,000 birds, but fossil-fueled stations killed 14.5 million and nuclear 327,000. link



_________________________________________________________________





January 2016:

Bats and wind turbines

. Bats are often considered "key species" ecologically speaking in many regions. The wind industry is addressing bat-related risks from a number of different vantage points, some of which have been voluntary.The AWEA initiated a protocol which involves implementing an effective mitigation approach whereby wind turbine blades are "feathered" where the rotational speed of the wind turbine is significantly reduced, helping bats to more safely navigate through areas with wind turbines present. Some research suggests that feathering blades has reduced bat fatalities in one project by up to 72%. link


September 2015:

Wind industry plans serious changes to protect bats

- link
March 2011:

Wind turbines effects on bats

.

While more than a million bats have died due to a fungal disease called White-Nose Syndrome since 2006, at the same time, several migratory tree-dwelling species are being killed in unprecedented numbers by wind turbines. It

is unknown how many bats have died due to wind turbines, but scientists estimate by 2020, wind turbines will have killed 33,000 to 111,000 annually in the Mid-Atlantic Highlands alone.

This hurts the economy because bats' diet of pest insects reduces the damage the insects cause to crops and decreases the need for pesticides.

Why migratory tree-dwelling species are drawn to the turbines remains a mystery

. link


July 2009:

Wind turbines and bats

.

Radar beams that irritate bats could be used to prevent the animals from being diced by the spinning blades of wind turbines, according to a study of how the animals react to radar signals.

link




September 2009: Mitigating wildlife dangers - link
Why windmills are always white, and why do they have three blades?
Some answers


Purple shown to be best color for wildlife in studies

-

link

---