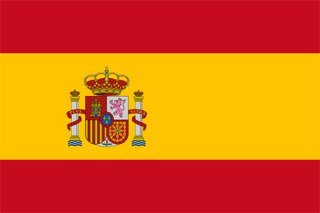 (September 2016) Spain closes in on 50% renewables. Over the first eight months of this year, Spain averaged an impressive 47.2% renewable energy share in its generation mix. Breaking down the renewable share reveals Spain to have developed a strong mix of renewable generating capacity: wind power (21.8%), hydroelectric (17.8%), solar PV (3.4%), solar thermal (2.4%), other (1.8%).
The remaining 52.8%of the generation mix was made u by a variety of non-renewables, including: nuclear power (23.2%) and coal (10.5%) link

Below:
General information

Spain's drought issues

Solar Power

Wind Power

Other news
2010 report: Spain has bolstered its credentials as a world leader in renewable energy by exporting electricity to France for the first time. Heavy rain and strong winds during 2010 meant that renewables - principally hydro, wind and solar power - met 35% of Spanish demand. In 2010, wind power rose by 18.5% and now meets 16% of Spain's energy. Heavy rains saw hydro-electrical production rise by 59% on 2009. Solar power, meanwhile, lags behind at only 3%, although some of the big solar plants have yet to come on stream. Oil and gas continue to generate about half of Spain's capacity, while nuclear power accounts for around 19%. link
March 2015: Spain gets the vast majority of its electricity from carbon-free sources. According to Red Electrica de Espana (REE), the Spanish peninsula got 69% of its electricity generation in March 2015 from technologies that produce zero carbon emissions, that is to say, renewable energy plus some of its nuclear power. Nuclear as a whole provided 23.8% of the country's electricity in March, while 47% came solely from renewable sources. Though it currently only accounts for about 3% of electricity generation, Spain's solar industry is one of the largest in the world. link
Spain's drought issues


July 2017:

Spanish farmers lament a relentless drought.
According to the Spanish farming association Asaja, the country is suffering from both a lack of rain over the past five or six years and the gradual diminishing and salinisation of water in aquifers and wells near the coast, which makes irrigation difficult. With the Duero, Segura and Júcar river basins already officially declared to be in drought and some areas seeing 75% less rainfall this year, the focus is now turning to how the drought could affect olives, almonds, pistachios and walnuts.
link
May 2017: Spain and Portugal could be hit by 'megadroughts' lasting 15 years by 2100. Southern Europe is experiencing faster warming than the global average with fears parts of it could turn into desert.

Spain has seen three major droughts, the latest of which spanned 1990 to 1995, affecting most of the country, with rainfall reduced by up to 30%, but has also experienced a number of smaller ones more recently. link
January 2017: Ongoing drought. Summer 2016 marked the driest period that Spain's northwestern Galicia region has seen since 1981. This ongoing drought has led to reservoir levels falling to just 25% of normal capacity. But the lower water levels have now revealed those lost towns that haven't been seen in decades. Photos show as water levels drop, towns and villages that were once flooded can now be seen again. link

May 2008. Spain's drought: a glimpse of our future. In 2008, Barcelona was in the grip of a climate crisis on a scale never seen before in modern-day Europe, and this parched city was forced to import supplies from France. The Catalan capital's weather can change from one day to the next, but its climate, like that of the whole Mediterranean region, is inexorably warming up and drying out. (Above: Perhaps the most striking image of Spain's drought,, has been that of the underwater church which emerged from a drying dam: receding waters have exposed the 11th century church at Vic, north of Barcelona completely,
Apart from the far north, the entire country is suffering; especially the parched areas on the Mediterranean coast. The government is building more desalination plants, adding to the more than 900 already in Spain. However, Spain's opposition party, supported by some environmentalists, say that the ambitious desalination plant program, with its huge energy needs, will only exacerbate CO2 problems. More than 70% of Spain's water goes on agriculture, much of it wasted on antiquated irrigation systems and the cultivation of thirsty crops unsuitable for arid lands. But few politicians seek confrontation with farmers already struggling to scratch a living.link
August 2008: Spain experiencing its worst drought in 40 years.




The BBC reported in September 2008 that climate experts warn that the country is suffering badly from the impact of climate change and that the Sahara is slowly creeping north - into the Spanish mainland. link

2016 Solar update. The Spanish solar market represents about 5% of the global PV market and in recent years its growth has slowed down significantly compared to rest of Europe. This decrease in growth can be explained by the end of all subsidies to solar energy in 2012 as a result of a wider economic review by the Spanish government. According to the European Photovoltaic Industry Association (EPIA), Spain's national target for solar capacity is 8,367MW by 2020. With over 5GW already installed, the EPIA estimates that Spain only needs to add 400MW of solar capacity every year to reach the necessary target. The EPIA also estimates that Spain should be able to add over 1500MW of solar energy every year. According to IRENA, Spain has a target to meet 3% of total energy demand from solar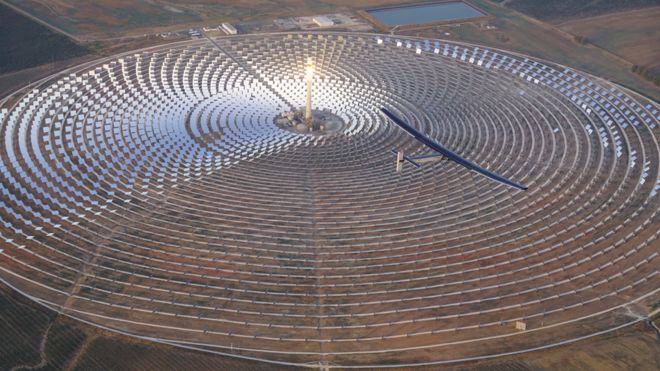 by 2020. The report goes to say that Spain has a target to generate 38% of its electricity from renewable energy by 2020 however by 2011 Spain already surpassed that target and more than 40% of its electricity is was being generated through renewable energy in that year. link (Pictured: Spain's 19.9MW Gemasolar Array in Andalucía)

Overview of Spain's role in development of solar power. (March 2010)
Spain has an average 340 days of sunshine annually and its long-term goal had been to produce 400MW of electricity from solar panels by 2010, and it reached that milestone by the end of 2007. In 2008 the nation connected 2.5 gigawatts of solar power onto its grid, more than quintupling its previous capacity and making it second only to Germany, the world leader. Half the solar power installed globally in 2008 was installed in Spain. In its haste to create a solar industry, Spain made some miscalculations: solar plants could be set up so quickly and easily that the rush into the industry was much faster than anticipated. Many of the hastily opened plants offered no hope of being cost-competitive with conventional power, being poorly designed or located where sunshine was inadequate, for example. The most robust Spanish solar companies survived the downturn, have restructured and are re-emerging as global players. For example, when the government changed course, Siliken Renewable Energy, originally a producer of solar panels, shut its factories for five months and cut its staff to 600 from 1,200. But after shifting its focus to external markets like Italy, France and the United States, and diversifying into solar support services, the company now turns a profit. "We were a company that banks trusted, so we could make the shift," said Antonio Navarro, a company spokesman. "But a lot of little companies disappeared." link
November 2006: Spain makes solar panels mandatory. Reuters reports all new and renovated buildings in Spain must now have solar panels, The code will come into force fully March 2007. New homes have to be equipped with solar panels to provide between 30 and 70% of their hot water and commercial buildings have to have photovoltaic panels to generate electricity. link
October 2015: Spain approves 'Sun Tax,' discriminates against solar PV. Spain's government has recently approved a new national law on self-consumption of energy that taxes solar installations disproportionately. Most notably, the majority of self-consumers will be also taxed for the electricity they generate and consume in their premises, via their own PV systems - link
Wind Power
Spain is the fifth country in the world in terms of installed wind power after China, the US, Germany and India. With an increase of installed power of 38MW in 2016, installed capacity is now 23,026MW. link Wind power peaked in 2007, and has since declined. link
January 2014: Wind power Spain's top source of energy in 2013. Remarkable new figures from Spain's grid operator have revealed that greenhouse gas emissions from the country's power sector are likely to have fallen 23.1% in 2013 as power generation from wind farms and hydroelectric plants soared, and for the first time ever wind power contributed most to the annual electricity demand coverage. According to the figures, wind turbines met 21.1% of electricity demand on the Spanish peninsular, narrowly beating the region's fleet of nuclear reactors, which provided 21% of power. link
Spain reaches 23GW of wind energy in 2014. According to the Spanish Wind Energy Association, installed wind capacity in Spain reached almost 23GW in 2014 with only 27.5 MW added, the lowest amount in twenty years. Compared to 2013 when 175 MW were installed, the market dropped by 84.3% in 2014. Wind energy produced 20.4% of the yearly energy electricity demand. Wind generation was the main source of electricity in the Spanish power system during the months of January, February, and November. link

Other news
White roofs effects proven in southern Spain: The greenhouse effect may be heating the planet but a new study says Europe's driest spot, Almeria, Spain, is actually cooling ... thanks to greenhouses. A group of researchers at the University of Almeria found that the southern Spanish province had so many commercial greenhouses, seen from space as a white swathe across the arid province, that they reflected solar energy back into space. link

September 2008: Spain is known for its wine, a country with more land under vines than any other. But if temperatures in Spain keep rising - and they have gone up by 2C on average in the past 50 years - the wines could taste very different and some vintages will be ruined. more
February 2009:
Spain's
glaciers - now under threat.

Spain has lost 90% of its glaciers because of global warming, threatening drought as rivers dry up. While glaciers covered 3,300 hectares of land on the mountain range that divides Spain and France at the turn of the last century, only 390 hectares remain, according to Spain's environment ministry. link