Rome to Paris Pilgrimage: 2015 - blogs




(November 29 2015) The pilgrimage from the Vatican in Rome to Paris is over. During the COP-21talks I will be here with the pilgrims I walked with for events. Also with Fast for the Climate events. We arrived safely on Friday November 27 after 59 days.

Paris - November 30. Summarizing the walk from Rome will take time as I reflect on the journey in total and how it also relates to what occurs while the talks go on in Paris until December 12. During that time there will be many events outside of the main conference area. World leaders attending on the first day as opposed to the ending days in Copenhagen is a positive sign of the seriousness with which COP-21 should be taken. The talking has gone on far too long. Deadly climate events and world pressure, not least from the multiple pilgrimages to Paris from all over Europe as well as other walks around the world taking place, should be cause for significant movement to halt greenhouse gas emissions as the urgent goal. Promises of greatly reduced emissions by 2030 and 2050 are no longer acceptable: the climate crisis is today. While delays continue, people are dying. Just as greenhouse gas emissions are not constrained by borders, we need to recognize that this one planet is our common home: we should move to make it a better world by refusing to be bound by borders and differing faiths – we must come together as one family with one home.

One strong message from the early discussions during the last few days before the talks begin is that this is now a moral issue, not simply a technical number-counting problem. The victims of climate change are real – they are suffering now. Mostly in the poorer countries of the world the effects are greatest, and these are the people least responsible for the problem. They suffer because the first world nations have blindly committed to ever-increasing luxuries and dependency on energy from fossil fuels. Energy companies have lied and assisted this complacency simply for greed. The pilgrimage from Rome to Paris was led by the Filipino people who face the greatest risks: simply day-to-day living there means accepting risk as part of survival. For them to come to spend the last few weeks in France enduring temperatures close to zero – unknown in their country – means they accepted real hardship to convey their message. Wrapped in warm clothes, gloves, coats, hats – they still felt the cold which meant many difficult walking days, in the last week of over 35 and 50 kilometers on two of the days before reaching Paris.
Two prominent points come to mind as I listen to the feedback from the group and during talks. First risk. Far too many people around the world have no alternative but to live daily at risk of their lives and livelihood, while such risks are unknown in the West (by which I mean North America and Europe mainly). So I now find myself asking, what risks are we meant to take? Do we simply change a few habits and continue our safe lives, or should we consider major changes altogether? Inaction puts the human existence on this planet – our only home – in peril. Doing nothing then, is no longer an option. The other point I'm now pondering is to redefine the meaning of 'progress.' Is it simply increasing our wealth so we can continue consumption as a way to exist? Just how much 'stuff' can we truly need? That course would only accelerate the climate crisis because it accepts 'business as usual' as the only way to go. In fact 'progress' would be better defined as reversing that process – living more within our means and building a more equitable world which means more sharing. If we refuse to accept risks also, then we must be prepared to tell our children, "Sorry." As one billboard in Paris reads: Nous ne pourrons pas dire a nos enfants que nous ne savons pas. ("We can no longer tell our children we didn't know." )

Paris - November 27. The pilgrimage has arrived in Paris after 59 days since leaving the Vatican in Rome. An update will be following soon.

Nevers, France - November 20
The group has now grown to 22 walking to Paris following our stop In Lyon – eleven being Filipinos. Keeping to D roads and along pilgrimage paths we have quietly proceeded to Nevers – a large city not originally expected. The rain came steadily in the afternoon by which time we were safely in a warm room offered by the local church. Here we wait for hosts tonight. Last night we were in Decizes, a small old town in the Loire valley. An illness for our French organizer, Louise, meant a trip there to the hospital and some days of rest ahead; the daily phoning ahead to organize stops, secure provisions along the way for the growing group and planning stopovers, and hosts when we were in larger town such as Cluny and Macon were among her tasks while also keeping us on schedule.

Mostly through farm land we entered the Auvergne region two days ago. Keeping to pilgrimage routes we mainly avoided towns which for the most part were just a cluster of houses here and there among farmland. Access to internet the previous week was unlikely; the thought of updating the web site abandoned. The next largest town en route will be Fontainbleau a few days before arriving in Paris. Only once have we been asked to provide passport details to the police at one isolated stopover. We presume security up to and including Paris will be tight following the attack a week ago. Getting news is difficult without access to any media but we learned that our pilgrimage will not be counted as a demonstration which I gather may be banned during the talks. How and where we arrive in Paris is unknown at the moment.

Quite a few of the walkers are now feeling the effects of daily long walks, myself included. Daily treatment to my left thigh is considered essential if I shall complete the entire walk from Rome – still my hope. What will happen in Paris is presently unpredictable – in fact just as last year's walk in the Philippines, each day arrives pretty well unpredictable, unsure of where we will spend the next night. Lately they have been in remote areas of farm country on floors. Host families for several nights in Lyon and two other larger towns were the exception with warm greetings from local residents: a large group walked with us the day leaving Lyon along the Saône River.

___________________________________________________

Geneva - November 5 Chaque pas compte. Each step counts. This is the message we carry as we continue our journey out of Italy and via Geneva to France. As I commented in Geneva the reason why I am on the pilgrimage from Rome to Paris was simply part of a longer journey: I owe much to future generations. Explained more fully, the journey began fifteen years ago as I became aware of the seriousness of climate change. The extent of change has been far more dramatic as time passed to the point now where the COP talks in Paris in December are critical for meaningful decisions. If our pilgrimage adds to the pressure on world leaders then our steps will have been effective. But each step also brings us each day to new people as we make our way on this long journey: at each stop people learn more of the crisis facing the world. The walk is not easy necessarily but then the problem facing all nations is not an easy one either. As the world faces increasing risks as greenhouse gas emissions rapidly rise, and indeed already responsible for immense damage around the world mostly to those least responsible, we must now also take risks. To sit idly by and do nothing is to watch the calamity unfold. This is no longer an option. (Pictured: at the summit of the Alps.)

Crossing the Alps was not as hard as it ought to have been. Ironically climate change made the task too comfortable. Hard on the leg muscles but with so little snow it was no real problem. A slight breathing problem at highest altitudes but nothing serious. From Northern Italy onwards we were told that it was too warm now and there should be more snow – climate change is happening: winters come later and glaciers recede. The downward trek the next day was more difficult as weather worsened and we spent more time off-road in colder, windier and wetter conditions. We have been helped with support along the way with visits from OurVoices workers for a few days at a time. The German film crew which has followed Yeb's journey for the year were welcome guests for a few days as we traversed the Alps. Also FOCSIV workers and volunteers have walked strongly with us though to Geneva. A film crew from Al Jazeera covered the walkers as we reached the summit of the Alps with a wonderful stay at the hostel by the border crossing. In Geneva host LWF (Lutheran World Federation) ensured all our needs were met and organized several meeting at the WCC (World Council of Churches) building. Both LWF and WCC are strong supporters of the Fast for the Climate, and Martin Kopp and Caroline Bader were on hand to keep us informed of plans for Paris.

Yeb Saño in one talk reminded everyone that climate change is already a matter of survival for many around the world, and justice for poorer nation is now an integral demand of the world leaders. Ultimately however as the climate crisis increases, changes at governmental levels themselves will not suffice unless we ourselves are prepared to make changes also – it is a spiritual change that will be needed for a different world. As Yeb said, "the problem is not in the atmosphere, but in our hearts".

___________________________________________________



O

ctober 29

. Rest day in Turin. For me an opportunity to be connected to the internet so I could work on web pages on ThinkGlobalGreen, which was a relief being the first opportunity since Bologna to update the site. The previous days have included longer walks through flat countryside, meandering through small villages. The hosts at each stop have been welcoming and generous in assuring we were adequately fed and given places to sleep, though usually either on cots or floor space. (The hostel in Turin allows the first time offers beds without sleeping bags being necessary.)
Of course the satisfaction of hosts to show us the various churches and museums of their towns showed their pride for the communities where they live, and as Europe is steeped in 12th century onwards castles and churches, there is much to admire. While unable to follow all the speeches and presentation in Italian, not one of my languages, the meetings, especially with students in large numbers helped convey why we were on the pilgrimage and the seriousness of the climate issues which we press for a resolution in Paris when world leaders meet this December - the reason for our walk. In Galliate en route from Milan to Turin we were met by several hundred townspeople - mostly children - an amazing turnout to greet us. At each stop we present giant leaves to children teaching the connections between nature and caring for the planet. Now half way to Paris several of the walkers, including myself, are coping with mild colds, but the energy is strong, and we look forward to meeting with quite a few more Filipinos when we reach Lyon in France. Visas are now being permitted by French authorities, so our numbers will likely double for the final three weeks to Paris. Now we anticipate two days crossing the Alps towards Geneva. [Photo: The People's Pilgrimage on a busy road in Italy. Photo: Tessa Tennant (OurVoices)]



October 23 and 24

are rest days in Milan which may provide my next best opportunity to add to this page. Meanwhile, those on Facebook with me can check out my timeline for updated information added by several of the walkers.

________________________________________________________________________




October 19: Into 20th day of the pilgrimage: we have reached Parma. Until arriving in Bologna on October 12, the group of ten walkers had traversed two-lane roads, off-road paths including traditional pilgrimage routes, and numerous hill climbs which gave evidence to our singularity of purpose. Despite some adverse weather conditions with some unexpected unseasonal temperatures, we have come together as a group mutually supporting each other along the journey. Route and presentations organized by Focsiv, with wonderful team support from volunteers, notably Nadia, Daniela and Sixte, the walkers have showed resolve for the ambition of the pilgrimage; informing people en route and at programmed gatherings of the immediacy of the climate crisis and our reason for walking 60 days to Paris by November 28 ahead of the COP-21talks.

At a midday stop in Bologna I spoke to a small gathering about news item learned on my single foray onto internet news the day before where I learned that relentless rains in my neighboring state in the USA – South Carolina – has caused floods at a level never before experienced with a loss of life count at 21 in both North and South Carolina. Before this journey, climate change had had little impact on these east coast states. Suddenly it was real. As with other massive floods earlier in the year in the USA, mainly in Colorado, nowhere was now safe from the whims of climate activity being unleashed around the planet. Another snap headline I saw was in the Washington Post. The portrayal of a freezing Earth in the movie "The Day After Tomorrow", which received scientific dismissal of being plausible, was now seen as being closer than ever to reality. Having long believed that events would unravel even more quickly than some scientists feared, I am now convinced that we have but a few short years, maybe not more than 4 or 5, for people to take serious action. Talks and pledges to reduce greenhouse gases by 2030 or 2050 are unrealistic: they suggest we have still lots of time. But with worsening conditions annually, and with the planet heating faster than ever, we are all now called to act. Those who watch will imperil not just future generations, but the ones currently sharing our only home.

It is no longer about borders and countries making individual promises. With the refugee crises upon us, which will only exacerbate in coming years, we are all called to urgent action. The pilgrimage from Rome to Paris brings together walkers from four countries. Walkers aged from 18 to 69. We have formed a common bond, and this is our example to others. For those who continue to watch the climate crisis unfold year by year, they put at risk all the children and young people living today. Our world leaders need to hear our voices because for over 20 years they have failed to take responsibility. We are quickly running out of time.

________________________________________________________________________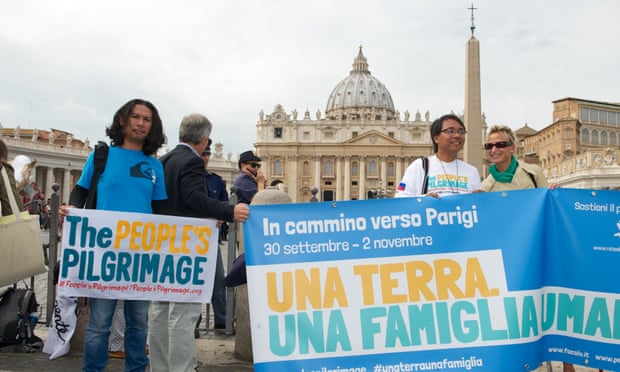 September 30th

saw the walkers at the weekly Vatican audience at which Yeb and brother AG met with Pope Francis. For me I was pleased that Yeb was able to hand to the Pope a copy of my book. Must keep this blog short as today,

October 13

, we are in Bologna having covered several media events on this rest day. This is the first day with good internet connections, and time, as ever, is short. I am able to do little research for the web site, but will when able update home and newsdesk pages with what is significant as I learn it. There has been lots of climbing as we crossed a mountain range to Bologna, but all will be pleasantly flat as we press on to the Italian border.

(Pictured: group at Vatican)



The group is now ten - 5 from the Philippines, Sam from Hong Kong and the four of us from the USA. We hope other Filipinos will join us along the route, but maybe not more than two depending on visa issues. The hospitality along the way has been wonderful with a great deal of planning by Focsiv in Italy. Volunteers have walked with us to provide translations assistance, guiding and generally supportive help. A camper has been present to carry the heavy luggage, and I will return later to acknowledge the people involved.


________________________________________________________________________

September 29: Today the four walkers from USA will meet up with Yeb Saño and other Filipinos. The walk begins Wednesday from the Vatican. With me are Wil Watson from Charlotte and Sean Glenn and Berenice Tompkins who were part of the Great March for Climate in 2014.

I am grateful to HattonTech, area leader in small business technology solutions firm in Charlotte NC, as a proud sponsor of my Rome to Paris pilgrimage (AB)

www.hattontech.com