COAL
Coal is so abundant that it is the obvious fuel of choice, yet it is also a growing contributor of CO2 pollution.
West Virginia sits on more than 30
billion tons of coal and produced 158 million tons in 2008, second only to Wyoming at 468 million. Producing it causes devastating results
to the landscape, especially in the Appalachians where mountains are removed 24
hours every day. Environmentally, coal is unacceptable,
therefore much effort is being put into clean coal technology (liquid coal and gasified coal) and carbon sequestration. These methods are prohibitively expensive and presently non-viable. In selecting coal over alternatives it's also important to factor in taxpayer subsidies as well as serious health consequences.

Nationwide, more than 90 coal plants have been cancelled or put on hold over a three year period due to projected greenhouse gas emissions, mushrooming costs and public opposition.





Other pages:

Coal Ash - Mountaintop removal - Carbon storage and sequestration

March 2011: The Union of Concerned Scientists have issued a report titled, "A Risky Proposition" which concludes that in the 1970s there was a massive over-investment in coal and nuclear plants without proper heed to the associated financial risks. This blind over-investment led to cancellation of 100 nuclear plants and 80 coal plants. But the money was already spent: hundreds of millions or even billions of dollars were wasted and electricity prices skyrocketed, municipal bonds defaulted and legal battles arose. Many people continue to think that coal is the cheapest and most plentiful electric fuel. "A Risky Proposition" expertly debunks these lingering misconceptions. link
(How Coal Works - USC informative page details how coal forms, the history and side-effects. and future - link)
________________________________________________
Latest news:
June 22 2017: Southeast Asia represents the last stand for coal industry. Today Japan is the biggest investor in coal. Despite its near complete lack of domestic resources, Japan has plans to build 49 coal plants, in part to ensure energy security in the light of the still uncertain return of nuclear power to the island nation. The chief targets for environmentalists, and the next two countries in the Asia-Pacific region with extensive coal plans, are Indonesia and Vietnam, who, coincidentally, are getting funding from Japanese investors to build these projects. Coal developers have been protected from clean energy by a whole host of market barriers, but with the cost advantage shifting to renewables that won't last forever. link
________________________________________________
Below:
February 2017: Coal industry will not come back to life under Trump. President Trump promised that "dying industries will come roaring back to life" – and then highlighted the boost he gave one such industry by blocking an environmental regulation "that threatens the future and livelihoods of our great coal miners." But while coal companies cheered Trump's decision, it underscored how little power he has to bring back the bulk of the coal jobs he promised in his campaign. Environmental regulations are not the main problem killing the coal industry – the realities of the energy market and cheap natural gas are. link
March 2017:

Decline of coal during Obama administration.

When Obama came to power, coal provided 52% of US electricity; now it is closer to 30%. The fall is down to competition from cheap, shale gas and the closure of 411 coal-fired power plants under Obama's administration as more than 50 coalmining companies went bankrupt. Coalmining employed 98,505 people in 2015, down from 127,745 in 2008, the year Obama was elected president, and about 250,000 in the 1970s.
link
May 2016: Coal assets may never again be economic. More than half the assets in the global coal industry are now held by companies that are either in bankruptcy proceedings or don't earn enough money to pay their interest bills, according to data compiled by Bloomberg. In the U.S., only three of 12 large coal miners traded on public markets escape that ignominious club. The largest of those, Consol Energy, is morphing into a natural-gas producer. Climate change campaigners have been warning of the threat of stranded assets, fossil-fuel reserves that can never be exploited if the world hopes to avoid 2C warming, since at least 2012. link
According to EPA, American coal plants produce 386,000 tons

of

hazardous air pollutants per year. Coal-fired electric power generation emits around 2,000 pounds of CO2 for every megawatt-hour generated. The toxins they release, hazardous chemicals that can lead to disease, brain damage and premature death, affect every part of the human body. Arsenic, chromium and nickel cause cancer; lead damages the nervous system; acid gases irritate the nose and throat; dioxins affect the reproductive endocrine and immune systems; and volatile organic compounds weaken lungs and eyes. link The global dominance of industrial interests dependent on cheap energy sourced from coal means that climate change is inevitable. Unfortunately, there is enough cheap coal around to power ever-higher emissions for at least another century. The world will inevitably become much warmer. link
Coverage of coal in USA at eia.gov
Inside the world's biggest coal mine - link
December 2013: World's biggest coal deposits fuel debate. No other coal deposit on the planet is so big, so close to the surface, and so cheap to mine as the rich seams in eastern Wyoming and Southern Montana. Today the massive deposits, enough to supply the USA almost into the 23rd century, have become the center of a regional, and increasingly national, debate: Should this resource continue to be developed? There is also concern over the role coal plays in global warming and health impacts. Coal is the "dirtiest" fossil fuels, emitting mercury, nitrogen oxides, sulfur, and 2.5 tons of CO2 for every ton of ore burned. According to the Energy Information Agency, coal is source of 44% of global energy-related CO2 emissions. link
Update on Montana - October 2015: Montana coal in decline - link
Coal's decline in USA.



In 2010, 44.9% of power generation was coal-based, natural gas had 23.8% of the market share, nuclear 19.6% and the rest was made up of hydro, renewables and other methods of power generation.

Between 2010 to 2022, 48 gigawatts of coal will have been retired at 231 plants: that's 14.1% of the total 339,000 megawatts of coal-fired power generation in 2010. All except 6 plants are more than 30 years old; the majority of plants are older than 50 years

.

link


May 2012:

Coal now just 36% of power in U.S. Power generation from coal is falling quickly. According to new figures from the U.S. Energy Information Administration, coal made up 36% of U.S. electricity in the first quarter of 2012, down from 44.6% in the first quarter of 2011. link (The figure for 2016 was down to 30.4% - link)

February 2010: Coal-fired power on the way out? Analysis by Lester R. Brown. link
May 2016: Coal assets may never again be economic. More than half the assets in the global coal industry are now held by companies that are either in bankruptcy proceedings or don't earn enough money to pay their interest bills, according to data compiled by Bloomberg. In the U.S., only three of 12 large coal miners traded on public markets escape that ignominious club. The largest of those, Consol Energy, is morphing into a natural-gas producer. Climate change campaigners have been warning of the threat of stranded assets, fossil-fuel reserves that can never be exploited if the world hopes to avoid 2C warming, since at least 2012. link
Every hour of every day the USA burns over 100,000 tons of coal.

Each pound of coal produces 3.7 pounds of CO2 (if treating coal as pure carbon, which it is not. Bituminous coal generally has lower concentrations of pure carbon - between 46% to 86%)

The US currently uses 1.05 billion tons a year.


Coal provides 26% of global primary energy needs and generates 41% of the world's electricity

.




Coal consumption by country -

For latest global statistics on producers and exporters etc.

- link
June 2012: Study: Coal plants do more harm than good. A report from the Environmental Integrity Project (EIP) evaluated the health impacts of the 18 dirtiest coal plants, from the standpoint of sulfur dioxide emissions, and found that the cost of health care required as the result of the pollution exceeded the cost of electricity produced by the plants. The plants are located in 13 states in the South and Midwest. Overall, the report found between 2,700 and 5,700 deaths per year attributable to pollution from the 51 dirtiest American coal plants. This translates into a cost somewhere between $23 and $47 billion. The problem is, of course, that this money does not show up on the companies' balance sheets, at least not at the present time. link
In 2009, plans for 26 new coal-fired power plants were shelved - link
January 2011: Banks, climate & the Carbon Principles. In February 2008, three leading banks, Citi, JPMorgan Chase and Morgan Stanley, announced common coal power financing policies, known as the Carbon Principles. Heralded as a new path for the banking industry, the Carbon Principles were supposed to make it "tougher to finance conventional coal-fired plants in the U.S." Today Rainforest Action Network examines the implementation and impact of these Principles, and the role that banks play in financing new coal plants – and the news is not good. Our research reveals that, while the broader economy has been shifting away from new coal power plants, the banks that have signed onto the Carbon Principles are continuing with business as usual in regards to financing coal. Burning coal is the nation's top source of air pollution and toxic mercury, and it is responsible for one third of the country's greenhouse gas emission, nearly 2 billion tons per year. (Click here to see report)


June 2017:

Global demand for coal falls in 2016 for second year in a row.

The UK, with a 52.5% decrease, was described as the "most extreme example" of the trend away from coal, which has resulted in use of the fuel returning to levels not seen since the start of the industrial revolution. The 1.7% fall in worldwide consumption in 2016 marks a striking reversal for coal's fortunes, which was the largest source of energy demand growth until four years ago. link


April 2017:

The end of coal: EU energy companies pledge no new plants from 2020.
Europe's energy utilities have rung a death knell for coal, with a historic pledge that no new coal-fired plants will be built in the EU after 2020. National energy companies from every EU nation, except Poland and Greece, have signed up to the initiative, which will overhaul the bloc's energy-generating future. Poland relies on coal for 90% of its energy.

link
World coal consumption by region, 1980-2010 (click to animate)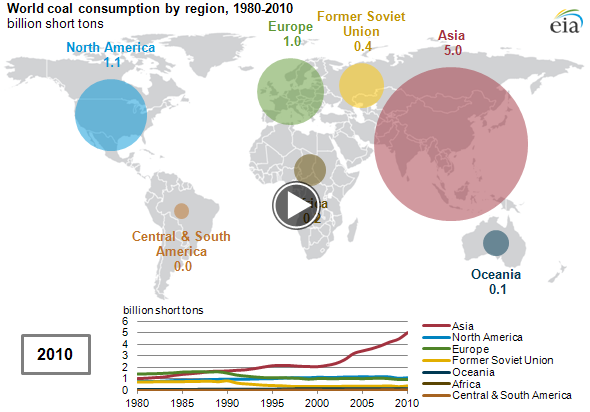 Source - EIA

March 2016: As coal's future grows murkier, banks pull financing. Coal, like railroads, steel and other engines of the nation's industrial expansion in the 19th and early 20th centuries, helped drive Wall Street's profits for generations. More than a century later, the coal industry is in a free fall and the banks are pulling away. Some banks say they are trying to do their part to curtail climate change by moving away from coal projects and financing ventures that produce less carbon. But bankers also say there is a more basic reason for the shift: Lending to coal companies is too risky and could ultimately prove unprofitable. link

March 2016: Coal power plants exhaust needed water supplies. Coal power plants use enough water to supply the needs of 1 billion people and that will almost double if all the world's planned power plants come online. Almost half the new power plants will be built in areas that are already in high water stress, a report commissioned by Greenpeace says. The research found 44% of current plants, and 45% of planned plants, were in areas that were in a state of water stress – where water use is already considered to be having significant ecosystem impacts. link

December

2015:

About 2,400 new coal are planned globally. Niklas Hohne of the New Climate Institute explains why building these plants is inconsistent with emission control commitments countries have given. To reach the 2C agreement the electricity sector has to phase out emissions from coal-fired plants by 2050. An average lifetime of a coal-fired plant is 40 years taking them past 2050. "If we are serious about the two degrees, no single coal plant should be built today. If all countries would do what they have already proposed in their national plans, we would go up to a temperature close to 3.6C . . . adding these coal-fired power plants, it would be even above that."

link

November 2015: Coal dilemma for developing countries. Philippines President Aquino said 23 new coal plants are needed to meet demands for energy even though the country has been dubbed one of the most vulnerable to climate change. Many developing countries, facing rapid increases in population and surging economic growth see coal as a relatively cheap option. China, India and other fast-growing Asian economies also have plans for hundreds of new coal power stations. link

December 2012: IEA Coal Report 2012: Coal consumption booms amid rising climate concerns. In a report destined to frustrate advocates for global action on climate change, the Paris-based International Energy Agency projected that in five years' time, the amount of coal burned around the globe every year will increase by an additional 1.2 billion metric tons, an amount roughly equivalent to the current annual coal consumption of the U.S. and Russia combined. Virtually all of it the increase is attributable to rapid economic expansion in China and India. link

January 2013: Coal providing more than ever of world's energy. Coal-fired power stations provide 40% of the world's electricity, and there are ever more of them. In the doubling of the world's electricity production over the past decade, two-thirds of the increase came from coal. link

Lignite or brown coal.

Lignite is generally yellow to dark brown or rarely black coal

that

formed from peat. In many countries lignite is considered to be a brown coal and contains about 60% to 70% carbon .It has been estimated that nearly half of the world's total proven coal reserves are made up of lignite and subbitumous coal, but lignite has not been exploited to any great extent, because it is inferior to higher-rank coals. link
Germany:

Germany is Europe's largest economy, and its wealth depends heavily on exporting industrial goods made with cheap electricity. Lignite is the cheapest source of electricity from fossil fuels, and Germany has the world's largest reserves of it. But lignite causes the highest CO2 emissions per ton when burned, one-third more than hard coal and three times as much as natural gas.

link

January 2013: Coal use on the rise in Europe. A coal surge in Europe is making nonsense of EU environmental policies, which politicians like to claim are a model for the rest of the world. European countries had hoped gradually to squeeze dirty coal out of electricity generation. Instead, its market share has been growing. The EU aims to reduce carbon emissions to 80% of their 1990 levels by 2020. Thanks in part to the recession; by 2009 it was most of the way there, a bit more than 17% down on the 1990 level. In 2010, though, emissions began rising. Bloomberg calculates that carbon emissions from power plants rose around 3% in 2012, pushing total emissions 1% higher than they were in 2011. link

China now uses more coal than the United States, Europe and Japan combined. China's frenetic construction of coal-fired of power plants has raised worries around the world about the effect on climate change, making it the world's largest emitter of gases that are warming the planet. But largely missing in the hand-wringing is this: China has emerged in the past two years as the world's leading builder of more
efficient, less polluting coal power plants, mastering the technology and driving down the cost. After relying until recently on older technology, "China has since become the major world market for advanced coal-fired power plants with high-specification emission control systems," the International Energy Agency said in a report a on April 20 2009. link
January 2014: EPA issues new emission rules. The Environmental Protection Agency has, at long last, published its rule to limit carbon emissions from new power plants. The proposed rule appeared four months after EPA Administrator Gina McCarthy announced it back in September. The regulation mandates that all future coal plants can emit just 1,100 pounds of CO2 per megawatt-hour. (An average U.S. coal plant currently dumps over 1,700 pounds of CO2 into the atmosphere.) The rule also covers new natural-gas fired plants. Natural gas plants, 100MW or larger, will be limited to 1,000 pounds of CO2 per megawatt-hour. The rule will make it very difficult for new coal-fired power plants to be built in the United States. link
March 2012: New emissions rule from EPA on power plants. The Obama administration's proposed rule to control greenhouse gas emissions from new power plants could go far toward closing out the era of old-fashioned coal-burning power generation. The new rules do not apply to existing plants. link (The average U.S. coal plant emits 1,768 pounds of CO2 per megawatt-hour. Natural gas plants emit 800 to 850 pounds. New limits set by the EPA (September 2103) would reduce that number to 1100 lbs or 1,000 lbs for plants producing mire that 850MW.)
Cross-State Air Pollution Rule
October 2012:

Cross-pollination rule rejected

. A DC Court of Appeals sent the cross pollution rule back to the EPA for revision and ordered the agency to administer its existing Clean Air Interstate Rule - the Bush-era regulation

.
By the time the EPA revises the rule on cross-state pollution, which could take at least two years, the impact would be limited because more stringent mercury and air toxics rules will kick in by 2015 and force old, coal-fired plants to shut down, up to a total of 50GW.
The EPA's Mercury and Air Toxics rule is being challenged in the same court that struck down the cross state rule. The National Association of Manufacturers and Chamber of Commerce have filed briefs asking the court to strike down the rule because it would drive up power prices.
Some analysts contend that the mercury rule won't meet the same fate as the cross-state plan because the agency's authority to regulate mercury emissions is very clear. link
.

Update

-
September 2016:

The EPA finalized an update to the Cross-State Air Pollution Rule. Starting in May 2017, this rule will reduce summertime (May - September) nitrogen oxides (NOX) emissions from power plants in 22 states in the eastern U.S., providing up to $880 million in benefits and reducing ground-level ozone exposure for millions of Americans. The rule will reduce air quality impacts of ozone pollution that crosses state lines and will help downwind areas meet and maintain the 2008 ozone air quality standard. link
July 2011: EPA sets new standards for coal-burning plants. New standards have been issued for coal-burning power plants in 28 states that would sharply cut smokestack emissions that have polluted forests, farms, lakes and streams across the eastern United States for decades. The new regulations will take effect beginning in 2012, and would cut emissions of soot, smog and acid rain from hundreds of power plants by millions of tons at a cost to utilities of less than $1 billion a year. The E.P.A. said the cleaner air would prevent as many as 34,000 premature deaths, 15,000 nonfatal heart attacks and hundreds of thousands of cases of asthma and other respiratory ailments every year. link
March 2011: The EPA must act on coal ash within 90 days. link (more on Coal Ash page)
September 2016: Final ruling - read here.
Cost of coal, including health
December 2008: There are unseen problems with coal we know little or nothing about. Revealing is the TVA disclosure that in just one year, the plant's byproducts included 45,000 pounds of arsenic, 49,000 pounds of lead, 1.4 million pounds of barium, 91,000 pounds of chromium and 140,000 pounds of manganese. Those metals can cause cancer, liver damage and neurological complications. link According to the American Lung Association, pollution from coal-fired power plants causes 23,600 premature deaths, 21,850 hospital admissions, 554,000 asthma attacks, and 38,200 heart attacks every year. The Center for Disease Control (CDC) estimates that 12,000 coal miners died from black lung disease between 1992 and 2002.
Septmeber 2015: Coal burning costs UK between £2.5bn and £10bn in health care. The UK spent between £2.47 and £9.9bn on healthcare costs related to emissions from burning coal in 2013, according to a comprehensive overview of coal production in Europe. The figure, which includes costs from coal-related respiratory and cardiovascular illnesses, such as heart disease and lung cancer is linked to the 395 kilotons of pollutants emitted by UK coal plants. Europe as a whole had a coal-related healthcare spend of between €21bn and €88bn, according to the authors. link
March 2012:

Coal is expensive and not getting any cheaper

. Contrary to coal industry spin, coal is not the cheapest resource for electricity generation - and it is only becoming more expensive, according to a new report titled "Coal is not Cheap Power" The study, put together by the Alaskan non-profit Groundtruth Trekking, looked at 20 years of power generation and price data and found the majority of coal-burning states show no significant correlation between proportion of coal fired electricity and electricity prices. For newly constructed plants, coal is not the cheapest option. link

May 2013:

Mercury from coal.

Though mercury is a natural element, most of the mercury that winds up in the atmosphere is released by people, primarily from coal combustion. Coal combustion is the single highest contributor in the US, responsible for almost 50% of atmospheric emissions. Approximately 75 tons of mercury are present in the coal used by US coal-fired power plants every year. Of this, more than 50 tons are subsequently released into the atmosphere, while the rest remains in coal combustion wastes.

link
Cost to our health

July 2016:

Coal dust kills 23,000 per year in EU

.

Lung-penetrating dust from coal-fired power plants in the European Union claims some 23,000 lives a year and racks up tens of billions of euros in health costs, an NGO report said on Tuesday. Even as the bloc shifts towards renewable sources like wind and solar energy, coal still accounted for 18% of the EU's greenhouse gas emissions in 2014 and a quarter of its electricity mix in 2015, said the analysis.

link



June 2015:

Coal's hidden costs. Perhaps no industry has inflicted such widespread costs on society as coal. From debilitating black lung disease to the devastating removal of whole mountaintops, from decades of lung-scarring smog to unrestrained emissions of greenhouse gases, coal has imposed its own deadly taxation, hiding the charges under the smoky cloak of cheap and abundant power. In a major study published in 2009, the National Research Council estimated that the non-climate pollution damages from smog, soot and acid rain brought on by burning coal amounted to about $62 billion per year, a hidden cost of more than 3 cents for each kilowatt/hour of electricity produced. (The climate costs, it said, were harder to estimate, but probably ranged from 1/10th of a cent to 10 cents per kWh.) A more comprehensive analysis, published in the Annals of the New York Academy of Sciences in 2011, put coal's hidden costs even higher, at a mid-range estimate of nearly 18 cents per kWh, a stunning penalty on the public of between one third and one half a trillion dollars annually. link

June 2013:

European coal pollution causes 22,300 premature deaths a year.

Burning coal also costs companies and governments billions of pounds in disease treatment and lost working days. These figures come from a Stuttgart University research study of the health impacts of burning coal to produce energy.

link


February 2011:

Health costs of coal - $345 billion a year.

A Harvard University researcher found the United States' reliance on coal to generate electricity, costs the economy about $345 billion a year in hidden expenses not borne by miners or utilities, including health problems in mining communities and pollution around power plants, a study found. Those costs would effectively triple the price of electricity produced by coal-fired plants, which are prevalent in part due to their low cost of operation.
The study said the costs could be as low as $175 billion or as high as $523 billion
. link
A

Clean Air Task Force study quantifying the deaths and other health affects attributable to the fine particle pollution from power plants finds that over 13,000 deaths each year are attributable to U.S. power plants. While reducing in numbers, much more still needs to be done.
link to interactive map for states here
October 2009: Burning fossil fuels costs the U.S. about $120 billion a year in health costs according to the National Academy of Sciences, mostly because of thousands of premature deaths from air pollution. The damages are caused almost equally by coal and oil, according to the study which was ordered by Congress. The study set out to measure the costs not incorporated into the price of a kilowatt-hour or a gallon of gasoline or diesel fuel. link

May 2010: UCS - 3 dozen states are collectively hemorrhaging tens of billions of dollars annually on imported coal to generate electricity, according to a report released by the Union of Concerned Scientists (UCS). Residents in those states would be better served, the report concludes, if more money were spent in-state on local renewable energy technology and energy efficiency programs. The first-of-its-kind report, which ranks the 38 states that are net importers of domestic and foreign coal based on the most recent available data, found that 11 of them each spent more than $1 billion annually on imported coal in 2008. 63% of domestic coal comes from just three states: Wyoming, West Virginia and Kentucky. Foreign coal burned in U.S. coal plants mainly comes from Colombia. "Importing coal to produce electricity is a drain on state economies," said Jeff Deyette, the assistant director of energy research and analysis in UCS's Climate & Energy Program and a report co-author. (More than 80% of the foreign coal imports in 2008 came from Colombia. The balance came from Venezuela and Indonesia and the United States still exports more coal than it imports.) link
Scrubbers clean coal - but move pollutants from air to the water instead.
June 2008: 'Scrubbers' provide a method of removing up to a tonne of CO2 each day from the air - roughly the equivalent amount produced by a transatlantic flight. Each device would cost around £100,000. (February 2009 conversion = $ 145,000) Scientists have stressed their invention does not provide a magic solution to the problem of CO2 emissions. Millions of the devices would need to be produced to capture all global emissions, and the problem of disposing of the CO2 once it has been trapped still remains. Scientists have previously been skeptical about the feasibility of air-capture devices, due to the large amounts of energy required to run them. link

October 2009: Cleansing the air at the expense of waterways. In 2006 Allegheny Energy in Pennsylvania decided to install scrubbers to clean the plants air emissions, environmentalists were overjoyed. The technology would spray water and chemicals through the plant's chimneys, trapping more than 150,000 tons of pollutants each year before they escaped into the sky. But the cleaner air has come at a cost. Each day since the equipment was switched on in June 2009, the company has dumped tens of thousands of gallons of wastewater containing chemicals from the scrubbing process into the Monongahela River, which provides drinking water to 350,000 people and flows into Pittsburgh, 40 miles to the north. link
To read more on Carbon Capture and Storage link
April 2014: Can coal ever be clean - NationalGeographic

According to the NRDC (Natural Resources Defense Council) relying on coal-derived liquid as an alternative to oil-based fuels could nearly double global warming pollution for every gallon of transportation fuel that is produced and used. The total emissions rate for oil and gas fuels is about 27 pounds of carbon dioxide per gallon, counting both production and use, while the estimated total emissions from coal-derived fuel is more like 50 pounds of CO2 per gallon. link
November 2013: Investors now see coal as potentially risky investment. About $8 trillion of known coal reserves lie beneath the earth's surface. The companies planning to mine and burn them are being targeted by a growing group of investors concerned with the greenhouse gases that will be made. Future curbs on CO2 emissions beyond 2020 may cut valuations on coal assets by as much as 44% according to HSBC Holdings. Globally, share prices of coal producers have slid over the past two years on declining demand for the fuel and fears of oversupply. link
Liquefied coal – CTL – an alternative to oil? The liquefaction of coal is one concept that is being given new life due to higher petroleum prices. Currently it is cost-prohibitive and environmentally unfriendly. But according to a new study from the MIT, as early as 2015 and without a solid climate policy, coal-to-liquid (CTL) fuel may be economically viable in the US and China. CTL fuels have been in existence since the 1920s, and were used extensively by Germany in the 1940s. At the time, it produced about 90% of their national fuel needs. Then Middle Eastern oil became dirt cheap and CTL technology was largely abandoned. The only country that still uses it in a significant way is South Africa where it covers about 30% of their fuel needs.
The production of liquefied coal has a large carbon footprint, much larger than that of petroleum fuel production. One method of production is carbonization where the coal is coked at temperatures up to 1,380 F to produce coal tars rich in hydrocarbons. The coal tar is then further refined into fuels. The process produces a large amount of carbon dioxide emissions. If done without CCS technology, the life-cycle carbon footprint is about double that of crude oil. The study notes that the viability of CTL will by vary greatly on whether or not certain regions adopt prohibitive climate policies. If lower-carbon fuels are available, CTL would not be considered as an option. Liquefied coal may only be available in developing nations with lax environmental rules, and where low-carbon alternatives are not available. One of the study's authors, John Reilly, stated, "Various climate proposals have very different impacts on the allowances of regional CO2 emissions, which in turn have quite distinct implications on the prospects for CTL conversion. If climate policies are enforced, world demand for petroleum products would decrease, the price of crude oil would fall, and coal-to-liquid fuels would be much less competitive." link
COAL GASIFICATION

Gasification is very energy-intensive, requiring high-temperature air, steam or oxygen to react with the organic material.
Gasification breaks down coal into its basic chemical constituents using high temperature and pressure which
leads to the release of large amounts of carbon dioxide. In addition, gasification is often inefficient, leaving behind significant amounts of solid waste.
In theory
coal gasification offers a versatile and clean way to convert coal into
electricity.
Because of this, carbon dioxide can be captured from a gas stream far more easily than from the smokestacks of a conventional coal plant. One significant challenge is the historically short lifespan of refractories, which are used to line and protect the inside of a gasifier. Currently, refractories have a lifespan of 12 to 16 months. The relining of a gasifier costs approximately $1 million and requires three to six weeks of downtime

.
link
---
December 2016: Underground coal gasification will not go ahead in UK. A highly polluting method of extracting gas has been effectively killed off in the UK after the government said it would not support the technology. Underground coal gasification (UCG), which involves injecting oxygen and steam underground to release gas from coal seams, would massively increase UK carbon emissions if exploited, according to a government-commissioned report. The review said the method would be 40-100% dirtier in terms of CO2 emissions than burning gas from the North Sea and imports. Exploiting all the UK's coal reserves would release the equivalent of 24 years of the UK's total greenhouse gas emissions. link

December 2014: Coal gasification more expensive. There are currently two large IGCC power plants in the United States, Duke Energy's operational 618MW Edwardsport plant in Indiana and Southern Company's under-construction 582 MW Kemper County project in Mississippi. In June, Reuters reported that a number of power companies have scrapped their IGCC plants due to their high cost and the abundance of cheap natural gas, leaving Duke and Southern as the last two utilities standing. Southern Company's Hall says that once Kemper is fully operational, the plant will capture 65% of the carbon produced, "making emissions better than a similarly sized natural gas generation plant." Environmentalists warn, however, that statistics like these disguise a bleaker reality for IGCC. While the gasification process removes impurities from the coal and creates a cleaner-burning fuel, that process consumes power as well. Experts say IGCC plants with carbon capture capabilities like Kemper consume 20-30% more coal to make a kilowatt hour of electricity than traditional coal plants. link

Coal industry lobbying and subsidies




June 2016:

Fossil-fuel utilities not operating in free market.

"No one's actually making money from coal-fired power plants in the United States right now," said David Crane, former CEO of NRG Energy, one of America's biggest power companies. According to Crane, one of the biggest hurdles to scaling up solar and other renewables is utilities' reluctance. "They've built their business models on fossil fuels, and because of current grid design, consumers can't go elsewhere. In short, the principles of the free market don't apply to utilities. The problem with reforming utilities is there's nothing you have to offer them that is better than what they have now." link


US Subsidies to energy: According to The National Academy of Sciences the federal government invested $644 billion (in 2003 dollars) between 1950 and 2003 in efforts to promote and support energy development. Of this, only $60.6 billion or 18.7% went for R&D. It was dwarfed by tax incentives (43.7%) Also tax incentives comprised 87% of subsidies for natural gas. Federal market activities made up 75% of the subsidies for hydroelectric power. Tax incentives and R&D support each provided about one-third of the subsidies for coal. link

September 2009: During the fiscal years 2002-2008 the United States handed out subsidies to fossil fuel industries to a tune of $72 billion. Of that, $2.3 billion went to carbon capture and storage; the rest went to oil and coal. link
---
May 2009: Industry opposes clean energy. The Guardian recently ran an investigative piece finding that America's oil, gas and coal industry "has increased its lobbying budget by 50%, with key players spending $44.5m in the first three months of this year (2009) in an intense effort to cut off support for Barack Obama's plan to build a clean energy economy." link
[HOME]
Copyright © 2008 thinkglobalgreen.org All Rights Reserved