CANADA




Before

the election of Justin Trudeau's party in October 2015, Canada had become an "outcast amongst its

negotiating peers".

According to the government's own projections, Canada's carbon emissions will soar 38% by 2030 mainly due to expanding tar sands projects.

Out of 61 countries analyzed for their policies and action on climate change for 2012 Canada fell to 58th place according to Climate Action Network Canada (CANC). In a report to the United Nations, the Harper administration said it expected emissions of 815million tonnes of CO2 in 2030, up from 590Mt in 1990. Worse, Canada is likely under-reporting its emissions. An investigation in 2013 found that Canada's reported emissions from its natural gas sector, the world's third largest, could be missing as much as 212Mt in 2011 alone. Canada is also the only country in the world to have fully pulled out of the Kyoto protocol (April 2012) arguing that it would be too difficult to meet its emission reductions goals. link (Main source here)
(Canada is the biggest carbon polluter per capita in the world because of the tar sands, which are the third largest reserve in the world after Saudi Arabia and Venezuela and up to 4.5 times more carbon intensive. link)

Not only are the Alberta tar sands the greatest pollution threat to the planet, they displace the greatest carbon sink we have to store carbon. This 17-minute video contrasts the damage at both ends – loss of habitat and creation of a carbon bomb, not to mention the cancer element to native populations. – View here



Industry figures show that at least 3.4 million litres of hydrocarbons have leaked from pipelines in Alberta every year since 2005

-

link




Latest news

:

Feb. 17 2017: Canada's glacial ice loss raises sea level. Glaciers on Canada's Queen Elizabeth Islands are melting at an ever faster rate. Between 2005 and 2015, ice loss accelerated massively from 3 billion tonnes a year to 30 billion tons. The islands, which make up Canada's northernmost archipelago, are home to a quarter of all the Arctic ice, second only to Greenland. And the flow of meltwater there from what once were frozen rivers is now a major contributor to sea level rise. link

Jan. 12 2017: British Columbia approves Kinder Morgan pipeline expansion. British Columbia gave the green light to Kinder Morgan's plan to nearly triple its Trans Mountain oil pipeline, which runs from Canada's oil sands through the province to a marine terminal on the Pacific Coast. Premier Christy Clark said in a statement the $5.16 billion project had satisfied or was close to satisfying the five conditions she laid out in 2012 for any company wanting to build pipelines in the province. The Canadian government in November approved Kinder Morgan's proposal to expand the Trans Mountain pipeline, which would help ensure oil exports from the oil sands in the neighboring province of Alberta reach Asia. link
(November 2016: Canada approves controversial Kinder Morgan oil pipeline. link)

_____________________________________________





Below



Political climate change - 2015
Overview on climate change

Alberta's tar sands
Northern Gateway pipeline

Positive news from Ontario Province
Other news from Canada

Keystone XL pipeline and the US link
Coal and carbon sequestration



Political climate change - 2015




October 2016:

Canada will impose a national minimum carbon price in 2018 in order to meet its Paris accord commitment to slash greenhouse gas emissions, said Prime Minister Justin Trudeau. The federal government, Trudeau said, is proposing a minimum price of Can$10 per tonne of carbon pollution in 2018. This price would rise by Can$10 each year to a maximum of Can$50 per tonne in 2022. link

April 2016:

Canadians reject myth of fossil fuel economy.

While the media amplifies the corporate myth that Canada must rely on oil forever, saying Canadians will flee in horror from the Leap Manifesto. A new poll however shows

just how wrong they were: far from recoiling from the Leap Manifesto, people are embracing it. (Leap Manifesto link here) The poll demonstrates that Canadians are hungry for dramatic government action on climate change and inequality - and are ready to ignore the huffing and puffing of the pundits. link

November 2015:

Times change in Canada on climate issues

. It's safe to say that Canadians didn't sweep PM Trudeau's Liberals into office on the strength of their climate policy. But today Canadians are better-versed on the threat global warming poses, and the need to arrest a dangerous rise in the Earth's temperature. Quebec and Ontario are collaborating to tamp down carbon output. Polls confirm that people want real federal leadership. And they say they are prepared to pay more for gas and home heating to promote a greener economy - link


December 2015: Canada shocks COP-21 with big new climate goal. Canada's Environment and Climate Change Minister Catherine McKenna told a stunned crowd that she wants the Paris agreement to restrict planetary warming to just 1.5 Celsius warming —not two degrees. link

October 2015: New Canadian prime minister brings a new attitude to climate change. For years, climate change activists have criticized the Canadian government as a global warming laggard. The Conservative Prime Minister Stephen Harper, who has been in power since 2006, has never taken climate change seriously. When Canada failed to meet carbon cuts set in the Kyoto Protocol, a treaty Canada signed and ratified under a previous government, Harper simply withdrew his country. The surprise election of Justin Trudeau promises to change that perception. The Liberal Party leader emphasized the very real danger of climate change and pledged his support for what he called a "pan-Canadian" approach to the issue.

link




Overview on climate change


Hydropower generates 62.9% of Canada's electricity (2010) while coal and natural gas supply 20.3% and nuclear 15.2%. Of the remainder, renewables, wind leads with 1.3%.



November 2016:

Canada gives $3.3 billion subsidies to fossil fuel producers.

The $3.3bn annual subsidy amounts to paying polluters $19 for each tonne of CO2 they emit according to green groups. This would conflict, they say, with the planned carbon price, which will ramp up to $50 a tonne by 2022. The study by four major Canadian environmental groups has shown that carbon pricing risks being undermined by the subsidies to fossil fuel interests, from both federal and provincial governments. link





May 2016:

Canada not adapting fast enough to extreme weather

: Canada is not doing enough to track extreme weather and update infrastructure to mitigate the rising costs of storm damage, parliament's environmental watchdog said Tuesday. The government has spent little on disaster mitigation projects, while paying out more in disaster relief in the last six years than it did in the previous 39 years combined. link

August 2015:

Canada now suffering from global warming

. With temperatures as much as 5 degrees Celsius above normal this year,

the snowy Great White North has learned it's not immune to global warming.

Western Canada, home to glaciers and source of some of the world's longest rivers, has been hit by wildfires and dry spells from British Columbia's Pacific Coast to the prairies in Saskatchewan. Vancouver, known for its rainy weather, has had to restrict water use much like drought-struck California.

link



May 2015:

Canada promises emission cuts, but cling to tar sands production. Canada's federal government, in a pledge that skeptical climate campaigners called a triumph of hope over experience, promised to reverse years of emissions growth and get its global warming pollution back on a downward slope.

Canada's pledge

was submitted formally to the United Nations Framework Convention on Climate Change, but the target falls short of what other leading industrial nations have promised, would do less than Canada has promised in the past, and would be hard to achieve without significantly scaling back industry's longstanding plans to expand production of tar sands oil.. link



Canada's emissions rising.

April 2015:

Canada's greenhouse-gas emissions up 4% from 2009

. Propelled by higher oil and gas production, a report to the UN suggests the country has little hope of meeting its international commitments. The report shows that Canada's annual GHG emissions rose by 1.5% in 2013, and were up 4% between 2009 and 2013 to a level nearly 20% above Ottawa's 2020 target. The country's production of greenhouse gases rose by 27 megatonnes between 2009 and 2013. The oil sands were the country's fastest-growing source of emissions between 2005 and 2013. link

January 2014:

Canada's emissions soar and could probably worsen.

Canada's carbon emissions will soar 38% by 2030 mainly due to expanding tar sands projects, according to the government's own projections. The Harper administration says it expects emissions of 815 million tonnes of CO2 in 2030, up from 590Mt in 1990. Emissions from the fast-growing tar sands sector is projected to quadruple between 2005 and 2030, reaching 137Mt a year.

Worse, Canada is likely under-reporting its emissions. According to the Climate Action Tracker, Canada appears to have vastly underestimated fugitive emissions (leaks) from gas exploration," possibly because of "inadequate accounting methodology". link



Carbon emissions rose 24% between 1990 and 2008.

link


April 2013:

Canada not on track to reduce greenhouse gas emissions

.

link




May 2014: IMF calculates Canada's fossil fuel subsidies at $34 billion. The International Monetary Fund estimates that energy subsidies in Canada top an incredible $34 billion each year in direct support to producers and uncollected tax on externalized costs. The report estimated that eliminating the subsidies would reduce global carbon emissions by 13%. The stunning statistics specific to this country remain almost completely unreported in Canadian media. link

Climate Action Network Canada i

s the only organization in the country, composed of over 75 member organizations, with a mandate to promote the climate movement as a whole, rather than the interests and programs of any one organization.





April 2012: "

All Over the Map 2012: A Comparison of Provincial Climate Change Plans

", by the David Suzuki Foundation. The report doesn't rank any province as "Best" for its climate initiatives, but Quebec, Ontario and

British Columbia

rank as "Very Good", while Alberta and Saskatchewan rank as "Worst". In an October 2011 review by the Office of the Auditor General of Canada, the Environment Commissioner reported that the federal government's strategy is "disjointed, confused and non-transparent" and that, overall, the government's policies are now projected to be 90% weaker than they were in 2007. link

September

2011:

New report - failure to tackle climate change will cost billions.

Canada can expect to pay between $21 billion and $43 billion each year by 2050 if it fails to come up with a domestic plan within a global agreement to tackle climate change, according to a comprehensive study, titled Paying the Price: The Economic Impacts of Climate Change for Canada - pdf link





Alberta's oil sands are the world's third-largest crude reserves after Saudi Arabia and Venezuela and Canada's fastest-growing source of greenhouse gas emissions. In 2014, oil sands emissions were 66 megatonnes, or 24% of Alberta's total emissions and 9% of Canada's total emissions. link
Scientists estimate the amount of carbon locked up in the tar sands, 230 billion tons, would be more than enough to spike global warming to catastrophic levels. link

Launching May 2013 in Canada, Europe and the U.S., TarSandsRealityCheck.com presents up to date, accurate facts about Alberta's tar sands to counter the high-level pro-oil sands lobbying ongoing in Canada, the U.S. and Europe around the Keystone XL tar sands pipeline, and Europe on the Fuel Quality Directive.

The concentration of CO2 in the atmosphere has risen from 280 parts per million
to 399 ppm over the last 150 years. The tar sands contain enough carbon
- 230 gigatons - to add 120 ppm.



Tar Sands mining and environmental

costs.

Canada

's oil sands, a mixture of sand, clay, water and heavy oil (called diluted bitumen)

contain the world's second-largest concentration of crude at about 170 billions barrels. This oil is significantly more

acidic and corrosive than standard oil. Pumping it at a high temperature and high pressure for long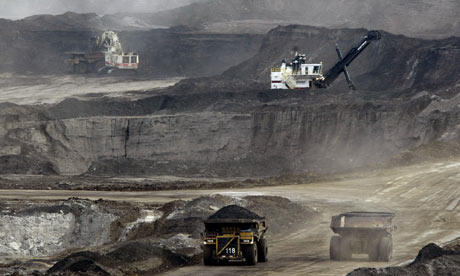 distances is a relatively new and untested venture.

Alberta has

economically recoverable reserves are put at 300 to 400 years of production at current rates. In 2008 1.2 million barrels a day were produced.

Canada

's reserve is shown as 173 billion barrels, placing it second only to

Saudi Arabia

in global oil reserves. It is an expensive, energy-hungry process - the richest oil sand is about 10% oil, and it takes about two tonnes of it to make just one barrel of oil. Oil sands production is said to emit three to five times the amount of greenhouse gases than conventional oil production. Pollution from this process has brought, besides increases in cancer, deformed fish with tumors, popular fish with so much mercury they should not be eaten, and s

ome hunters and trappers were saying the meat tasted unusual. link 1 link 2







Cancer link

July 2014:

Confirmed health threats from tar sands production.

Another study has surfaced showing marked increases in life-threatening illnesses to people who live or work near tar sands development projects. The University of Manitoba study, which examines the health of First Nations that live near tar sands operations, finds they have a much higher incidence of cancer than the general population. Why? Besides polluting the air and water, environmental contaminants from production are highly concentrated in wildlife, many of which they eat. The contaminants either impact human development, are carcinogenic, or damage DNA.

link



November 2014:

Oil sands linked to cancer-causing toxic air emissions. New federal government research has confirmed that oil sands tailings ponds are releasing toxic and potentially cancer-causing chemicals into the air. Environment Canada report agrees with earlier research suggesting amount of toxic compounds emitted by industry has been dramatically underestimated. link

August 2010:

Carcinogen levels in oil sands waste water increase

. Levels of cadmium, lead and nickel in giant 'tailings' lakes have increased as much as 30% in four year according to new government data. The country's five active oil sands mines released around 50,000 tons of potentially harmful pollutants in waste lakes between 2006 and 2009. link




July 2013:

Tar-sands leak that can't be controlled

. Thousands of barrels of tar-sands oil have been burbling up into forest areas for at least six weeks in Cold Lake, Alberta, and it seems that nobody knows how to staunch the flow. An underground oil blowout at a big tar-sands operation run by Canadian Natural Resources Ltd. has caused spills at four different sites over the past few months. Media and others have been blocked from visiting the sites, but the

Toronto Star

obtained documents and photographs about the ongoing disaster from a government scientist involved in the cleanup, who spoke to the reporter on condition of anonymity. link

February 2013:

Oil sands mining uses up almost as much energy as it produces

.

The average "energy returned on investment," or EROI, for conventional oil is roughly 25:1. In other words, 25 units of oil-based energy are obtained for every one unit of other energy that is invested to extract it. But tar sands oil is in a category all its own. Tar sands retrieved by surface mining has an EROI of only about 5:1, according to research scheduled to be released. link





(Pre-2015 election) March 2013:

Alberta, which like other Canadian provinces controls its own natural resources, has the least ambitious target for CO2 emission reduction of any province. By 2020 Alberta's emissions would be well above the 2005 level - emissions are projected to grow from 231 million tons to 285 million tons. Canada's most recent annual emissions trend report projected that the country will achieve only half the nationwide greenhouse gas reductions it has pledged to make by the year 2020. link

January 2013: 'Idle No More' takes center stage in North America against tar sands oil. In an urgent pursuit for environmental justice and basic human rights, First Nations gather across North America under the banner of Idle No More. link

More problems

Other problems are fueling opposition to pipeline safety in general; spills and environmental destruction among them. The First Nations in particular have become a significant force for Enbridge to confront. The more liberal province of British Columbia is increasingly reluctant to host pipelines considered to be unsafe, and shipping off their coastline a threat to pristine shorelines.

September 2012: Shell admits to environment damage inevitable in oil sands. Shell analyzed the environmental impact of looming oil sands construction, concluding that if the industry continues on its current course, it will run past annual limits on sulphur dioxide and nitrogen dioxide in the area studied. Those substances contribute to acid rain, and the projection suggests Alberta will be forced to confront whether it is willing to act in the name of the environment, or move the yardsticks to preserve its bedrock industry. link
August 2012: Enbridge admits inadequate plans for potential spill. link

Two major spills:

June 2013:

Huge Alberta pipeline spill raises safety questions

. A massive toxic

waste spill from an oil and gas operation in northern Alberta is being called one of the largest recent

environmental disasters in North America. First reported on June 1, the Texas-based Apache

Corp. didn't reveal the size of the spill until June 12, which is said to cover more than 1,000 acres.

A recent investigation

found that over the past 37 years, Alberta's extensive network of pipelines has experienced 28,666 crude oil spills in total, plus another 31,453 spills of a variety of other liquids used in oil and gas production, from salt water to liquid petroleum. That averages out to two crude oil spills a day, every day. link


June 2012:
Rainbow Lake

spill
among largest in North America.

A huge spill has released 22,000 barrels of oil and water into muskeg, an acidic soil, in the far northwest of Alberta. The spill ranks among the largest in North America in recent years, a period that has seen a series of high-profile accidents that have undermined the energy industry's safety record. The Enbridge Inc. pipeline rupture that leaked oil near Michigan's Kalamazoo River, for example, spilled an estimated 19,500 barrels. link

May 2012: Tar sands more polluting than other fuels. The latest report finds crude oil produced from Canadian oil sands (also known as tar sands) emits 14 to 20% more planet-warming gases than the conventional oil that is typically found in U.S. refineries. Conventional oil can be put right into a pipeline, or you can process it and it can go into a pipeline that goes to a refinery. Bitumen from the oil sands is too viscous to flow, so you have to do some pre-processing. This involves what's called upgrading, which is kind of like refining, or it involves diluting the bitumen with a light hydrocarbon diluent [like] a natural gas liquid…so it will flow through the pipeline. Once you do that it can be sent it to the refinery. Because it either requires an upgrading step on-site before it's shipped, or more intensive refining to produce the same gasoline or diesel, the energy intensity and emissions from producing fuels from the oil sands tend to be higher, on average, than conventional crude oil. link

(Note - tar sands are also referred to as oilsands).
Northern Gateway pipeline
June 2016: Enbridge's Northern Gateway oil pipeline blocked. In its judgment, the federal court overturned approval of the pipeline because Canada's consultation with aboriginal communities, also known as First Nations, was "brief, hurried and inadequate". It said the government failed to grapple with their concerns and had not shown any intention to correct any errors or omissions in the original regulatory panel review. link
June 2014: Canada's Prime Minister approves Northern Gateway pipeline contingent on Enbridge meeting 209 conditions, none of which addressed climate change. The Canadian government singled out discussions with First Nations as one of the major conditions that Enbridge needs to meet for the pipeline to be built. However, the pipeline is still bound to face significant opposition. link
May 2013: British Columbia opposes Enbridge
pipeline. In its 99-page submission, the province questioned Enbridge's claims that it could mitigate spills in its remote mountain wilderness and off its rugged coastline, and there was little evidence about how it will respond in the event of a spill. The Northern Gateway project is unpopular in southern British Columbia, where the majority of the province's population lives. While the decision to grant Enbridge a permit ultimately rests with the federal government, several environmental groups said that the province's opposition had probably doomed the pipeline. link
(August 2013) How Enbridge's Northern Gateway pipeline lost its way - link
June 2013: Northern Gateway pipeline doomed by BC and aboriginal opposition? link
Positive news from Ontario
December 2016: Ontario commences with cap-and-trade to tackle climate change.
Cap-and-trade will link up with similar systems already in place in California and Quebec, creating a carbon market covering more than 60 million people and making the cost of cap-and-trade cheaper than it would otherwise be. Companies will have to buy permits – called "allocations" – from the province for every tonne of carbon they burn. The cap will mandate emissions cuts to 15% below 1990 levels by 2020, 37% below by 2030 and 80% by 2050. These reductions are sharper than those Ottawa is targeting under its new climate-change deal with the provinces. link
May 2016: Ontario to spend $7 billion on sweeping climate change plan.The Ontario government will spend more than $7 billion over four years on a sweeping climate change plan that will affect every aspect of life – from what people drive to how they heat their homes and workplaces – in a bid to slash the province's carbon footprint. link
March 2016: Ontario to convert largest coal plant to solar farm. While the new 44 MW solar plant will produce a fraction of the enormous output of the former coal plant, the emissions-free energy will contribute to Ontario's commitment to building a clean economy. The province's pivot toward renewables has not come without significant economic ramifications, however. Proponents of Ontario's clean energy initiatives point to the health benefits of kicking coal-fired generation. Prior to being idled, the Nanticoke Generating Station was Canada's top polluter. Ontario completed its coal phase-out in 2014, and the number of smog days in the province declined from 53 in 2005 to zero in 2015. link
December 2013: Coal gone - nuclear pullback. The Ontario government releases its Long-Term Energy Plan which balances a big ramp-up in renewable energy and notable pullback in nuclear. Ontario's estimated 2013 electricity production mix is 59% nuclear, 28% renewables, 11% natural gas, and 2% coal. The forecasted 2025 electricity production mix: 42% nuclear, 46% renewables and 12% natural gas. Ontario plans to bring 20GW of renewable energy online by 2025, representing nearly half of installed capacity. More than 10 GW of wind, solar, and bioenergy will come online by 2021, moved back from 2018. link
As of early 2013, about 2,700MW of wind and solar power are currently feeding electricity into Ontario's grid system, 75% of it wind. That amount is set to more than triple by January, 2016. link
Solar in Ontario


(July 2014) A surge in solar installations is taking place in Ontario. The biggest project outside Ontario right now is a small 1MW solar farm under construction near Kimberley, B.C. But in Ontario, big solar farms have become positively commonplace.(link) Ontario will have an estimated 1,100MW of solar installed at the end of 2013 and roughly 900 MW will be added in 2014. Solar energy, one of the key pillars of the Green Energy and Economy Act (GEEA), is casting a dark cloud over Ontario electricity bills and is a big factor in recent and future bill increases. link

April 2014: 95GW of potential solar energy in southeastern Ontario. Southeastern Ontario is capable of producing solar energy almost equal to the amount of power generated by all nuclear reactors in the United States, according to studies conducted by the Applied Sustainability Research Group at Queen's University. The studies are the first to investigate the region's solar energy potential and yielded unexpected results. "We came up with enormous numbers and we were being conservative. There about 95 gigawatts of potential power just in southeastern Ontario - that shows there is massive potential," said Joshua Pearce, a mechanical engineering professor at the university and leader of the research group. link
February 2011: Ontario targets 10.7GW renewables by 2018. Ontario's energy plan represents a 450% growth in installed wind capacity in the next seven years, from 1.59GW to 7GW. The new energy plan involves the installation of new transmission system upgrades and is expected to lead to the creation of at least 12,500 new jobs. The plan is also anticipated to lead to more than $12.5bn in new investment in the province, and $22m in annual lease payments to landowners. The country has more than 4.15GW of installed wind energy capacity, close to 1.59GW of which is in Ontario. Quebec and Alberta each have less than half this level of wind power, with 663MW and 806MW of installed wind capacity, respectively. link

July 2009: . . . . and a setback for nuclear power. Two years into a $20 billion nuclear upgrade project meant to replace aging reactors with next-generation technology, the Ontario government postponed the entire process citing excessive cost and uncertainties involving the ownership status of the sole Canadian bidder. Ontario receives 50% of its energy from nuclear sources. link
September 2016:

Trudeau government on defensive over LNG project.
Less than 24 hours after the approval of a controversial $36 billion liquefied natural gas project in British Columbia, the Trudeau government

has found itself under attack for what critics label a major conflict between its environmental commitments and economic interests.

The Pacific Northwest LNG project will be built on Lelu Island near Prince Rupert. Upon completion, it would ship 19 million tonnes a year of liquefied gas to markets in Asia while pumping more than five million tonnes of CO2 annually into the atmosphere. That would make it one the largest single greenhouse gas emitters in Canada, and is the reason many environmentalists have described the project as a "carbon bomb" and were up in arms over its approval. link


November 2016:

Canada plans to be coal-free by 2030. Coal accounts for around 10% of the country's electricity in a grid dominated by hydropower.

"Our goal is to make Canada's electricity 90% non-emitting by 2030,

" said Environment Minister Catherine McKenna in a statement, which left open the possibility coal-plants could continue by using carbon capture technology. link


June 2015:

Quebec becomes latest hurdle to Canada's plans for oil exports

.

Quebec has frustrated the fossil fuel industry before, imposing a ban on shale drilling in 2012. Now resistance is building in the province where the majority of the construction on the 4,600-kilometer pipeline would take place.

The environmental movement is strong in the French-speaking province, which relies on hydropower for more than 95 percent of its electricity. link


April 2015:

Canada's glaciers to shrink 70% by 2100.

Scientists have warned the glaciers of Alberta and British Columbia are set to shrink by 75% in area compared to 2005 levels, and by 70% in volume, according to their predictions. But in two out of the three regions that were studied, the decline could be even more dramatic – over 90%.

link


August 2013:

Protests now pose threat to eastern pipelines.

Protest movements have to date blocked the construction of TransCanada's Keystone XL pipeline south to the Gulf Coast, and Enbridge's Gateway pipeline west to the Pacific. There is a growing desperation of Alberta's oil barons and their allies in government. Alberta's oil companies are sitting on top of rising but landlocked bitumen production, and they are losing billions in profit. link
June 2012:

British Columbia set to boost its controversial carbon tax

by $5 a tonne on July 1, further driving up the price of gasoline and other petroleum products as the province attempts to cut greenhouse gas emissions by 33% below 2007 levels by 2020. link
September 2011: Banner year for Canada's wind energy. By the end of 2011 Canada's total wind capacity will surpass 5,300MW, enough to power 1.5 million homes a year. In 2001, total installed wind capacity was only 198MW. Another 6,000MW of wind projects are in the pipeline for the next five years. link
September 2011:

Geothermal could supply all Canada's energy needs.

A report, from seasoned government scientists working within Natural Resources Canada, shows that Canada's in-place geothermal power exceeds one million times Canada's current electrical consumption, though it

does acknowledge that only a small fraction of this resource is close enough to transmission lines and population centres to be economically tapped, at least in the near term. The opportunity, particularly in British Columbia, Alberta and the Northwest Territories, but potentially across all of Canada, can't be overstated. Calculations suggest as few as 100 projects could meet Canada's energy needs. link
Hydropower in Canada.
According to a study commissioned by the Canadian Hydropower Association, Canada has 163,000 MW of untapped hydropower potential, more than twice the country's existing hydropower capacity. Already, hydropower accounts for 60% of Canada's electricity consumption. That number is sure to rise as construction of several new hydropower plants near completion while more coal-fired plants are shuttered in the name of clean air. link
Keystone XL and the U.S. link
July 29 2016:

After keystone XL rejection – what next?

There are three main projects under consideration right now that would bring millions of gallons of tar sands oil out of Canada every day. Kinder Morgan wants to expand its Trans Mountain pipeline to the west, where oil could be shipped south to California's refineries. Enbridge is trying to increase capacity in two pipelines in Minnesota which would feed into a system carrying oil down to the Gulf Coast. And TransCanada is proposing a major pipeline to the maritime provinces in order to ship tar sands oil down the Eastern Seaboard.
link
See page on Keystone project as it affects the USA here
There are three proposed pipeline projects slated to move oil sands crude out of northern Alberta to other markets: the $7-billion Keystone XL, which would shuttle 700,000 barrels of oil a day to refineries on the Gulf of Mexico; Enbridge Inc.'s $6.6-billion proposed Northern Gateway, designed to carry 525,000 barrels a day to a port in Kitimat, B.C., so tankers can take oil to Asia; and Kinder Morgan's planned expansion of its existing Trans Mountain system, which would cost around $4.3-billion to take an added 400,000 barrels a day to Burnaby, B.C.
link
[Th
e Northern Gateway is opposed by at least 50 first nations along the pipeline corridor and on the B.C. coast and it is also the next target for the North American environmental movement that so successfully delayed the Keystone pipeline from Alberta to the U.S. Gulf Coast. The earliest it could possibly open is estimated for 2017]
The proposed 728-mile Northern Gateway pipeline underground pipeline would cross more than 785 streams and rivers in a region that is prone to landslides and forest fires. It would be even more vulnerable to ruptures than ordinary pipelines, because bitumen is highly corrosive. Bitumen is also much harder to clean up in the event of a spill, campaigners warned. "If bitumen sinks, conventional equipment like booms and skimmers do not work," said Katie Terhune, the energy campaigner for the Living Oceans Society. And transporting crude in supertankers was even riskier than moving it through pipelines. "One mistake in navigation and we could have a catastrophe," Terhune said. link
Coal and carbon sequestration - CCS
October 2014: Canada's first large-scale coal-fired CCS power plant switched on. The project, the first commercial-scale plant equipped with carbon capture and storage technology, was held up by the coal industry as a real life example that it is possible to go on burning the dirtiest of fossil fuels while avoiding dangerous global warming. The Boundary Dam power plant promises to cut CO2 emissions by 90% by trapping the greenhouse gas underground before it reaches the atmosphere. The company said the project would reduce emissions by about 1 million tons a year, or the equivalent of taking 250,000 cars off the road. CCS is viewed with deep suspicion by environmental campaigners because its economic viability , so far, depends on using the CO2 to increase oil production, and because it is more expensive than renewable sources of energy link (See CCS globally would cost $17.6 trillion. link)
August 2011: Canada proposes crackdown on coal-fired power. The Canadian government has proposed long-awaited rules that could result in the phasing out of coal-fired power plants that do not incorporate carbon capture and storage (CCS) technology. link
Arguments that tar sands expansion can go forward on the basis that CCS will "fix" its carbon footprint are not defensible. CCS would likely only reduce 10-20% of the overall greenhouse gases associated with its total lifecycle emissions making it still dirtier than conventional fuel, and it is fraught with technical challenges. A 2008 Canadian government CCS task force found that "only a small portion of the CO2 streams are currently amenable for CCS." This is because facilities in the tar sands are diverse and geographically dispersed requiring the construction of a massive infrastructure. There are also substantial transportation emissions associated with production, many of the carbon streams are not pure enough to capture adequately, and we are only starting to understand the greenhouse gas emissions from tar sands that are associated with land use change. CCS also does not address the myriad of other environmental challenges in the tar sands nor does it address the issue of downstream combustion emissions. link

(Check here for more on CCS - carbon capture sequestration.)