OFF-SHORE DRILLING
Much of the world runs on oil, most from land, but some from ocean drilling. Given the locations of the remaining oil, the costs have been far higher, though technology has made it more accessible. Canada's tar sands are becoming a serious issue, and with the Arctic ice melting, oil companies are racing to drill there with serious environmental issues involved.

The Earth has been accumulating oil and natural gas for about a billion years or so. Humans have been drilling and burning crude and gas in significant amounts for only the last 156 years, since the 1859 birth of the oil industry in Pennsylvania. Since 1980, the world has burned nearly 40 trillion gallons. Since 1980, the amount found, but not yet produced, has more than doubled. The world's proven reserves are now 71 trillion gallons, up from 683 billion barrels in 1980. That's part of what worries climate scientists so much. Burning the oil and gas that we've already found, never mind what we haven't yet, will lead to dangerous and possibly catastrophic changes in the earth's climate, they say. (link)
Below:
The case against oil drilling off-shore.
Some of the dangers with drilling

BP's Deepwater Horizon spill & Gulf news
Drilling in the Arctic
Alberta's tar sands oil
Oil reserves
Subsidies to oil industry

The case against oil drilling off-shore
March 2013: Two miles of sea covers big oil's next-generation field. As explorers search for energy in ever-greater depths offshore, the technical challenges of ferrying oil and natural gas more than 10,000 feet through the ocean is spurring a drive to relocate production operations to the sea floor. Spending on subsea valves, pipelines and cables that will help build these underwater oilfields will grow to a record $13.9 billion in 2013. "If a typical deep-water well is like going to the moon, then the Gulf of Mexico ultra-deepwater frontier is like going to Mars," said Baker Hughes' CEO Martin Craighead. link
November 2012: BP & Chevron singled out as risky oil companies for investment. A New York-based investment research firm rated 30 of the world's largest oil and gas companies on their investment attractiveness based on their history of spills and environmental management, as well as the riskiness of the areas they are exploring. BP and Chevron were singled out as companies that are poorly positioned in this area. The report said that environmental incidents have become the biggest factor in determining a company's investment risk, overshadowing other factors like its relationship with its employees or its partnership with host governments. Spill records and safety cultures will become even more important in the future, because of what the report describes as the industry's "increased appetite for complex and challenging unconventional oil and gas projects." link
A steady stream of pollution from offshore rigs causes a wide range of health and reproductive problems for fish and other marine life. Offshore drilling exposes wildlife to the threat of oil spills that would devastate their populations. Offshore drilling activities destroy kelp beds, reefs and coastal wetlands.
OVER ITS LIFETIME A SINGLE OIL RIG CAN . . .
Dump more than 90,000 metric tons of drilling fluid and metal cuttings into the ocean.

Drill between 50-100 wells, each dumping 25,000 pounds of toxic metals, such as lead, chromium and mercury, and potent carcinogens like toluene, benzene, and xylene into the ocean.
Pollute the air as much as 7,000

cars driving 50 miles a day.

(compiled by Rainforest Action Network, courtesy Mendocino Environmental Center)
For more on the case against off-shore drilling see
Committee Against Oil Exploration
More on offshore oil and gas in the United States here.
For general information on all aspects of oil production I recommend Dick Gibson's site - http://www.gravmag.com/oil.html

Some of the dangers with drilling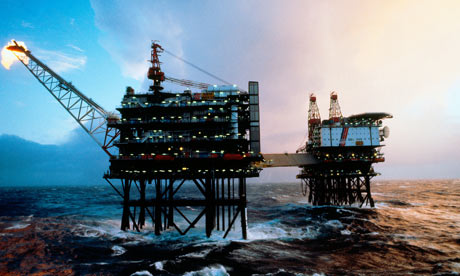 July 2011: Is oil drilling inherently flawed? Documents released under freedom of information legislation, reveal there are oil and gas spills in North Sea every week. Jake Molloy, general secretary of the Offshore Industry Liaison Committee (OILC), a union representing North Sea workers, said Deepwater Horizon showed that "even the most up-to-date, cutting-edge safety technology can go wrong if it is not maintained properly and not operated by competent people". He added: "We have been very lucky in the UK that we have not had another major incident with multiple fatalities. We have come very close on several occasions, very, very close. It is more luck than good management in some cases. Some operators don't give a damn. Because of the high price of oil, they are cutting corners. Some of them are overdue for prosecution." (More than 100 potentially lethal oil and gas spills took place on rigs in the North Sea in 2009 and 2010) link
Risk-taking rises as oil rigs in the Gulf drill deeper. link
The Montara spill
November 2009: Timor Sea oil rig blaze caused serious ecosystem damage.

For ten weeks since August 21 2009, engineers struggled to stop a well-head accident which resulted an uncontrolled discharge of oil and gas at an estimated 400 barrels (17,000 gallons) a day being released into waters north of Australia causing an ecological disaster to marine life. Estimates from satellite imagery indicate that the slick spread over 50,000 square kilometers of ocean. The cost of cleanup has been estimated at over $4.8 billion. link
Piers Verstegen, from the Conservation Council of Western Australia, says the spill is an ecological disaster. "Humpback whales, an endangered species, go to that area and that region to calf and give birth and this oil spill is happening just off the Kimberley coast." Conservationists believe that, in its rush to exploit abundant natural resources, Australia risks inflicting irreparable damage on its fragile environment. link October 25 2009 - photo gallery of marine damage link
Deepwater Horizon spill / Gulf news

Gulf of Mexico news: Since 2001 there have been 69 offshore deaths, 1,349 injuries and 858 fires and explosions in the Gulf, according to the federal Minerals Management Service. - link More on the BP Deepwater Horizon disaster below. [Roughly 70% of offshore oil and gas leases in the Gulf of Mexico and more than half of onshore leases on federal lands remain idle, neither producing nor under active exploration and development by companies who hold those leases. link]
The BP Deepwater Horizon spill - largest marine oil disaster ever.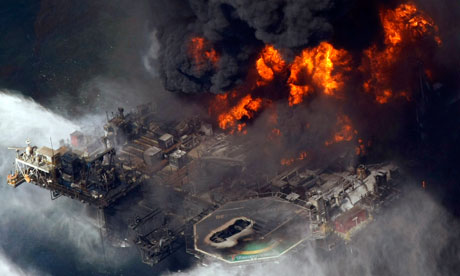 Scientists have affirmed the Macondo BP oil disaster as the largest marine oil accident ever. After the April 20 2010 explosion, officials claimed that the flow could not be measured. Then estimates began starting at 1,000 barrels a day; then 5,000; then 12,000 to 19,000; then upward from there. Using a new technique to analyze underwater video of the well riser, they say it leaked some 56,000 to 68,000 barrels daily, maybe more, until the first effective cap was installed, on July 15. Their estimate of the total oil escaped into the open ocean is some 4.4 million barrels, close to the most recent consensus of government advisors. link Guardian timeline of events
Gulf of Mexico has a long history of spills. Federal records show that between 1964 and 2009, prior to the BP spill, 517,847 barrels of petroleum had been dumped into the Gulf, twice the amount of the Exxon Valdez spill. While spills have been decreasing, the history of spills in the Gulf have largely been unreported, and frequently understated by the companies themselves. link [According to NOAA, there are 3,858 oil and gas platforms operating in the Gulf of Mexico.] Sept. 15 2010: The U.S. Interior Department requires oil and gas companies to plug nearly 3,500 non-producing wells in the Gulf permanently and dismantle 650 platforms no longer being used. link
April 2011: 3,200 wells in Gulf still unplugged. The Associated Press reports that in addition to 27,000 oil and gas wells that were sealed with cement and abandoned without any regular monitoring in the Gulf of Mexico, another 3,200 old wells have quietly been left unused without any cement plugging to help prevent leaks. Without those plugs, there is little to prevent powerful leaks from pushing to the surface. link
July 2010: Now is the time to count the ecological cost with the spill seemingly under control. In the 85 days of the leak, nearly 184 million gallons of crude oil gushed into the Gulf of Mexico, equal to the amount of oil Americans burn every 5 hours 10 minutes. The damage yet to be revealed will be far worse, however, than a few dead birds and tar balls along 500 miles of coast. link Research shows up to 40% of gulf oil spill was potent methane gas. link


On the second anniversary of BP's Gulf of Mexico Deepwater Horizon spill,
it is also important to recognize it was not the only one that happened
in the past two years, even in the U.S.
More
_________________________________________________________
Katrina oil spill: Until the 2010 BP Gulf oil disaster, Katrina was the second worst oil spill in US history after Exxon Valdez. The oil pollution in the wake of Hurricane Katrina could be among the worst recorded in North America, officials trying to coordinate the clean-up say. The US coastguard, which is responsible for the marine environment, said more than 6.5 million gallons of crude oil had been spilt in at least seven major incidents. The previous worst spill in US waters was the 11m gallons in Alaskan waters from the Exxon Valdez in 1989. The Katrina figure does not include petrol and oil spilt from up to 250,000 cars which have been submerged, or that spilt from hundreds of petrol stations. The coastguard says it has received almost 400 reports of spills, the vast majority of which have not been assessed. link
Hurricane Ike - According to Lars Herbst, regional director for the Minerals Management Service, Hurricane Ike "appears to have destroyed a number of oil production platforms and damaged some of the pipelines in the Gulf of Mexico. Federal officials agreed at least 10 production platforms have been destroyed by the storm, and possibly many more. link
Science Direct analyses the damage caused by the two hurricanes (Katrina and Rita) on the offshore oil and gas industry.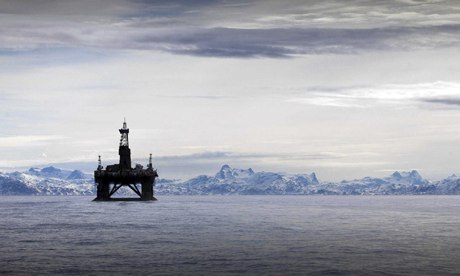 June 2012: Arctic drilling given green light. "I believe there's not going to be an oil spill,"said Interior Secretary Ken Salazar summing up the Administration's approach to Arctic drilling. With virtually no infrastructure to clean up an oil spill in the sensitive Arctic, the Obama Administration is still pushing to get offshore drilling projects developed in the region. Shell has faced more legal prosecutions for safety and environmental transgressions than any other major oil company drilling offshore in the North Sea. And the Arctic is a place where the Coast Guard has warned "if a spill were to happen … we'd have nothing. We're starting from ground zero today.President Obama, 18 days before the PB Gulf disaster, said "Oil rigs today generally don't cause spills." link (pictured: An oil rig off Greenland's coast in the Arctic waters. Photograph: Greenpeace.) November 2013: Leading scientist says Arctic oil spill is certain if drilling goes ahead. link
July 2012: Clean-up from an oil spill in the Arctic semantics. Interior Secretary Ken Salazar said he believed Shell's claims that it could collect at least 90% of any oil spilled in the event of a well blowout. These sorts of claims have raised eyebrows among advocates and scientists who study offshore oil drilling - they aren't just unbelievable, they're laughably, outrageously impossible. Experts however say it is impossible to recover more than a small fraction of a major marine oil spill. Retired Coast Guard Admiral Roger Rufe said "…once oil is in the water, it's a mess. And we've never proven anywhere in the world, let alone in the ice, that we're very good at picking up more than 3 or 5 or 10 percent of the oil once it's in the water." Geoff Merrell, Shell's superintendent for emergency response in Alaska, says the company has made no such claim. Instead, he says, the oil company's plan is to confront 95% of the oil out in the open water, before it comes ashore. That doesn't mean responders can collect what they encounter. link
November 2012: Cautious renewal of offshore drilling in Alaska and Gulf. The Obama administration cautiously offered up more areas in the Gulf of Mexico and off Alaska's coast to oil and gas drilling but didn't go far enough to satisfy Republicans. Interior Secretary Ken Salazar unveiled a proposal to hold 15 lease sales for areas in the Gulf of Mexico, including two in the eastern Gulf, and three off Alaska's coast in the time frame from 2012 to 2017. The sales off Alaska, where native groups and environmentalists have objected to drilling, would be the first since 2008. They would be held late in the five-year time frame to allow for scientific evaluations in the Chukchi and Beaufort Seas, which Interior officials called a "frontier" for drilling. And they would be targeted to avoid areas with cultural and environmental sensitivities, officials said. link
September 2011: The race for oil in the Arctic. The world's oil companies are now turning to the Far North as supplies elsewhere across the globe start to run out or become harder to extract, and both the potential profits from Arctic oil, and the fears about the damage that extracting it may do, are enormous. The area north of the Arctic Circle is thought to contain as much as 160 billion barrels of oil, more than a quarter of the world's undiscovered reserves. Some of it is under land, as in Alaska's North Slope field, but large amounts of it are known to lie under the seabeds of the Arctic Ocean and Baffin Bay off Greenland, which are ice-covered for all or part of the year, depending on the region. It is this offshore oil which is now the focus of a new exploration rush, with Shell and Exxon among the strongest contenders, focusing on the Arctic Ocean itself, while the first wells in the sea off Greenland are already being drilled by Edinburgh-based Cairn Energy. Any serious oil spill in the ice of the Arctic, the "new frontier" for oil exploration, is likely to be an uncontrollable environmental disaster despoiling vast areas of the world's most untouched ecosystem, one of the world's leading polar scientists has told The Independent. Oil from an undersea leak will not only be very hard to deal with in Arctic conditions, it will interact with the surface sea ice and become absorbed in it, and will be transported by it for as much as 1,000 miles across the ocean. link
(See also:
Unlocked by melting ice-caps, the great polar oil rush has begun - link


October 2010: Another US oil problem on the horizon.
The US demand for oil has led to a connection with the tar sands oil of Alberta (see Keystone XL pipeline page for more on this). TransCanada plans to build a $7 billion pipeline that carries tar sands crude oil from the tar sands of Alberta to Gulf Coast refineries in Texas and is vowing that the pipeline will be unparalleled on the safety front. Opponents argue how anybody can guarantee that a 36-inch diameter, 1,702-mile pipeline buried four feet deep and delivering up to 900,000 barrels of heavy crude per day won't leak. Although Congress doesn't have ultimate "yea" or "nay" power on this project, Keystone XL is on their radar screens as federal legislators try to figure out if and how they should strengthen the pipeline regulatory agency. A series of summertime, headline-grabbing ruptures along the nation's 2.3 million-mile network of oil and gas pipeline, most notably in California and Michigan, has prompted legislators to promote pipeline safety measures. link
For more on Alberta tar sands oil, see Canada page

Traditional oil corporations under pressure. National governments and state-owned fossil fuel firms such as China National Petroleum Corporation produce 93% of the world's oil. The formerly dominant supermajors (such as ExxonMobil, BP, Royal Dutch Shell, Total), are now seeking out riskier and riskier reserves, drilling in the ultra-deep waters of the Gulf of Mexico and mapping the Arctic Ocean floor. In their continuing struggle to appease investors, they've also become increasingly reliant on major oil sands expansions, suggests groundbreaking new research detailed later in this story. link [84% of the world's remaining oil reserves are either state-owned or controlled. Of the freely accessible leftovers, 62% reside in Canada's oil sands according to BP's latest review - Sept. 2012]
How much oil is off the Atlantic Coast? We really have no idea. The entire East Coast has been off limits from all drilling-related activity since 1981. That's the last time any data was collected on the area, using seismic equipment that's outdated compared to today's advanced methods. More accurate data is likely to lead to more accurate drilling and fewer "dry wells" that don't produce oil. But it could also revise downward how much we think is out there. The Interior Department's Minerals Management Service (MMS) estimates there could be as much as 10 billion barrels of oil and natural gas in the mid- and south Atlantic. But that's only at a 5% level of confidence. Ask them what they're 95% confident of, and the estimate drops to fewer than 2 billion barrels, or about 100 days of oil at our current rate. So, not much. "We really don't know a lot about what's down there," Interior Secretary Ken Salazar admits. "It may be nothing, it may be a lot. link
June 2008: Andrew Leonard in Salon writes: John McCain and the offshore oil ruse. The truth is, we can probably make offshore drilling as safe as we reasonably want it to be. Norway has been drilling for decades in the North Sea with reasonably good environmental results (notwithstanding the spillage of 24,000 barrels in December 2007). Then again, for an example of how it can all go terribly wrong, visit Nigeria, where lax environmental controls have resulted in a huge mess in the Niger Delta, and where rebel forces attacked an offshore oil platform just this week.
But drilling practices and technology have improved. With the appropriate government oversight and regulation, it may be possible to drill off the coasts of Florida and California without covering the beaches with sludge and killing thousands of seabirds. Provided we acknowledge, of course, that a few nasty hurricanes in Florida will make at least a little bit of mess, and an earthquake in the wrong spot in California could be a slight problem. And provided we are capable of following the example of Norway, where the government and the people tell the oil company what to do and preventing energy industry being in charge of policymaking. link
Any drilling would be minimal help
According to the International Energy Agency, if the federal moratorium on offshore drilling were eliminated (and none of the states block drilling) and if exploration and development of resources in those areas begins in 2012, then essentially no extra oil would be recovered until 2020. From 2020 to 2030, the extra oil production averages about 150,000 barrels of oil a day. But of course that's not going to happen since California is not going to allow drilling off its coast. So we are almost certainly talking under 100,000 barrels a day sometime after 2020. more
Oil subsidies / pollution
Oil companies are already sitting on 68 million acres of leases that they aren't even drilling? Oil companies already have access to nearly 80% of all American offshore oil that is technically recoverable. According to the US Energy Information Administration, "access to the Pacific, Atlantic and eastern Gulf regions would not have a significant impact on domestic crude oil and natural gas production or prices before 2030."
July 2010: An examination of the American tax code indicates that oil production is among the most heavily subsidized businesses, with tax breaks available at virtually every stage of the exploration and extraction process. link
April 2011: Energy companies underpaying by millions, perhaps billions. By law, energy companies must pay one-sixth to one-eighth of the value of oil and gas obtained on public lands and in federal waters off the nation's coasts. In practice, government auditors and Interior's inspector general believe the industry is paying less than it legally should. Exactly how much less is anybody's guess, but it is believed to be at least hundreds of millions, and possibly tens of billions of dollars. So flawed and complicated are Interior Department operations and records that even auditors from the Government Accountability Office, the watchdog arm of Congress, have been unable to figure out exactly how much has been lost to taxpayers. link
The

conventional wisdom that the oil industry has been the major beneficiary of federal financial largess is correct. Between 1950 and 2006 the oil and natural gas industries have garnered 60% of federal energy incentives totaling $725 billion, with $335 billion in combined incentives going to the oil industry. link