NORTH CAROLINA AND THE CHARLOTTE REGION

Having lived l

in North Carolina for almost 29 years, I see the problems and the possibilities. Here in the south-eastern USA we rank 7th in the world in contribution to global warming. This is largely due to the high carbon dioxide emissions of coal-fired power plants. The south-eastern region of the USA uses 40 billion gallons of water every day in the production of electricity - 2/3rds of all its water use - (

WRI

) The region also accounts for approximately 40% of U.S. CO2 emissions - with the USA being the worst offender in the world. We have so much potential if we can see past the invested interests. Below read about some of the issues relating to the environment.

An

April 2011 survey

conducted by NC Sustainable Energy Association found overwhelming support for an increased use of clean energy sources like solar or wind energy. The statewide

public opinion survey found that 83.8% of likely voters think state leaders and elected officials in North Carolina should seek more alternative or renewable energy sources in order to provide consumers and businesses with electricity

.

Note: articles from local newspapers will be credited, but they may not always be accesible on line after time.

Latest news:

(June 2013) Power plant expansion behind Duke rate hikes. Duke Energy's $2.2 billion addition to its Cliffside power plant may be the last coal-fired unit the company builds in the Carolinas, the end of an 86-year line. Unit 6, which started up December 2012, is also a major reason Duke Energy Carolinas customers are being asked to pay higher electric bills for the third time since 2009. The new unit alone will also release 6 million tons a year of CO2, a greenhouse gas, as it gobbles 7,000 tons a day of coal. Unit 6 needs 8,000 gallons a minute of water from the Broad River to replace what escapes from the system. Duke included $863 million of Cliffside's costs in an overall 9.7% request that would raise most residential bills 14%. The new Unit 6 and the updated Unit 5 generate more than twice the electricity the plant did before four 1940s-vintage units were shut down, but release 80% less sulfur dioxide and half as much nitrogen oxide and mercury into the air. But emissions are one reason coal, and therefore Cliffside, remain an environmental target. The plant has been a focus of protests outside Duke's Charlotte headquarters. Sulfur dioxide forms haze and nitrogen oxides, ozone. Mercury can contaminate waterways. Observer

_______________________________________

Some useful links in North Carolina



Carpet Recovery -

Prevent old carpets filling landfills - 2 centers - Charlotte & Raleigh) link
North Carolina Sustainable Energy Association: link


North Carolina Conservation Network:

link


Environment North Carolina:

link


NCWARN

- link


Piedmont Biofuels:

ForPrevent old biofuel information in North Carolina - link


BREDL

(The Blue Ridge Environmental Defense League) a regional, community-based, non-profit environmental organization with concern regarding the dangers of nuclear facilities in the region bredl bredl.nuclear


Renewable energy in North Carolina

- read
More on NC's Renewable Energy and Energy Efficiency Portfolio Standard here
December 2011: ACE – The Alliance for Climate Education, opened a permanent regional office in North Carolina this fall! ACE is a leading national organization that delivers free, exciting, science-based multimedia presentations on climate change (more) to high schools to high-school students. This exciting & engaging presentation meets national science curriculum standards. ACE also provides free resources for schools, students and teachers. Bringing ACE to your school is simple- fill out this brief booking form.
_______________________________________
Below:
Pollution in NC
Duke Energy's role in the Carolinas

Fracking issue debated

Renewables / Wind power / Solar power
Coal's impact in the state

Coal Ash situation
Nuclear Power
Offshore oil drilling
Sea-level rise

Other news and green schools in NC

Pollution in North Carolina
April 2013 - See report on Charlotte region's current air pollution - American Lung Association
October 2011: Envision Charlotte begins. Financed by Duke Energy and two corporate partners, Envision Charlotte is billed as the first effort of its type. The first phase of the energy-saving green initiative goes live today raising the consciousness of 82,000 uptown workers aiming to trim energy use in uptown office buildings 20% by 2016. It's technically simple, with little cost, to cut energy use in office buildings by 5%, says research compiled by the Massachusetts Institute of Technology's Energy Efficiency Strategy Project. But it's harder to motivate changes in habit. Building owners may see no point in spending on energy upgrades that will save money only for tenants. Office workers don't pay for their electricity so have nothing at stake. Organizers hope the Prius effect - high regard for going green - will take hold uptown. Duke hopes to recoup part of its $4.1 million investment through a state-approved energy efficiency pilot program. The program lets Duke recover the costs, and lost revenues, associated with energy-saving measures by adding a fraction of a cent per kilowatt-hour to nonresidential customer bills. Observer

April 2011: TVA settles NC pollution claims. The Tennessee Valley Authority has agreed to close 18 coal-fired generators and install as much as $5 billion in pollution controls to resolve alleged Clean Air Act violations in Alabama, Kentucky and Tennessee, and will invest $350 million in clean-energy projects and pay $10 million in civil penalties. The federal utility will spend $350 million on clean-energy projects, including $11.2 million for North Carolina programs to promote energy efficiency and reduce demand for electricity. TVA will also pay a $10 million fine. The settlement goes beyond the terms of a federal judge's 2009 order that settled North Carolina's lawsuit against TVA. link (more on TVA story)

November 2009: Pollution up 39% in North Carolina since 1990: North Carolina's global warming pollution increased by 39% since 1990, according to a new analysis of government data released by Environment North Carolina. Between 1990 and 2007, CO2 emissions from burning coal jumped 46.2%.






The Catawba ranked as the most endangered river in the USA.

In 2008, American Rivers, a river advocacy group, named the Catawba River as the most endangered river in the United States. The Catawba-Wateree River is under increasing stress from the growing population in the basin, outdated development practices, and inadequate regulatory protection for the River. In 2009, the U.S. EPA announced that four of the 44 highest hazard coal ash ponds in the United States are located on the Catawba River and all of these high hazard ash ponds are located on reservoirs used as a source of drinking water. A significant portion of the surface water in the Catawba-Wateree basin does not meet basic water quality standards. link
Riverkeepers web site: catawbariverkeeper.org


More on N.C. Air Quality from Clean Air Carolina
Emissions of toxins from each of North Carolina's coal-fired plants at this BREDL link.



Duke Energy's role in the Carolinas
The Duke Energy - Progress Energy merger is currently a contentious issue in North Carolina, with a suspect merger and ousting of proposed CEO, as well as impending investigations and lawsuits on the way.

July 13 2012: Secret deals endanger $32 biilion deal. More officials called to testify on Duke Energy's boardroom coup – New York Times
June 29 2012: Final approval given for Duke Energy & Progress Energy to merge, creating the largest utility in the country, and the biggest user of coal. Greenpeace statement
Duke and Progress Energy become largest U.S. utility - link

Solar and wind would reduce ratepayers' bills. Duke Energy customers in the Carolinas could save $108 billion, or 57% of their total bills, over the next 20 years by choosing solar and wind energy according to Ventyx, a provider of data and analysis related to the electricity sector. Ventyx modeled the rate and environmental impact of a cleaner alternative to Duke Energy's existing Integrated Resource Plans (IRPs). Such plans or IRPs set the course for utility planning and offer a glimpse into major construction, retirements and improvements that will shape the future of energy supply and delivery. Since Duke Energy has yet to issue an IRP as a combined company (Duke recently merged with competitor Progress Energy to become the largest utility in the country), Duke's 2010 IRP and Progress's 2011 IRP were analyzed. These plans were weighed in the context of the Southeastern region consisting of the Carolinas, Virginia and West Virginia, Georgia, Florida, Tennessee, Kentucky, Ohio, Illinois, Missouri, Oklahoma, Nebraska over the next 20 years. The model ran various fuel price, wholesale power price, supply, demand (load forecasts) and emissions assumptions across the region, based on existing and planned generation by fuel type. The model also incorporated two-way power flow constraints. link

July 2012:

Greenpeace report on renewable energy for NC.

Greenpeace has released a report detailing

how Duke Energy could embrace renewable energy and energy efficiency in the process saving North and South Carolina customers over $100 billion through 2023. link




June 2013: N.C. House panel keeps fracking moratorium. A state House committee soundly rejected an effort to lift the state's fracking moratorium, signaling a rebuke to the state Senate's aggressive push to fast-track shale gas exploration in North Carolina. Charlotte Observer

July 2012:

Fracking in N.C. permitted as veto is over-ridden

.

Republicans successfully overrode Gov.Perdue's veto of a fracking bill during a dramatic vote taken just after 11 p.m. Monday. But like the legislation itself, the vote to override was controversial. link


July 2012: Fracking prospects. October 2014 is the deadline to have regulation in place, and no permite would be granted until at least 2015. House representative Ruth Samuelson, co-chairman of the Environmental Review Commission, writes that fracking is neither imminent nor even inevitable in North Carolina. link

Fracking in North Carolina. (November 2011) Legislation passed early 2011 has moved North Carolina closer to producing shale gas, and directs the Department of Environment and Natural Resources to complete a study on the effects of hydraulic fracturing, often called "fracking," by May, 2012. A report by Duke University researchers offers several health and environmental measures for North Carolina lawmakers to consider as they debate legalizing horizontal drilling and hydraulic fracturing for natural gas. More


October 2011:

The North Carolina General Assembly passed legislation to study natural gas extraction using a method of horizontal drilling and hydraulic fracturing known as "fracking." Fracking injects pressurized water, a mixture of chemicals, and sand into rock formations to create cracks through the rock that release gas.

In other states where fracking has occurred, residents have reported spills and fumes, health problems, contaminated tap water, sick and dying animals, earthquakes, and other problems.

The chemicals injected into the ground, of which up to 80% may be left behind, may include toxic and dangerous chemicals. A recent

report

by congressional Democrats listed 750 chemicals and compounds used in fracking by 14 oil and gas service companies from 2005 to 2009. Of those chemicals, 29 chemical, including benzene and lead, are either known or potentially cancer-causing, or pose other serious risks to human health.

Fracking can require 5 million gallons of water for a single well. And what happens to the water-chemical mix afterwards?

Southern Environment Law Center


CWFNC.org

have produced a video cautioning North Carolina landowners of the dangers of leasing their property to gas companies - view here


N.C. landowners signing one-sided agreements with fracking companies - link
Organization opposing fracking in NC - Frackfreenc

More on Fracking page.



Renewables / Wind power / Solar power /




Renewables



(ACORE) American Council on Renewable Energy summary of North Carolina - link

March 2010: New report - renewable energy could meet nearly all N.C. electricity needs.
A groundbreaking study finds solar, wind, and other renewable power sources could meet nearly all N.C. electricity needs and only six percent of electricity would have to be purchased from outside the system or produced at conventional plants. Dr. Arjun Makhijani, President of the Institute for Energy and Environmental Research (IEER), explained why his center published the report. "This is a landmark case study of how solar and wind generation can be combined to provide round-the-clock electric power throughout the year. North Carolina utilities and regulators and those in other states should take this template, refine it, and make a renewable electricity future a reality." Dr. Makhijani is the author of Carbon-Free and Nuclear-Free: A Roadmap for U.S. Energy Policy.

link

Also see: Duke University study finds renewable energy, including solar, wind and hydroelectric, can provide all but 6% of North Carolina's electricity.

link

See also "Solar makes more sense for North Carolina".

December 2012:

Republican House threat to NC energy laws

.

The Green Energy Law

, Senate Bill 3, as the law is commonly known, is widely credited with creating markets for renewable energy, especially solar power, that didn't exist in North Carolina before it was adopted. The law says electric utilities have to derive rising amounts of their retail sales from solar, wind or biomass sources, beginning at 3% in 2012 and ending at 12.5% by 2021.

The N.C. House's new Republican majority whip, Mike Hager, believes he has the votes to stop North Carolina's green-energy mandate.


Advocates say it has produced thousands of jobs despite a slumping economy. However the law has been a target of conservatives since it was adopted. A House bill to repeal it was introduced in 2011 but got no traction.

N.C. Sustainable Energy Association's 2012 jobs census found the equivalent of 15,200 full-time employees working for 1,100 energy-related companies that pull in $3.7 billion a year. Betsy McCorkle, the association's government affairs director, said "Based on my conversations, most of them (legislators) are seeing the jobs and the investments happening around their districts . . . Most see the benefits of this highly successful energy initiative." link



March 2011:

NC's renewable law repeal opposed by energy companies

.

The effort to repeal

SB3, a landmark 2007 North Carolina law aimed at making utilities buy renewable energy, is going nowhere despite all the money poured into gutting it by climate change denialist Art Pope's John Locke Foundation. Pope and the Koch-backed Americans for Prosperity spent millions of dollars during last year's elections, winning the General Assembly for Republicans, and they want payback. But the state's biggest utilities, Progress Energy and Duke Power, are now standing in the way of repealing something they fought hard to stop four years ago. Here's why. The North Carolina Sustainable Energy Association

recently put out a 2010 "green energy census" identifying 12,500 green energy jobs in the state. Renewables are now a $3.5 billion industry in North Carolina, the report says. What's left for supporters of repeal is an ideological argument, or a climate change denial argument, against a business argument. Utilities are making money from renewable energy in North Carolina, and they like it.

link

[The solar component of renewables is 0.2% by 2021, and doesn't increase from 0.07% until 2015 which is an extraordinary low requirement for a state blessed with sunshine - link]

Wind power

February 2012: Third study touts wind power for North Carolina. A February 2012 study says North Carolina had the largest offshore wind resource on the East Coast and that the state should work with industry to develop the wind energy industry. The 15-member panel said there are areas off the North Carolina coast suited for wind farms that could generate a yearly average of 20,000 megawatts of power. The report said producing wind energy is expensive and would increase the cost to ratepayers in the short term but would provide long-term benefits in producing pollution-free energy. Iberdrola proposes a 300 megawatt "Desert Wind" project near Elizabeth City, but no utility has been willing to commit to buy the power. Invenergy proposes an 80-megawatt project in Beaufort County near the Pocosin Lakes Wildlife Refuge. The project is delayed over concerns about migrating snow birds being killed. Apex Wind proposes an offshore project that is awaiting word on which federal water parcels can be used for wind farms. link

All North Carolina energy could be met with offshore wind. (September 2010) A new report from Oceana says offshore wind could supply all NC energy requirements. The report says offshore wind could meet 100% of the electricity currently generated in NC, DE and MA. link

August 2010: Duke Energy abandons off-shore wind energy. Duke Energy has called off its efforts to develop a small offshore wind facility in a North Carolina lagoon. The company said almost a year ago it would build three wind turbines in Pamlico Sound to demonstrate offshore wind technology. However its analysis of the proposals has suggested permitting, design and construction are "no longer economically viable". link


Solar power



October 2013: (Charlotte Observer) Utility-scale solar farms have soared from none in 2007 to 108 registered systems by the end of 2012. 78 were registered in 2012 alone. link

February 2013: North Carolina will be home to the biggest solar PV farm in the eastern states when local solar developer Strata gets approval for a 100MW plant. Chapel Hill-based Strata Solar wants to start construction on the $250 million project late 2013 and complete it in 10 months. Located in Duplin County, it will cover 400 acres. The four-year-old firm has been quickly ramping up projects, mostly smaller ones, but with the prospect of incentives being phased out, it's getting into big projects. This year, 13 solar projects come online across North Carolina, built in partnership with Canadian Solar. Each is about 6.4 MW, for a total exceeding 80 MW. link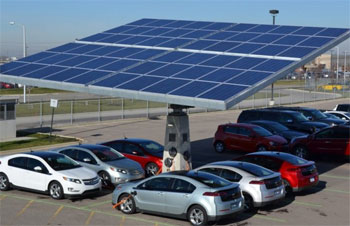 February 2012:

Solar forest sprouts in North Carolina.

A "Solar Forest" is moving forward in North Carolina which consists of 2300 "solar trees" that together, will produce 35 megawatts of electricity. Scheduled to come online in

2014,
Tennessee-based Horizon is developing and financing the project - the biggest yet for Envision's patented solar trees. Solar panels sprout in all directions from one central column and can track the sun. They provide shade for cars and charging stations for electric cars. link
October 2012: In Catawba County Apple is finishing a 20MW solar farm at its Maiden data center that will be the state's largest. It has announced a second of the same size to be built a few miles away. A California company, meanwhile, has applied for a state permit to build a 17.5MW solar farm in Claremont, and Chapel Hill-based Strata Solar is working on two 6.4MW systems in the county. Combined, the new solar output would easily eclipse that of any other North Carolina county. Guilford County now leads the state in operating solar systems with a total capacity of 32MW according to the N.C. Sustainable Energy Association. North Carolina ranked ninth nationally in grid-connected solar projects installed in 2011, the Interstate Renewable Energy Council reported. The 45.5MW connected in 2011 more than doubled the state's total solar capacity. For all that activity, solar energy still supplied only 2% of the state's electricity last year. (Strata plans to build 11 farms, totaling more than 70MW in Catawba and other N.C. counties this year and next.) link
May 2012: Apples Malden data center will use renewables 100% by end of year. Apple plans to use exclusively solar power to run all three of its high-consuming server centres. (The Malden data center will host a 20MW solar farm and be completed by the end of 2012.) Apple plans on using coal-free electricity in all three of its data centres, with the Maiden facility coal-free by the end of 2012.
Solar Update

January 2011: North Carolina's largest solar farm to date is now complete and producing power. The fifth and final phase of the 200-acre, 17.2MW solar farm located in Davidson County, was recently completed by Duke Energy and SunEdison LLC. As the second largest active solar PV project on the East Coast, its 63,000 solar panels will generate an estimated 28 million kilowatt-hours annually, which is enough power for approximately 2,600 homes a year link



NC utilities are mandated to produce only 0.2% of their energy by solar power by 2021.


North Carolina has 228 solar firms in 2011 employing an estimated 1,868 people, according to the N.C. Sustainable Energy Association.

December 2011: High efficiency concentrated solar cells. Semprius, a North Carolina firm based in Durham, broke ground on a manufacturing plant in Henderson, N.C. this year as a leader in the Sunshot incubator project. The plant is expected to start operating in 2012 with an initial capacity of 5MW, eventually growing to 35MW. The available project market for highly-concentrated photovoltaics. is expected to double or more each year over the next nine years, reaching greater than 10 gigawatts of power by 2020, according to Semprius CEO Joe Carr. link
Update: September 2012: Durham-based Semprius Inc., a U.S. solar-panel maker, will open its first manufacturing plant this month in Henderson, North Carolina, countering the trend of solar factories shutting their doors, and will eventually employ more than 250 people. link

Coal's impact in the state




March 2009:

"

NORTH CAROLINA'S ENERGY FUTURE

"

the NC WARN

(begin page 2)

report states: "Electricity rates for most North Carolina customers will increase dramatically if new coal-fired and nuclear power plants are successfully completed by Duke Energy and Progress Energy. This report shows that, based on the utilities' numbers, electricity demand can be reduced by up to 3,700 Megawatts (MW) within 15 years, avoiding the need for any new plants and allowing retirement of 7 to 9 existing coal-fired units. Our analysis of recent filings by both companies shows that even with a growing population, North Carolina can eliminate the need to risk $35-40 billion on new plants. This can be accomplished through modest increases in energy efficiency, cogeneration and renewable power sources, and if necessary, by using a large oversupply of electricity in the Southeast … " summary


200 Wilmington doctors oppose Titan Cement plant. StopTitan.org was put together by a group of local citizens to provide information about Titan America's plans to build the 4th largest cement plant in the nation, along the banks of the Northeast Cape Fear River, just outside of Wilmington, NC. They oppose this cement plant, proposed by Titan, because of the impacts it will have on our coastal region.
(From Southern Environmental Law Center) Although $4.5m taxpayer dollars have been given to Titan America, the Perdue administration says it does not constitute an expenditure of public money, and also that a full environmental impact does not need to be conducted before North Carolina begins issuing permits for the plant despite mercury fears. (Building the plant would also destroy some 1,000 acres of wetlands) link
Grassroots action in Wilmington confronting the Titan Cement plant - 6-minute video - view here


Is America Ready to Quit Coal?


February 2009 - the New York Times ran a compelling article focusing on the proposed Cliffside plant being constructed by Duke Energy in Rutherford County. read

This article did not appear in the local Charlotte Observer.

Duke Energy estimates that about 25% of the coal it burns in the Carolinas comes from mountaintop mines in Virginia, West Virginia and Kentucky. Duke burns

15 million to 16 million tons of coal

each year at its eight Carolinas plants. State laws say utilities have to supply the "least cost" electricity to consumers without defining what comprises the full cost, ignoring external costs such as health and lost productivity resulting from pollution effects.





Cliffside.

Duke Energy started up their controversial 825MW coal plant in Rutherford County at the emd of 2012. More on this and the problem of mercury emissions on Cliffside page.



Coal Ash situation in the Carolinas:

North Carolina has 37 coal ash ponds, more than any other state. Twenty-nine of these have been rated high hazard by the EPA - meaning human life could be lost if a breech happens at the ash impoundment.

Independent journalist Rhiannon Fionn-Bowman reports on coal ash issues in Coal Ash Chronicles. Here is a report on the Charlotte region - Charlotte's coal ash problem
Also check Southeastcoalash.org

New page on Coal Ash

October 2009:

13 NC coal ash ponds are leaking toxic pollutants into groundwater

. link


Duke Energy has 8 coal-fired plants in the Carolinas which produce 2.2 million tons of ash a year. Two-thirds of this is dumped into landfills and ponds. The Charlotte Observer reported in February 2008 that Duke was

forced to close one site in 2008 because of groundwater contamination. As with the TVA spill on December 22, 2008 in Tennessee

(see photo right

), companies assure us there is no risk, and safety is a top concern, but state inspections are only required every five years, and a 2005 storm at the Cliffside plant in Rutherford County caused "major distress and erosion" requiring the dike to be raised by a foot.


State records show that arsenic, boron and selenium - all toxic in high concentrations - have been found at potentially unsafe levels in groundwater under Duke's ash basins. Duke says there is no evidence that water supplies have been harmed. Tests support that at Mountain Island. But until recently, groundwater has gotten little scrutiny. Unlined ash basins - Duke's plants have 14 - are the type most likely to pollute groundwater, according to another EPA study. Cancer risks from drinking groundwater tainted by arsenic from unlined basins are 900 times higher than the government says is acceptable.

The dangers posed by coal ash are significant in North Carolina. High hazard risk means an impoundment will threaten human life if it ruptures. Many of the earthen dams holding back millions of gallons of coal sludge in North Carolina are in populated areas with homes and businesses that would be destroyed if they fail. Even without a structural failure, groundwater contamination from coal ash storage sites is already occurring in the state.
According to Upper Watauga Riverkeeper Donna Lisenby's review of the data, all thirteen of the tested coal ash ponds were found to be leaking toxic heavy metals and other pollutants into nearby groundwater, including but not limited to: arsenic, boron, cadmium, chloride, chromium, iron, lead, manganese, pH and sulfate. In all, the analysis found 681 instances where levels of pollutants were in excess, ranging from 1.1 to 380 times higher than North Carolina's groundwater standard.

"The results of this data are very alarming, and we now know that some of these ponds have been leaking into the groundwater for years," said Lisenby. "We intend to call for further oversight and clean up of coal ash pond waste to prevent additional heavy metals and other toxins from being released into our groundwater and rivers." link
2009 - Dependence on big oil, dirty coal could cost North Carolina $782 billion by 2030

.
Between 2010 and 2030, North Carolina will spend as much as $782 billion on oil, coal, and other fossil fuels - 3.5 times the total earnings of all North Carolina workers in 2007. At the same time, pollution from fossil fuels is the number one source of air and global warming pollution and a leading source of water pollution, said Environment North Carolina in their new report. High spending on fossil fuels is largely driven by our dependence on oil, according to the analysis. North Carolina is on track to spend as much as $34.4 billion on oil alone in 2030, 85% of the state's total spending on fossil fuels. read
Nuclear power in North Carolina
There are three operating nuclear power plants in North Carolina. North Carolina's nuclear capacity, which accounts for nearly 5% of the national total, ranks 6th among the 31 States that have operating commercial nuclear reactors. North Carolina's nuclear capacity is nearly 20% of the State's total capacity but still ranks third behind coal and natural gas. Nuclear generation accounts for roughly a third of North Carolina's total generation, the other two-thirds coming from coal and natural gas. link picture Shearon Harris Unit 1, 20 miles south-west of Raleigh
(August 2013). North Carolina is currently storing 3,670 metric tons of radioactive waste - link
(December 2005) The looming nuclear nightmare in North Carolina. The Department of Homeland Security has fingered Shearon Harris as one of the most vulnerable terrorist targets in the nation. Shearon Harris is not just a nuclear power-generating station, but a repository for highly radioactive spent fuel rods from two other nuclear plants owned by Progress Energy creating the largest radioactive waste storage pools in the country. Because the water system that feeds the waste pools is also connected to the Shearon Harris reactor, a pool fire could also trigger a nuclear meltdown. A recent study by the Brookhaven Labs, not known to overstate nuclear risks, estimates that a pool fire could cause 140,000 cancers, contaminate thousands of square miles of land, and cause over $500 billion in off-site property damage. A waste pool fire could spread radioactive debris over a 500-mile radius, including Cesium-137, a carcinogen linked to birth defects and genetic damage. The plant has experienced numerous shit-downs and safety problems. link
The logic of drilling for oil off North Carolina's coast.
How much oil is off the Atlantic Coast? We really have no idea. The entire East Coast has been off limits from all drilling-related activity since 1981. That's the last time any data was collected on the area, using seismic equipment that's outdated compared to today's advanced methods. More accurate data is likely to lead to more accurate drilling and fewer "dry wells" that don't produce oil. But it could also revise downward how much we think is out there. The Interior Department's Minerals Management Service (MMS) estimates there could be as much as 10 billion barrels of oil and natural gas in the mid- and south Atlantic. But that's only at a 5% level of confidence. Ask them what they're 95% confident of, and the estimate drops to fewer than 2 billion barrels, or about 100 days of oil at our current rate. So, not much. "We really don't know a lot about what's down there," Interior Secretary Ken Salazar admits. "It may be nothing, it may be a lot. link
October 2008: Forty-five miles off Cape Hatteras, Chevron USA said a decade ago, lay a colossal gamble that sounds sweet today. The oil company reckoned only a 7% chance of striking oil or gas more than 11,000 feet under the sea floor. A federal official called the Manteo Exploration Unit, as the site is known, "a high-risk prospect with world-class potential." And as a congressional ban on offshore exploration in the Atlantic expired last week, N.C. residents wracked by high energy prices are in a mood to drill. But don't expect to see drill rigs anytime soon, experts say. "There's really been no activity off the (N.C.) coast since 1984," said Roger Shew, a former Shell Oil geologist now at UNC Wilmington. "The fact of the matter is that this is all based on old data. "Instruments today can more accurately probe the sea floor for rock formations that trap hydrocarbons."Oil company estimates of deposits off North Carolina could be overblown. Of 51 wells drilled elsewhere along the Atlantic coast in the 1970s and 1980s, none were commercially viable. Even when previously closed portions of the Outer Continental Shelf open, Shew said, oil companies are most likely to invest in the known reserves in the Gulf of Mexico. Even there, he said, too few drill rigs exist to explore every prospective site. "They are not going to take lightly coming up and poking some holes just to take a look," he said. Any exploration would follow a lengthy process, including hearings and environmental studies, to issue leases. Federal law allows the governor to comment on drilling proposals, and the state can force drillers to comply with coastal-development regulations. The state used its clout to fight off oil companies in the 1980s and '90s, but political opposition to drilling is waning.
Geologists estimates that the mid-Atlantic coast, including North Carolina, holds about 1.5 billion gallons of oil – enough to meet U.S. needs for a little more than two months. The estimated 15.1 trillion cubic feet of natural gas would last about eight months. Kenneth Taylor, chief of the N.C. Geological Survey said, "Things that were not economically feasible then may be now." Because the N.C. coast has no history of oil or gas production, the costs of building pipelines and storage tanks would have to be added to exploration and production expenses, said Taylor. Even then, Taylor added, there's no assurance that any oil or gas that's recovered would be sold in the United States. After sinking millions of dollars into exploration, permitting and drilling, he said, companies could ship the raw product to more lucrative markets such as China. Once they actually drill, if they hit it, none of it might come back to North Carolina.

January 2010: NC Coasts subject to sea-level rise - While sea levels globally have been stable for more than 7,000 years, sea level rise has accelerated since the 1990s and that trend is expected to continue at an accelerated rate - the N.C. coast could rise by as little as 1.2 feet to as much as 4.6 feet this century. Some 2,300 square miles of low-lying land would be underwater or easily flooded. North Carolina is among the states most vulnerable to rising seas, the National Oceanic and Atmospheric Administration says. Ice sheets in Greenland are shifting rapidly, and signs of unstable ice are emerging in western Antarctica, said Gordon Hamilton of the University of Maine. The ice sheets in Greenland alone could raise global seas some 20 feet. link
Sea-level rise for NC coast: Surging Seas, a project of Climate Central, says global warming has raised sea level about 8 inches since 1880, and the rate of rise is accelerating. Scientists expect 20 to 80 more inches this century, a lot depending upon how much more heat-trapping pollution humanity puts into the sky. This study makes mid-range projections of 1-8 inches by 2030, and 4-19 inches by 2050, depending upon location across the contiguous 48 states.
Ancient N.C. records show sea-level rise is related to warmer temperatures. link
Sea-level rise interactive map for NC - link here
August 2012: N.C. governor allows controversial bill on sea-level rise to become law. link
_________________________________________________________________________
Other Green Charlotte links: Energy Solutions
Other news:

Washington to Charlotte Southeast high speed rail corridor.
March 2011: State and federal transportation officials said Tuesday they've reached an agreement to release $461 million in stimulus funds to North Carolina to improve passenger train service between Raleigh and Charlotte. Some lawmakers, however, want the state to reject the funding unless the General Assembly approves high-speed rail projects. link)

Green schools in North Carolina.
Guilford Northern Middle School received the "Designed to Earn the ENERGY STAR" graphic, distinguishing the design as one of the nation's best in energy performance. If the project operates as intended and meets or exceeds EPA criteria for energy performance, the school may qualify to receive the ENERGY STAR label. The project will use cutting-edge techniques to achieve superior energy performance levels. Daylighting is the project's primary sustainable strategy. In earlier projects, Innovative Design had used south-facing monitors and glazing to maximize winter solar gain. However, south-facing glazing can cause high glare. A new daylighting strategy uses south-facing clerestory windows but with 40% less glass to minimize glare. Throughout the year, daylighting will provide natural light at full-lighting levels to classrooms, administrative offices, the media center, the gymnasium, and the cafeteria during two-thirds of the school's operating hours. Occupancy and photocell sensors will control indirect dimmable fluorescent fixtures and reduce electrical lighting consumption. To enhance the performance of the roof monitor daylighting strategy a white thermoplastic single-ply membrane to the flat roofs where the monitors sit, improving the monitors' performance. These techniques will help reduce the size of the HVAC system, enhancing the overall efficiency of the school. Lower lighting and cooling needs are expected to reduce initial costs by $150,000 and, correspondingly, air conditioning by 70 tons. You can read more about Guilford Northern Middle School in Greensboro here.


---