Facts



Solutions





International



| | |
| --- | --- |
| | AUSTRALIA |
| | BRITAIN |
| | CANADA |
| | DENMARK |
| | SPAIN |
| | CHINA |
History of Kyoto

Doha - COP 18 talks

COP 17 - Durban 2011


Between Cancun and Durban

Why Copenhagen talks failed

Actions around the world in 2010



Intergovernmental Panel on Climate Change
from Kyoto to Paris 2015
The UN talks commenced in 1992 with annual conferences since then producing no comprehensive binding agreements. The
Kyoto Protocol came into force February 2005; disagreements at subsequent international meetings (Copenhagen, Cancun etc.) have indicated that at the governmental level, ability to bring climate change under control is failing. With
global warming
accelerating and rising carbon emissions, the world is moving too slowly to prevent serious damage to the ecosystem on which life depends. This raises prospects of rising sea-levels, food shortages and increasingly extreme weather disasters such as floods and droughts which have occurred with greater frequency, particularly since 2010.
Hope may rest increasingly on initiatives by other organizations such as IRENA, the C40 cities imitative, and actions by business leaders and entrepreneurs to act where governments, especially Canada and the USA, which are deadlocked and subject to pressure from "Business-as-Usual" energy corporations which have led to a virtual paralysis in leadership.
The Doha conference (2012) reached an agreement to extend the life of the Kyoto Protocol until 2020, meaning that a successor to the protocol is set to be developed by 2015 and implemented by 2020. The next IPCC (COP-21) talks will be in Paris December November 30 to December 11 2015 and noted as an opportunity to make the necessary decisions. COP-22 is expected to take place in Morocco. Dates are November 7-18, 2016 with Marrakech as the venue with focus being on action.

Latest news:

Jan 29 2016: Paris climate deal seen costing $12.1 trillion over 25 years. If the world is serious about halting the worst effects of global warming, the renewable energy industry will require $12.1 trillion of investment over the next quarter century, or about 75% more than current projections show for its growth. That's the conclusion of a report setting out the scale of the challenge facing policymakers. link
Jan 21 2016: $16 trillion could be deployed because of Paris agreement. At least $16.5 trillion is about to be deployed as countries implement the climate plans they committed to at COP-21 according to Standard & Poor's. In the next 15 years, the world's wind and solar capacity could double from China and India's ramp-up alone. So, is In other words, is COP21 the turning point we've been waiting for. link
Paris COP-21 summary
The deal reached in Paris set goals to limit warming, phase out carbon emissions by the middle of the century, help poor countries realign their economies, and review their progress towards hitting those targets at regular intervals and designed to make it Republican-proof in the USA. (link) However James Hansen called the agreement a fraud. "It's just worthless words. There is no action, just promises. As long as fossil fuels appear to be the cheapest fuels out there, they will be continued to be burned. (link) Writing in the Guardian, George Monbiot said: "By comparison to what it could have been, it's a miracle. By comparison to what it should have been, it's a disaster. In fairness, the failure does not belong to the Paris talks, but to the whole process. A maximum of 1.5C, now an aspirational and unlikely target, was eminently achievable when the first UN climate change conference took place in Berlin in 1995. Two decades of procrastination, caused by lobbying – overt, covert and often downright sinister – by the fossil fuel lobby, coupled with the reluctance of governments to explain to their electorates that short-term thinking has long-term costs, ensure that the window of opportunity is now three-quarters shut. The talks in Paris are the best there have ever been. And that is a terrible indictment." (link)
Below:
COP-21 -Paris 2015

COP-20 in Peru


History of Kyoto

Doha - COP 18 talks

COP 17 - Durban 2011


Between Cancun and Durban

Why Copenhagen talks failed

News items from around the world
Other pages on international actions:
IRENA

International Renewal Energy Association

Other initiatives -

C-40Cities / Branson's Carbon War Room / Rio+20
Sept. 3

:

$100 billion a year pledge advances

. A long-awaited plan detailing how developed countries will meet a 2009 promise to deliver US$100 billion a year of climate funds to poor countries will be presented on October 9. Christiana Figueres, UN's top climate official, said she expected top donors to outline their proposals at the start of the annual World Bank and IMF meeting in Lima next month. "Developing countries cannot transform their economies towards low carbon unless they have financial support – you don't even have to argue it. It is absolutely clear," Figueres said. link




August 12

:

EU emissions tumbling – exceeding Kyoto targets

. Europe's greenhouse gas emissions are falling fast, mainly because of the rapid spread of the wind turbines and solar panels that are replacing fossil fuels for electricity generation. Many countries that promised to cut GHG emissions under the 1997 Kyoto Protocol are now exceeding their targets. UNFCCC statistics show that the 37 industrialised countries (plus the EU) that signed up in 1997 to the Kyoto Protocol

− the original international treaty on combating global warming – have frequently exceeded their promised GHG cuts by a large margin. link
July 2015:

Paris: Tracking country climate pledges

. March 31 marked the loose deadline for countries to submit their pledges to the UN on how far they intend to reduce their greenhouse gas emissions. These promises, known as "intended nationally determined contributions", or INDCs, will determine the success of the deal that the UN hopes to sign off in Paris in December this year. While only five countries plus the EU made the deadline, more than a hundred others are expected to filter in throughout the coming eight months. link


May 2015:Two men charged with succeeding in Paris
. Ahmed Djoghlaf, is co-chair of the Ad hoc working group on the
Durban Platform for Enhanced Actions (climate talks) - the effort to get a meaningful global agreement to rein in the greenhouse gas emissions that are warming the planet. The

other co-chair is Daniel Reifsnyder, whose normal job is deputy assistant secretary for environment at the U.S. Department of State.

The reason it takes two people to chair these talks, instead of just one person, is that the industrialized world and the developing world don't trust each other.
[

Pictured: Daniel Reifsnyder (left), and Ahmed Djoghlaf (right), at a February conference in Geneva.

Courtesy of IISD/ENB

] link]
June 2015: Bonn meeting ends with last-minute compromise on Paris climate text. The Bonn talks are a staging post on the way to a crunch conference in Paris this December, at which governments are hoping to sign a new global pact, to take effect from 2020, when current commitments from developed and large developing countries to limit their emissions are set to expire. Slow progress was made until the final hours, as nations wrangled over the wording of an 89-page draft text, intending to cut it down to a more manageable size. After two weeks, the text had been cut by just four pages. link
May 2015:

CEOs call for climate action deal in Paris.

A group of more than 120 CEOs and other institutional investors who manage more than $12 trillion in assets sent an open letter to Group of Seven (G-7) - the world's wealthiest countries - asking them to make bold commitments to reduce greenhouse gas emissions during the U.N. climate talks later this year. The reason, the letter said, was because of the uncertainty surrounding how bad climate change would be and how it would affect their businesses. In part they wrote:

"we believe climate change is one of the biggest systemic risks we face," urging the countries' financial ministers to support a long-term global emissions reduction goal that limits warming to a 2° Celsius.

link
Geneva – February 2015

: Paris talks won't achieve
2°C
goal – does that matter?
Officials involved with UN climate talks have been warning that the next pact, which will be negotiated in December in Paris, won't alone hold global warming to less than 2°C.
Ongoing
talks are being viewed as an opportunity to launch a wholly new approach to global climate action, an approach that could eventually do far more to constrain temperature rise than the Paris agreement alone. "More and more of the participants in the process recognize that maybe the

2 degree
goal is not something that's going to be achieved out of the Paris agreement,"
Environmental Defense Fund climate strategist Alex Hanafi said. Two decades have been spent trying, and failing, to force developed countries to slash greenhouse gas pollution levels by particular amounts within specified timeframes under international law. The Paris agreement will take a new approach, one that bears little resemblance to the Kyoto Protocol of 1997, which attempted to force developed countries to meet homogenous climate targets. (The U.S. never ratified the protocol, Europe met its targets largely because of an economic downturn, and Canada withdrew after it became clear that it would fail to comply). The next agreement will rely instead on peer pressure, national accountability, and global cooperation to voluntarily try to slow the climate-changing impacts of all nations, be they developed, dirt poor or somewhere in between. link

(April 2014) President Obama's science advisor, John Holdren, explains what to expect from the U.S. at the COP21 talks in Paris in 2015 -
link
April 2014:

IPCC report – averting catastrophe is eminently affordable.

Catastrophic climate change can be averted without sacrificing living standards, according to a new landmark UN report which concludes the transformation required to a world of clean energy and the ditching of dirty fossil fuels is eminently affordable. The authoritative report, produced by 1250 international experts and approved by 194 governments, dismisses fears that slashing carbon emissions would wreck the world economy. It is the final part of a definitive trilogy that has already shown that climate change is "unequivocally" caused by humans, and that, unchecked, poses a grave threat to people and that

could lead to lead to wars and mass migration. Diverting hundreds of billions of dollars from fossil fuels into renewable energy and cutting energy waste would shave just 0.06% off expected annual economic growth rates of 1.3%-3%. The benefits, including reducing air pollution and improved energy security could outweigh the costs. link
April 2014:

World needs "Plan B' on climate

.

The latest IPCC report warns that governments are set to crash through the global CO2 safety threshold by 2030. Humans have tripled CO2 emissions since 1970, it says, and emissions have been accelerating rather than slowing. The experts advise governments that it will be cheaper overall to cut the greenhouse gas before 2030 if they want to hold emissions at 430-480ppm CO2, a level that's calculated to bring a 66% chance of staying within a desired 2C threshold of warming by the end of the century. link

December 2014:

New direction for Philippines climate change policy

. This article explains why the switch by the Philippine delegation in Lima to side with developed nations and abandon their leading role in the LMDC bloc (Like Minded Developing Countries), is a profound change of direction in COP talks. Developed nations'

pressure, chiefly the USA, is primarily to continue business as usual, profiting fossil fuel corporations, over significant movement on climate change. Refusal to commit support for developing nations suffering from extreme climate events is at the crux of the debate. link
Dec.1 2014: Human rights and social justice take spotlight in Lima. The key questions that face the delegates as they meet in Lima are no longer simply about carbon emissions targets and timetables, but also about people and human rights. One mark of that shift is the $9.6 billion committed so far by rich nations to the U.N.'s Green Climate Fund to help poor countries. But it's not just about money. Nations will consider a pledge not only to "respect", but also to "protect, promote and fulfill" human rights – and to integrate those protections into all climate action. On deforestation – a huge issue in host country Peru – negotiators are being asked for stronger safeguards to protect human and indigenous rights, traditional knowledge and biodiversity. link
December 2014:

A change in fundamental direction

. The agreement in Lima removed the longstanding division of the world into developed and developing countries and paves the way for a model of unity. The talks concluded more than 24 hours after the scheduled close with an agreement that everyone wanted, yet no-one much liked. Negotiators from 196 countries patched together a compromise

which keeps the show on the road until Paris December 2015, but in doing so left almost everyone unhappy with one element or another. The Lima deal is weak in many respects and the process has been left to the five sessions of talks scheduled for 2015, starting in February. Given the divergence between all the positions, it will be a huge task to make the draft fit for conclusion in Paris. Developing countries wanted contributions to include plans for adaptation to climate change as well as emissions cuts, and for developed countries to include financial support for poorer nations. They got no commitments to new money, and inclusion of adaptation plans will be optional, not compulsory. Developed countries wanted all countries to provide standardised information on their emissions targets and plans, to ensure transparency and comparability. The key elements were agreed, but only in the form of guidance, not as requirements.

link
Background

.

The series of annual UNFCCC

(United Nations Framework Convention on Climate Change)

talks can trace its roots to the 1992 Earth Summit in
Rio de Janeiro
,
Brazil
. In 1997 it spawned the Kyoto Protocol which was initially adopted on
December 11, 1997
and entered into force on
February 16, 2005
. It is a protocol to the
UNFCCC and
as of January 2009, 183 parties had ratified the protocol (though not the
USA
). Under this Protocol, industrialized countries agreed to reduce their collective greenhouse gas (GHG) emissions by 5.2% from the level in 1990. T
he Kyoto Protocol established legally binding commitments for the reduction of four greenhouse gases - carbon dioxide, methane, nitrous oxide and sulphur hexafluoride.
(See Severn Suzuki's speech at the Rio conference here)



Kyoto extended after 2012

: A second commitment period will begin on January 1, 2013 and end December 31, 2020. This period will bridge the gap between the end of the first commitment period and the beginning of the next legally binding climate agreement, to be created in the Durban Platform track, which is set to be finished in 2015 and take effect in 2020.
What is the Kyoto Protocol?


With 191 member states, the U.N. accord is the only global treaty with binding limits on climate-altering greenhouse gases. The treaty commits nearly 40 developed "Annex 1" nations that emit around a quarter of the world's emissions to cut them domestically by an average 5% by 2012 from 1990 levels. The protocol's first leg runs out Dec. 31 2012, and the Doha talks must agree on the modalities of a second commitment period from 2013, a move agreed upon at the last round of U.N. climate talks in South Africa a year ago. The key issues in Doha are how long the second commitment period should last, who will back it and what targets to set.


Proceedings of the National Academy of Sciences, say that 97% to 98% of climate researchers actively publishing in the field of climate change agree with the main conclusions of the IPCC that most of the "unequivocal" warming of the average global temperature over the second half of the 20th century is because of people.
link

What is the IPCC? The Intergovernmental Panel on Climate Change (IPCC) is the leading international body for the assessment of climate change. It was established by the United Nations Environment Programme the
(UNEP)
and the World Meteorological Organization
to provide the world with a clear scientific view on the current state of knowledge in climate change and its potential environmental and socio-economic impacts. It is endorsed by the UN General Assembly
.

The IPCC is a scientific body. It reviews and assesses the most recent scientific, technical and socio-economic information produced worldwide relevant to the understanding of climate change. It does not conduct any research nor does it monitor climate related data or parameters.
Thousands of scientists from all over the world contribute to the work of the IPCC on a voluntary basis.
The IPCC is an intergovernmental body. It is open to all member countries of the United Nations (UN) and WMO. Currently 194 countries are members of the IPCC. Governments participate in the review process and the plenary Sessions, where main decisions about the IPCC work programme are taken and reports are accepted, adopted and approved. The IPCC Bureau Members, including the Chair, are also elected during the plenary Sessions.
link to IPCC
Other news items.
September 2013: Climate scientists call for overhaul of IPCC. link
August 2013: The more CO2 emissions are cut, the better the world economy will be. An IPCC report shows that the more carbon emissions humanity cuts, the better the global economy will perform over the next century. The last report, the AR4, was put out in 2007, and while the AR5 is not due until 2014, numbers from it are already making their way out. The new models build in greenhouse gas emissions, climate changes, population changes, technological development, land use, and a host of other factors and more importantly they also model what would happen if governments got proactive about cutting carbon emissions through policy changes. link
August 2014: Rising economies 'ahead on climate'. Ahead of the Ban-Ki-moon conference in New York, Brazil, South Africa, India and China (known as the BASIC bloc in international climate negotiations) have accused developed nations of keeping their carbon emission cuts ambitions at a low level. India's environment minister said "Our [climate change] mitigation efforts are more than developed countries. We are going ahead with our voluntary actions which will reduce carbon emissions and also bring about increased energy efficiency from 25% to 50%. We want the developed world to walk the walk." The two sides have been at loggerheads for years, presenting hurdles to a deal on climate change. link
January 2014: Analysis. The diplomatic road to a new climate agreement may not end in Paris next year. A review of previous breakdowns since Copenhagen, and too high hopes for Paris talks. link

Nov. 23: Last minute deal saves process. COP19
approved a pathway to a new global climate treaty in Paris in 2015. By themselves, the compromises are not major breakthroughs and delegates know that far bigger battles lie ahead. Harjeet Singh from Action Aid said, "It is the barest minimum that was supposed to be achieved at Warsaw on loss and damage anyway. A few rich countries including the US held it hostage till the very end". link
November 20: Talks collapse with walk-out. Representatives of most of the world's poor countries have walked out of increasingly fractious climate negotiations after the EU, Australia, the US and other developed countries insisted that the question of who should pay compensation for extreme climate events be discussed only after 2015. link
An impassioned speech by Yeb Sano of the Philippine delegation has focused attention on the serious consequences of inaction following typhoon Haiyan - view here


December 8:

Doha talks end today in colossal failure -
link
December 8: Kyoto Protocol survives. At the UN's annual climate change conference just concluded in Doha, 194 countries agreed to an extension of the Kyoto Protocol through 2020. But the second phase still omits the world's two biggest greenhouse gas emitters, China and the United States. Without agreement at Doha the protocol would have expired in just 23 days. Governments agreed to work toward a universal climate change agreement covering all countries from 2020, to be adopted by 2015, and to find ways to scale up efforts before 2020 beyond the existing pledges to curb emissions. link
The Conference of the Parties of the United Nations Framework Convention on Climate Change (UNFCCC) - or its shorthand "COP17" - will be held in Durban, South Africa from

November 28 to December 9

2011.

No one expects that any significant new agreement will be signed, and there

will be another, bigger conference at the end of 2012 in Rio de Janeiro.

December 2011: Climate talks end with late deal. link
November 2011:Canada to withdraw from Kyoto protocol link
November 2011: Rich nations 'give up' on new treaty until 2020 link
October 2011: UN negotiators may seek to extend the Kyoto Protocol link

October 2011: The death of the Kyoto process? There seems little possibility that the summit in Durban will produce an emissions reduction agreement, meaning the world will soon lack any binding CO2 targets. Europe may soon find itself alone in the fight against global warming. link


U.S. is structurally unable to ever sign up to a global climate

treaty with binding targets.

For most of the last 20 years, people worried about climate change have been trying to deal with the problem by negotiating a binding global treaty to reduce the emissions that cause it. But after years of high-profile climate talks, at Rio, Nairobi, Bali, Copenhagen, Cancun, "the negotiations haven't got us close to that deal," says Robert Falkner, an expert on international relations and global governance at the London School of Economics. Even Christina Figueres, the United Nations' climate change chief, now says publicly that "this planet is not going to be saved by any big bang agreement." "The fact is that it's unreasonable to expect that there is going to be one large comprehensive agreement that will address all issues and will miraculously change the way that we've been doing things for a hundred years," she said before the last major climate negotiations, in Cancun.


With the world on a path to a 4-degree Celsius or higher temperature rise by 2100, are the negotiations simply a waste of time and resources? Is there a better way of trying to rein in emissions and help the world's more vulnerable people deal with the impacts of climate change? A growing number of climate experts say the answer is to try adopting a "building blocks" approach to addressing climate change. That means pushing forward with thousands of smaller international, national, regional and local efforts to address the problem while keeping the talks going to, with luck, provide a framework for all the disparate pieces down the road. "That is, I would argue, the future for climate negotiations," Falkner said at a recent conference on climate change in the Caribbean. "It is a second-best future but one we must accept as a fact."

Efforts to negotiate one global climate treaty, he said, face several fatal flaws. The first, as virtually everyone is aware by this point, is that the United States, the world's second biggest carbon emitter behind China, and the biggest historical producer of the gases, is unlikely to ever join a binding climate treaty. Because of the country's divisive politics and the need for a two-thirds vote in the Senate to ratify any international treaty, "I would argue the U.S. is structurally unable to ever sign up to a global climate treaty with binding targets," Falkner said. link




Between Cancun

and Durban 2011




Cancun wrap-up

-

The world's governments agreed to modest steps to combat climate change

and to give more money to poor countries, but they put off until next year tough decisions on cutting greenhouse gas emissions.



May 2011:

Major nations abstain from Kyoto process.

Russia, Japan and Canada told the G8 they would not join a second round of carbon cuts under the Kyoto Protocol at United Nations talks this year and the US reiterated it would remain outside the treaty. The future of the Kyoto Protocol has become central to efforts to negotiate reductions of carbon emissions. They argued that the Kyoto format did not require developing countries, including China, the world's No. 1 carbon emitter, to make targeted emission cuts. US President, Barack Obama, confirmed Washington would not join an updated Kyoto Protocol. The US, the second-largest carbon emitter, signed the protocol in 1997 but in 2001 the then president, George W. Bush, said he would not put it to the Senate for ratification.

link [

June 9:

Canada confirms that it would not support an extended Kyoto Protocol after 2012, joining Japan and Russia in rejecting a new round of the climate emissions pact

- link]

April 2011:

Bangkok.

Delegates from nearly 200 countries began a six-day U.N. meeting in the Thai capital Bangkok today on crafting a tougher climate pact that boosts global efforts to curb emissions from industry, farms and deforestation.

The radiation crisis at the quake and tsunami-crippled Fukushima Daiichi nuclear complex in Japan will probably have repercussions on the international climate negotiations. link



Why Copenhagen and other talks failing

October 2012: Why climate talks may be failing. According to a new study, focusing on the 2°C goal guaranteed climate talk's failure as there's no hard evidence that any specific temperature target marks a dangerous threshold, with clear consequences for crossing it. Instead, there is plenty of evidence that more and faster warming entails greater risks of major consequences, such as the collapse of the polar ice sheets. This uncertainty, the study argues, provides an incentive for countries to be free-loaders, jumping on board with the agreement without making potentially costly emissions reductions. link

Analysis of Copenhagen - What was agreed and what was left out
Editorial on Copenhagen by Alan Burns - read

May 2012: Climate talks stall with nations 'wasting time'. The latest round of UN climate talks in Bonn, the first since last December's summit in Durban, has made little progress, with observers reporting angry exchanges between rich nations, fast-industrialising ones and those prone to climate impacts. "It's absurd to watch governments sit and point fingers and fight like little kids while the scientists explain about the terrifying impacts of climate change," said Tove Maria Ryding of Greenpeace International. link

News items from around the world




Bolivia- April 20-22 2010:

More than 90 governments are sending delegations to Cochabamba, Bolivia's third largest city. Also expected to attend are scientists such as James Hansen, James Cameron, Noam Chomsky, and actors Danny Glover, Robert Redford and Susan Sarandon. Bolivian President Evo Morales will use the meeting to announce the world's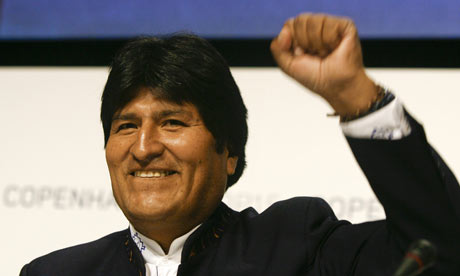 largest referendum, with up to 2 billion people being asked to vote on ways out of the climate crisis. Morales says it will give a voice to the poorest people of the world and encourage governments to be far more ambitious following the failure in Copenhagen. "There will be no secret discussions behind closed doors. The debate and the proposals will be led by communities on the frontlines of climate change and by organisations and individuals from civil society dedicated to tackling the climate crisis," said Morales. link

Call for International Climate Court. Cochabamba conference closes with call for rich countries to halve greenhouse gas emissions and set up a court to punish climate crimes - link

Nearly 100 Countries Formally 'Associate' with Copenhagen Accord. Since the Conference of the Parties neither adopted nor endorsed the Accord, but merely took note of it, its provisions do not have any legal standing within the UNFCCC process even if some Parties decide to associate themselves with it. … The accord is a political agreement rather than a treaty instrument.

The fact that so many countries have explicitly associated with the Accord (and at least as important, have submitted targets and actions) goes a long way to towards curing some of the procedural difficulties that surrounded the finalization of the Accord in Copenhagen. link

January 2010: Investors with $13 trillion in assets call for governments rules.
The world's largest investors issue a statement calling on the United States and other governments to "act now to catalyze development of a low-carbon economy and to attract the vast amount of private capital necessary for such a transformation." Some 85% of the financial resources needed to cope with climate challenges must come from private sources. The U.S., European and Australian investor groups, who together represent $13 trillion in assets, called for "a price on carbon emissions" and "well-designed carbon markets" to provide "a cost-effective way of achieving emissions reductions." link





,[HOME]

Copyright © 2008 thinkglobalgreen.org All Rights Reserved