Geothermal Energy
Geothermal energy is thermal energy generated and stored in the Earth and originates from the original formation of the planet, from radioactive decay of minerals, from volcanic activity, and from solar energy absorbed at the surface. The geothermal gradient, which is the difference in temperature between the core of the planet and its surface, drives a continuous conduction of thermal energy in the form of heat from the core to the surface.

Geothermal Energy is relatively emission-free, and unlike other renewables, isn't tied to the sun's energy as a source. Currently producing only 0.3% of global energy it is gaining greater consideration to meet future needs.

Although initial investment is high for geothermal, natural gas and geothermal are still economically comparable over a long term. But as with any energy source, there are problems, in the case of geothermal with drilling.
Below:
What is geothermal energy?

Limitations geographically

Geothermal energy in the

USA

Geothermal around the world


The future potential for geothermal

Are there downsides?
What is geothermal energy?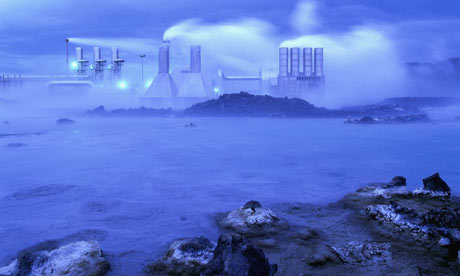 The Earth has molten core. About 3-6km below the surface of the Earth in some places are layers of super hot granite that can be as hot as 250 degrees centigrade. One cubic kilometre of hot granite at 250 degrees centigrade has as much energy in it as 40 million barrels of oil. Although areas with telltale signs like hot springs are more obvious and are often the first places geothermal resources are used, the heat of the earth is available everywhere, and we are learning to use it in a broader diversity of circumstances. It is considered a renewable resource because the heat emanating from the interior of the Earth is essentially limitless. The heat continuously flowing from the Earth's interior, which travels primarily by conduction, is estimated to be equivalent to 42 million megawatts of power, and is expected to remain so for billions of years to come, ensuring an inexhaustible supply of energy. Because no burning takes place, only steam is emitted from geothermal facilities. (Pictured is a Geothermal plant in Iceland where thousands of megawatts of electricity are generated.)

September 2013: The global geothermal market is expected to reach 12,000MW of capacity by the end of 2013, showing signs of steady expansion. Growth is led by progress in developing areas such as Africa and Latin America and is highlighted in the recently released report entitled: 2013 Geothermal Power: International Market Overview by the Geothermal Energy Association (summary). For comparison, 415MW went online in 2012, while more than 700MW have been commissioned so far in 2013. These numbers have equated to a steady 4% growth rate each year. However unlike other renewables, geothermal projects tend to be larger endeavors and can take up to a year to construct. link
An additional 28 gigawatts of direct geothermal heating capacity is installed for district heating, space heating, spas, industrial processes, desalination and agricultural applications.Geothermal power has historically been limited to areas near tectonic plate boundaries. Geothermal wells release greenhouse gases trapped deep within the earth, but these emissions are much lower per energy unit than those of fossil fuels. As a result, geothermal power has the potential to help mitigate global warming if widely deployed in place of fossil fuels. Although there are emissions of nitrous oxide, hydrogen sulfide, sulfur dioxide, particulate matter, and carbon dioxide they are extremely low, especially when compared to fossil fuels
Wet Geothermal and Hot Fractures Rock (HFR) Geothermal.
By nature of its geology, Australia has a lot of hot granite that's within 3-5km of the surface of the earth. One Australian company has a proven technology that turns the heat stored in that hot granite into clean electric power. It's called Hot Fractured Rock (HFR) geothermal power. HFR is different from what you might call "wet" geothermal power. "Wet" geothermal happens when you find a volcanically active area of the Earth where super hot water or steam already exists on or close to the surface. In New Zealand, for example, between Rotorua and Auckland you'll find a geothermal facility that turns the hot steam from the surrounding countryside into electricity via steam powered turbines. Australia is not volcanically active, hence HFR. link
How a Geothermal Power Plant Works (Simple)
How geography determines geothermal supply
The most active geothermal resources are usually found along major plate boundaries where earthquakes and volcanoes are concentrated. Most of the geothermal activity in the world occurs in an area called the Ring of Fire. This area encircles the Pacific Ocean. When magma comes close to the surface, it heats ground water found trapped in porous rock or water running along fractured rock surfaces and faults. These features are called hydrothermal. They have two common ingredients: water (hydro) and heat (thermal).
Geologists use various methods to look for geothermal reservoirs. Drilling a well and testing the temperature deep underground is the most reliable method for finding a geothermal reservoir. link
Naturally occurring large areas of hydrothermal resources are called geothermal reservoirs. Most are deep underground with no visible clues showing above ground. But geothermal energy sometimes finds its way to the surface in the form of volcanoes and fumaroles (holes where volcanic gases are released), hot springs and geysers.
July 2011: Short on cash and know-how, U.S. geothermal industry stumbles. The five major, publicly traded North American geothermal companies are valued at a fraction of what they were a year ago, with operational problems at several of them. The geothermal industry is a capital-intensive field in which getting a new project off the ground can take five years and drilling each well can cost between $3 million and $10 million, depending on local conditions. link
September 2010: Geothermal could provide all the energy the world will ever need.
The Norwegian company Rock Energy wants to be an international leader in geothermal heat and energy. A pilot plant has been planned for Oslo that will collect heat from 5500 metres deep. Temperatures from this depth can heat water to 90-95°C and can be used in district heating plants. One of the unique aspects of geothermal heat is that it is found everywhere throughout the world. Call it a "democratic" energy source that anyone can take advantage of, regardless of the conditions at the Earth's surface, such as the weather. The United States, the Philippines, Mexico, Indonesia and Italy are the international leaders in terms of producing electricity from geothermal energy. Iceland comes in at a surprising 8th place. link
Geothermal energy in the USA
The U.S. Geological Survey estimates the geothermal resource base in the United States to be between 95,000 and 150,000 MW, of which about 22,000 MW have been identified as suitable for electric power generation. Unfortunately, only a fraction of this resource is currently utilized, with an installed capacity of 2,800 MW (worldwide capacity is approximately 10,000 MW). But thanks to declining costs and state and federal support, geothermal development is likely to increase. Over the next decade, new geothermal projects are expected to come online to increase U.S. capacity to between 8,000 and 15,000 MW.
The United States generates more geothermal electricity than any other country, but it accounts for less than 0.5% of all electricity produced in United States. Most of the geothermal reservoirs in the United States are located in the western States and Hawaii. California generates the most electricity from geothermal energy. "The Geysers" dry steam reservoir in northern California is the largest known dry steam field in the world and has been producing electricity since 1960. Only five States have geothermal power plants: California with 34, produces almost 90% of U.S. geothermal electricity. Nevada has 15 geothermal power plants. Hawaii, Montana, and Utah each have one geothermal plant. In 2010, the United States led the world in geothermal electricity production with 3,086 MW of installed capacity from 77 power plants. The largest group of geothermal power plants in the world is located at The Geysers, a geothermal field in California. The Philippines is the second highest producer, with 1,904 MW of capacity online.
Februray 2013: Gradual growth of geothermal in US. The U.S. geothermal energy industry ended 2012 with a growth of 5% which is modest but nevertheless a good progress for an industry that feels a bit left out of the renewable energy boom. The U.S. added 147MW of new generation capacity last year, bringing the total capacity to date to about 3,390MW according to the Geothermal Energy Association. The new capacity may seem paltry compared with the 13.1GW of wind, or roughly 7GW of solar, but geothermal power development is a whole different beast all together. link
May 2012: 50MW plant for to come on line in California. The 49.9MW Hudson Ranch I geothermal plant will be the first geothermal plant to go online in the Salton Sea area of California in 20 years. With a potential capacity of reportedly up to 2GW, EnergySource expects to start drilling for its 49.9 Hudson Ranch II project this summer and hopes to start construction in 2013. The Salton Sea geothermal field is among the world's largest and highest temperature resources because it lies directly inside an active plate tectonic boundary. In addition to generating thermal power, Salton Sea geothermal brines are well-known for their exceptionally high concentrations of minerals including lithium, manganese and zinc, which are important to battery and energy storage technology. link
August 2011:The "world's first" hybrid solar, geothermal plant to land in Nevada. Nevada will be home to the "world's first" hybrid solar, geothermal plant, according to the power companies involved in the project. The new, combined 24 MW solar photovoltaic and geothermal power plant will take about a year to build. Eventually, the site will have 7,000 poles to support solar panels, and 81,000 panels. The idea behind combining solar and geothermal is that geothermal is a so-called baseload power source, so it can provide electricity 24/7. link
March 2011:USA leads in geothermal production. In its annual report released at the end of March, the GEA, a trade association of U.S. geothermal companies, said total installed geothermal capacity in the country amounts to 3,102 megawatts. The US has nine states currently tapping and 15 states undergoing development on 123 geothermal projects and is the leading geothermal energy source in the world, according to a report from the country's Geothermal Energy Association. [The US geothermal industry showed a 26% growth in 2009.]
February 2011:The U.S. Department of Energy looks to low-temperature geothermal.
Federal researchers hope to bridge the gap between fossil fuels and renewable energy by tapping into vast amounts of low-temperature geothermal resources in America's oil and gas wells. "It's incredible the amount of energy that's out there in terms of hot water," said William Gosnold, a professor at the University of North Dakota. In a recent press release, the DOE announced that its Geothermal Technologies Program has funded 17 projects in various geological conditions that have combined capacities of 3 GW of power via "low-temperature, co-produced and geopressured" resources. The resources could all be producing energy by 2020. link
2010 report:
U.S. Geothermal Power Production and Development Update
The United States currently leads the world's countries in online geothermal energy capacity and continues to be one of the principal countries to increase its geothermal growth. In 2007 geothermal energy accounted for 4% of renewable energy-based electricity consumption in the United States.

As of April 2010, geothermal electric power generation is occurring in nine

U.S. states: Alaska, California, Hawaii, Idaho, Nevada,New Mexico, Oregon, Utah, and Wyoming. Other states, such as Colorado, Louisiana, Mississippi, and Texas are soon to be added to the list. The United States has a total installed capacity of 3086.6 MW.
pdf
February 2011: Updated statistics for US geothermal optimistic. The U.S. installed just 15MW of utility-scale geothermal power in 2010, down from 176MW the year before. When compared side by side with installed capacity in other leading sectors in the U.S., particularly wind and solar, the numbers look grim. However capacity is just that - capacity. As a baseload resource, geothermal power plants generate far more energy over time than an equivalent wind or solar plant according to the Energy Information Administration. In 2009, 3,150MW of geothermal capacity generated 15.2 Gwh of electricity. That same year, around 35 GW of wind capacity generated 70.7 Gwh of electricity. If an equivalent amount of geothermal were online, it would generate more than double the amount of energy than wind. But of course, that amount of geothermal is not online. Also it takes from 3 to 7 years to develop a geothermal plant, and more than 500MW of projects are in advanced stages of development. link
October 2010: Geothermal energy could replace coal as West Virginia's power.
A study by Google's philanthropic arm, Google.org., shows that heat underground could provide 18,890MW of power using today's geothermal technology, more than the state's current use of 16,350MW which comes mostly from coal. link
July 2010: Nevada is on track to become the world's top geothermal energy producer. The state's 86 planned or developing geothermal power plants have the potential to add up to 3,686MW of geothermal power. link
Geothermal energy around the world
Global analysis. The global geothermal energy market continues to grow significantly in 2012. However, in the US, the world's largest producer of geothermal power, growth has slowed. So which countries are fueling the surge in geothermal development? Let's take a look: Much of the progress is occurring in East Africa, Central America and Asia, driven by economic growth in developing markets and rising energy demands as those populations increase. According to the Geothermal Energy Association's "2012 International Market Overview Report", Kenya now generates over eight times more geothermal electric power (202 MW) than does the world's leading energy consumer, China (24 MW of geothermal electricity). With its location in the East African Rift System, Kenya is rich in potential geothermal energy. And the rising population in East Africa has increased the demand for renewable energy solutions such as geothermal, to help guarantee future energy security. The Philippines, the second-largest producer of geothermal energy in the world, now has 1,972 MW of installed geothermal energy. Growth there has been fueled by strong government support to meet the power needs of a growing population. According to the Philippine Department of Energy, electricity demands are expected to double by 2020. link
October 2013: East Africa sees 20GW of geothermal available. Reykjavik Geothermal, the Icelandic company that's helped build power plants in more than 30 countries, agreed to develop as much as 1,000MW of projects in Ethiopia over the next 10 years. About 10MW will be in operation by 2015, with a total of 500MW by 2018. The Great Rift Valley in East Africa, which spans eight countries, may have as much as 20 gigawatts of potential geothermal energy, according to data compiled by Bloomberg. Ethiopia's Prime Minister Hailemariam Desalegn said "My vision is that over 30 years we will harness the 80,000MW of renewables that we have," including hydroelectric, wind and solar, today. link
September 2013: New Zealand gets world's biggest geothermal plant. The 100MW Ngatamariki plant in New Zealand is the biggest "singular binary power plant" ever constructed. Built in a record 24 months by Omat Technologies, Ngatamariki generated 150 gigawatt hours (GWh) during commissioning. It's expected to reach 700 GWH of annual electricity production, equivalent to that used by 80,000 households. Over the past 25 years, Ormat has installed about 350MW of geothermal across 14 power plants in New Zealand. link
May 2013: New Zealand expertise tapped for Chile. New Zealand and Chile are engaging in a strategic partnership in geothermal energy, according to several sources. The Chilean government's current goal is to reach a 10% renewable energy share by 2024. A bill under discussion in Congress would raise the target to 15 or 20%. Chile is seen as an important place for geothermal energy. link
October 2012: Kenya's steps up geothermal. Kenya plans that in five years' time 50% of total electricity capacity will come from geothermal power. Kenya has inaugurated Africa's biggest geothermal power project in a bid to meet its growing need for electricity and lower its consumption of nonrenewable energy. The 280MW Olkaria Geothermal Project was commissioned by Kenya's president in July and is being built at a cost of $980 million, due for completion in June 2014. Experts say that it should be an important source of "green" energy in a country that has seen its hydropower production hit by worsening drought related to climate change. The new plant will be Africa's largest and will almost triple Olkaria's capacity to 430MW. The geothermal project is expected to boost current Kenya's power output of 1,588MW by 18%. Geothermal power will contribute more than one third of this green energy.link
February 2011: Potential 15,000MW in Eastern Africa. link
July 2012: Iceland technology on geothermal planned for U.K. Hot rocks technology, which uses the heat of the Earth's core to generate power, will soon become a reality in Britain. Plans have been unveiled to tap into geothermal resources at five sites, including one in Manchester with the potential to heat 7million homes. And planning permission has been granted to two projects in Cornwall, considered to be the leading county in hot rocks technology. Ministers have struck a deal with their Icelandic counterparts to share technical advice, drawing on their experience in capturing the power of their geysers. The technology is surprisingly simple. Water is either pumped into the ground, or drawn from a deep well, and pumped back to the surface, where it is used to heat homes directly or to produce steam to drive a turbine that generates electricity. link
Iceland
Iceland is often considered a country run on geothermal energy as it fundamentally sits on a volcanic base (like Hawaii), and virtually every building in the country is heated with hot spring water. In Reykjavik, for example (population 115,000), hot water is piped in from 25 kilometers away, and residents use it for heating and for hot tap water. (Iceland is almost completely powered from renewable sources - 73.4% from hydropower and 26.5% geothermal.) Iceland's plan to export geothermal energy to Europe. Iceland's largest energy company is considering construction of the world's longest underwater electric cable so the nation can sell its vast geothermal and volcanic energy to the European market. By the end of 2011, state-owned energy company, Landsvirkjun, will complete a study of building a sub-sea cable that could deliver as much as five terawatt-hours (5 billion kilowatt-hours) annually to Europe, enough electricity to power 1.25 million homes. The proposed cable would be as long as 1,180 miles, depending on its destination; company officials are considering linking the cable to Britain, Norway, Holland, and Germany. At present, Landsvirkjun produces about 75% of Iceland's electricity by tapping into the nation's huge stores of geothermal power. link

Canada.
May 2010: Geothermal could meet all Canada's energy needs. Canada could technically meet all its electricity needs and dramatically lower greenhouse-gas emissions if it moved aggressively to develop enhanced geothermal power projects, according to the first comprehensive assessment of the country's deep geothermal resources. The study reports on the potential of using enhanced geothermal systems (EGS) to tap hot temperatures kilometres below the earth's surface as a way of generating clean electricity. It found that the most promising Canadian sites are located in parts of British Columbia, Alberta and Saskatchewan at depths ranging from 3.5 to 6.5 kilometres. Drill deeper, however, and the potential extends right across the country – including parts of Ontario. link
In

the first half of 2008, total installed world geothermal power capacity already surpassed the 10,000MW mark, amounting to enough electricity to meet the needs of 60 million people -

but in practice only 0.3% of global electricity demand

. The capacity could increase to 13,500MW across 46 countries by 2010

.

An additional 28,000MW of direct geothermal heating capacity is installed for district heating, space heating, spas, industrial processes, desalination and agricultural applications.

At present around 10,000MW of geothermal power plants are installed all over the world, a figure which the European Geothermal Council (

EGEC)

believes, is expected to double to 20,000MW during the next seven years.

The EGEC, a Pan-European industry association, believes that a draft EC Communiqué titled 'Financing low carbon technologies (SET-Plan)' failed to mention geothermal power as a renewable energy source.

It also expressed the potential for development of geothermal energy within the private sector in the absence of governmental support

.
South America.
(August 2012) South America has largely relied on hydropower, but its capacity is weakening. Geothermal presents a major opportunity throughout South America, but exploratory drilling has been limited. According to the ESMAP (Energy Sector Management Assistance Programme) report, the range of geothermal capacity estimates is quite broad. Though expectations may be uncertain, many regions are hopeful that exploration will reveal something more. The most viable resources are thought to be located along the Pacific Rim, which ranges from Mexico to Chile. Key spots in the Caribbean islands also carry some potential, according to researchers. link
Central America
(July 2012) Central America is situated on a geological unique position with volcanic activities and large geothermal potential
and is blessed with geothermal resources. Guatemala, El Salvador and Nicaragua are putting big hopes for geothermal helping to decrease oil dependency for their energy supply.

Back in 2005, leaders from the region called a state of alert regarding the energy supply for their countries. The governments of Guatemala, El Salvador and Nicaragua have since that time sought to increase the share of renewable energy in their energy supply portfolios. Conservative estimates see a potential of 2,580MW, but it is likely much more than that.
The potential geothermal power generation capacity for Guatemala is estimated between 800 and 4,000 MW. Realistically 1,000 MW are seen as possible, which would meet about 20% of the country's energy demand. Guatemala today has two geothermal sites producing 40MW of power.
In El Salvador exploration already began in 1954 until the 1970s, but then postponed by the civil war in the country into the early 1990s.Today 24% of the country's energy supply is provided by geothermal. with 310MW of capacity installed with a potential future capacity at 2,210MW.
In Nicaragua, 70% of energy demand is fueled by imported oil. There are though efforts in place to replace 20% of the oil dependency with renewable energy sources. Hydro power is seen as crucial, but geothermal is seen as an important cornerstone in the country's energy supply given its base-load capacity.Today, Nicaragua has two geothermal power plant but currently produces only 28MW. link
Australia.
While much of the future supply of geothermal in Australia is expected to come from HFR (hot fractured rock) the Birdsville geothermal power station in western Queensland (pictured at right) is the only one of its kind in Australia at present, but gets its small output from hydrothermal power. The small Birdsville geothermal power station was built in the early 1990's and remains no more than a pimple on Australia's vast geothermal energy resources. Its well, tapping into the 98C hot water of the Great Artesian Basin, is 1230 metres deep and generates a modest 120 kW net power output. As geothermal plants go it is a low temperature plant. Other hydrothermal plants use water of temperatures around 250C. link
Geodynamics was registered as a public company in November 2000 and was listed in the Australian Stock Exchange two years later. The company was formed specifically to explore the potential of generating geothermal energy from hot fractured rocks in Australia. The heat is extracted from these heat-producing granites located below the earth's surface by circulating water via enhanced geothermal systems to generate steam. Geodynamics claimed that this is the only known source of renewable energy with a capacity to carry large base loads. Geothermal energy from hot fractured rocks could provide an estimated 6.8% of Australia's base load power needs by 2030. To date, Geodynamics has drilled five deep wells. Its Habanero 3 well, with a depth of 4,200 meters, is the first commercial scale geothermal well in Australia. The company also plans to construct a 50MW power plant, scheduled for commercial operations in 2012, which will produce enough electricity to power approximately 50,000 households
The future of Geothermal energy
Geothermal energy has the potential to play a significant role in moving the United States (and other regions of the world) toward a cleaner, more sustainable energy system. It is one of the few renewable energy technologies that - like fossil fuels - can supply continuous, base load power. The costs for electricity from geothermal facilities are also declining. Some geothermal facilities have realized at least 50% reductions in the price of electricity since 1980. New facilities can produce electricity for between 4.5 and 7.3 cents per kilowatt-hour, making it competitive with new conventional fossil fuel-fired power plants.
As hot dry rock technologies improve and become competitive, even more of the largely untapped geothermal resource could be developed. In addition to electric power generation, which is focused primarily in the western United States, there is a bright future for the direct use of geothermal resources as a heating source for homes and businesses everywhere.
May 2010: Google invests in a new technology. A novel drill that is inspired by a jet engine and uses super-heated water to carve through rock could help make clean energy from underground rocks more economically viable, according to its backers at Google. A report by MIT estimated says that tapping just 2% of the potential resource from so-called enhanced geothermal systems between 3km and 10km below the surface of continental USA could supply more than 2,500 times the country's total annual energy use. link
I

s there a downside to Geothermal energy?
December 2009: Geothermal project in California shut down. The collapse of AltaRock project in California comes a day after Swiss government officials permanently shut down a similar project in Basel, because of the damaging earthquakes it produced in 2006 and 2007. Taken together, the two setbacks could change the direction of the Obama administration's geothermal program, which had raised hopes that the earth's bedrock could be quickly tapped as a clean and almost limitless energy source - link
Swiss geothermal project shut down. A $60 million project to extract renewable energy from the hot bedrock deep beneath Basel, Switzerland, was shut down permanently on Thursday after a government study determined that earthquakes generated by the project were likely to do millions of dollars in damage each year.The AltaRock project in California is the Obama administration's first major test of advanced geothermal energy and like the Basel project, the plan is to drill miles underground, fracture hot bedrock and circulate water through it to generate steam. link
In Landua, Germany, government officials here are reviewing the safety of a geothermal energy project that scientists say set off an earthquake in mid-August 2009, shaking buildings and frightening many residents of this small city. But in recent months, two similar projects have stirred concerns about their safety and their propensity to cause earthquakes. In the United States, the Energy Department is scrutinizing a project in Northern California run by AltaRock Energy to determine if it is safe.
(The project was shut down by the company last month because of crippling technical problems.) Another project, in Basel, Switzerland, was shut down after it generated earthquakes in 2006 and 2007 and is awaiting the decision of a panel of experts about whether it can resume.
Like other earthquakes that have been attributed to geothermal plants, the Landau temblor was sudden and brief and was accompanied by a sound that in some cases has been likened to a sonic boom. The Landau plant, which cost $30 million, went into operation in 2007 and produces electricity for 6,000 homes by drawing heat from beneath the bedrock, nearly two miles beneath the earth's surface.
link
Australia's Geodynamics
project in South Australia has been delayed indefinitely while the company examines an incident which led to steam and water escaping from the 4.2km deep well because of a blow out in April 2009.
link
Other sources
Recommended for further research on geothermal energy - GEA