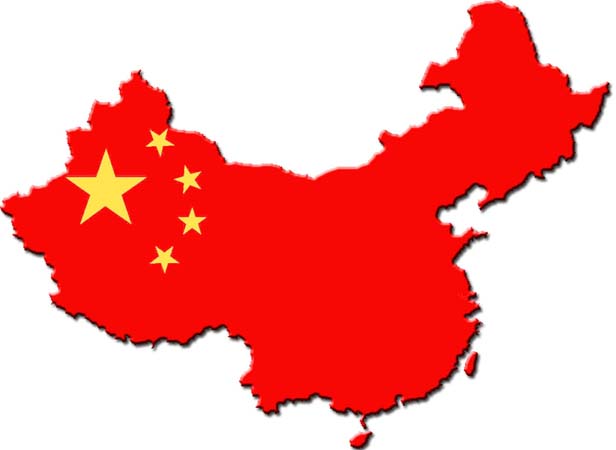 CHINA
__________________________________________________________
CHINA OVERVIEW
The United States and China are by far the world's two biggest emitters of greenhouse gases, jointly responsible for more than 40% of global carbon dioxide emissions and about 35% of total GHGs. China has become second only to the US in its national power-generating capacity - 792.5GW per year with an expected future 10% annual increase. While China has passed the USA in total GHG emissions, per capita they rank well below North America and Europe. There are many negatives opening China up to criticism, including inefficiency: China emitted four times as much CO2 as the U.S. and six times as much as the E.U. or Japan for every unit of gross domestic product. But in recent years there is much evidence that China views renewable energies as vital to its national security and economic leadership, expanding its efforts into wind, solar and clean coal ahead of other nations. Coal and oil currently account for 69% and 20% of the country's primary energy consumption respectively, with clean energy sources, including nuclear, wind and solar power, accounting for only 7.6%. Nuclear just 2%.
A security guard looks on as a slogan is projected onto Yongdingmen Gate in Beijing.




_______________________________________________


Latest News:


Dec. 12 2014: Great wall of trees keep China's deserts at bay. China is holding back the desert, for now. The Great Green Wall, a massive belt of trees being planted across China's arid north in what might be the largest ecological engineering project on the planet, seems to work, according to a new study. "Vegetation has improved and dust storms have decreased significantly in the Great Green Wall region, compared with other areas," says Minghong Tan of the Institute of Geographical Sciences and Natural Resource Research in Beijing. But whether planting trees is a long-term solution remains disputed. link

Aug. 7 2013: China's big push on solar: China added 3.3 gigawatts of solar capacity in the six months ended June 30, double last year's additions. China now has 23 gigawatts of solar power supply. China's race to add renewable energy comes as policymakers push for ways to combat the nation's growing problem of air pollution. The National Energy Administration vows to install 13 gigawatts of solar power capacity this year. link

_______________________________________________

Below

Greenhouse gas emissions & pollution

How bad are China's GHG emissions? China's population is 19.24% of the world total, but 2005 figures show that China's emissions per capita were about 6 tons, compared to the United States at 25 tons, and Russia at 15 tons. China's emissions per capita are also below the world average of 7 tons.(Note: India's are just 2 tons.) link

December 2013: China outlines climate adaption plans. The effects of climate change have cost China US$32.9 billion since 1990, according to the National Development and Reform Commission (NRDC), the country's leading planning agency. It warns the country is ill-prepared to deal with the consequences of global warming, and has outlined a national adaption plan to ensure all sectors take the threat seriously. The NDRC recommends further investment in developing resilient infrastructure, warning that 2000 people died in the past two decades as a result of extreme weather events. link (Cleaning up China's air pollution will cost $285 billion between 2013 and 2017, a high-ranking environmental official has estimated. link)

November 2012: China's emissions expected to rise until 2030. Despite ambitious green policies, GDP growth is still the priority. Analysts say that barring any significant changes in policy, China's emissions will rise until 2030 when the country's urbanisation peaks, and its population growth slows - and then begins to fall. China is the world's largest emitter of greenhouse gasses, responsible for about a quarter of all emissions. The country accounted for over 70% of the world's energy consumption growth in 2011. China's chief negotiator to the 2012 Doha climate change conference said that the country's greenhouse gas emissions, which rose 171% between 2000 and 2011, and by just under 10% last year alone, would continue to rise until its per capita GDP had reached $20,000 to $25,000. It currently stands at $5,000. link

July 2012: China's per capita footprint close to Europe's. The average Chinese person's carbon footprint is now almost on a par with the average European's. But the report only covers emissions from energy; the per capita emissions in China increased by 9% in 2011 to reach 7.2 tonnes per person, only a fraction lower than the EU average of 7.5 tonnes. The figure for the US is still much higher at 17.3 tonnes. link

The West also owns some of China's emissions. 22.5% of China's emissions are generated during production of goods and services consumed overseas, and 7.8% are embodied in exports to the US alone. link
March 2014: U.S. trade deals set up China as pollution haven. As much as one-third of China's carbon load on the atmosphere can be traced to exports of cheap clothes, electronics, machinery and other goods consumed by Americans and Europeans, experts say. And while free trade to the West has made China's economy boom, Chinese people have paid dearly due to the resulting smog from factories and coal-fired power plants. link

According to a report by the Stockholm Environment Institute (SEI) the UK responsibility for GHG emissions is underestimated by as much as 49%. Under Kyoto rules, the pollution produced by Chinese factories making goods for the UK belongs to China. The protocol counts only the production, not the consumption, of greenhouse gases. China says this is unfair. Around half the recent increase in its emissions arises from the manufacture of goods for western markets. This pollution should, it says, belong to the consumer nations, not the producers and if the Copenhagen Conference did not recognise this, it would punish China for the west's consumption. link


Pollution

June 2014:

China pledges to limit carbon emissions for the first time.

He Jiankun, chairman of China's Advisory Committee on Climate Change, told a conference in Beijing that an absolute cap on carbon emissions will be introduced later this decade. Although the average Chinese person's carbon footprint is still much lower than the average American's, it is catching up, and is now on par with the average European's. The timing of the announcement, just a day after the Obama administration announced new rules to cut emissions from power plants, appears deliberately chosen to show China will also take a leadership role on climate change. link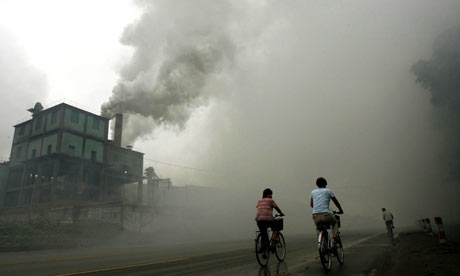 January 2012: Air pollution long-term challenge. China's city dwellers to breathe unhealthy air 'for another 20-30 years'. The cautionary note comes at the start of a year when Beijing, Shanghai and several other Chinese metropolises will begin publicly releasing data on tiny particulates known as PM2.5, which account for more than half of the country's air-borne contaminants and have the most damaging impact on human health. The promise of more transparency has been welcomed as an important step towards a clear-up of the foul smogs that plague urban China, but environment officials stress that more time is needed to turn grey skies to blue. "It took the US and Europe 50 years to deal with their problem. Even if we cut that [PM2.5] in half, it will still take 20 to 30 years," said a haze expert. link
March 2014: China is to "declare war" on pollution. It is not uncommon for air pollution in parts of China to breach levels considered by some experts to be hazardous. "This is an acknowledgement at the highest level that there is a crisis," said Craig Hart, expert on Chinese environmental policy and associate professor at China's Renmin University. "Their approach is going to have to be pro-economy. I think they will pump money into upgrading plants. This could be another green stimulus although it is not being packaged that way." China does not just suffer from smog, but also agricultural pollution, including the contamination of farmland by heavy metals. link
September 2011: China's pollution per capita rising faster than predicted. Due to its rapid economic development, per capita emissions in China are quickly approaching levels common in the industrialised countries. China already emits more carbon per person than France and Spain and on current trends will surpass the United States in per person emissions as early as 2017. The prediction comes in a report which shows that the country's carbon footprint is expanding far faster than predicted. link
In China coal provides 70% of total energy, with petroleum contributing 20%, gas 3%,
and hydroelectric and nuclear the remaining 7%. But coal is China's dilemma. With approximately 13% of the world's proven reserves, China has enough coal to sustain its economic growth for a century or more even though demand is currently outpacing production. Also China's coal mining industry is deadly and has the world's worst safety record where an average of 13 people die every day in the coal pits (compared to 30 per year in the USA). World demand for China's goods and China's own rapid growth lead to a largely unregulated industry - more
January 2013: China's coal conundrum. Coal has fuelled the country's economic boom, with consumption tripling in little over a decade. Currently, China burns almost as much coal as the rest of the world combined. But that is leaving many cities, including Beijing, choking on hazardous smog.Many people in the capital say the pollution this month has been the worst they can remember. Hospitals have been over-run by both the young and old suffering from respiratory problems as pollution levels soared passed levels considered hazardous by the World Health Organisation. link (December 2013) New study finds emissions from coal were responsible for a quarter of a million premature deaths in 2011 and are damaging the health of hundreds of thousands of Chinese children. link
February 2012: China is home to the world's second largest proven coal reserves after the United States. In addition, prior to 2009, China was a net coal exporter. Coal is a cornerstone of the Chinese economy, representing 77% of China's primary energy production and fueling almost 80% of its electricity. Moreover, China is the world's top coal consumer, accounting for nearly half of global consumption in 2010. Over the past decade, China's domestic coal output has more than doubled while its coal imports have increased by a factor of 60 - the country's dependence on other nations' coal exports is growing. In 2009, the global coal market witnessed a dramatic realignment as China burst onto the scene, importing coal from as far away as Colombia and the United States. With 182 million tons (Mt) of coal sourced from overseas suppliers in 2011, China has overtaken Japan as the world's top coal importer. Moreover, as the world's top coal consumer, China's imports could rise significantly again by 2015. link
March 2013:

Pollution forces China's leaders to act.

About 750,000 people die as a result of air pollution in China each year. Many of the country's rivers are so polluted that authorities do not permit residents to even touch the water, not to mention use it to irrigate fields. China's new leadership wants to transform China from a primarily agrarian and industrial country into a high-tech and service nation. The challenge and the need to break with the past are especially evident in environmental policy.

China's environment policy has developed into a question of national security, not because the government is particularly farsighted, but because its power is on the line. link
December 2011:

China addicted to coal.

Coal provides 69.5% of the country's energy, and coal mines are as much a part of China's civilization as paddy fields. Mining and industry have been crucial in ensuring the longevity of the Middle Kingdom. Despite its reputation as an agricultural civilization, for most of the last 2,000 years China has been by far the world's biggest producer of coal and iron, a status lost only temporarily in the early 19th century when Britain began industrializing. It is no coincidence that the country's recent return to great power status has come at a time when it is once again No. 1 in these basic industries. Air pollution is appalling in almost every city in China. The toll on human health is enormous. Barely 1% of the urban population breathes air considered healthy by the World Health Organization, and it is worst in northern China. The result is premature death, lung cancer, bronchitis, and other respiratory and cardiovascular diseases. Another high-risk group is poor peasants who slowly poison themselves by heating their homes with dirty coal. But the full risks are obscured. The toxic buildup of lead, mercury, and other heavy metals in the soil and water near coal plants and smelting factories is not usually measured. Entire communities are being poisoned without realizing it. link
Changes in coal production:
Between 1979 and 2007, the Chinese economy grew at an average annual rate of 9.8%.
China's frenetic construction of coal-fired power plants has raised worries around the world about the effect on climate change. China now uses more coal than the United States, Europe and Japan combined, making it the world's largest emitter of gases that are warming the planet. But largely missing in the hand-wringing is this: China has emerged in the past two years as the world's leading builder of more efficient, less polluting coal power plants, mastering the technology and driving down the cost. After relying until recently on older technology, "China has since become the major world market for advanced coal-fired power plants with high-specification emission control systems," the International Energy Agency said in a report on April 20 2009. link
October 2012: Nuclear power ban lifted. The Chinese government has released a new nuclear strategy, confirming that it has lifted the moratorium on new nuclear plants imposed in the wake of the Fukushima disaster and expects a "small number" of new coastal nuclear reactors to be approved before 2015. Plans allow for about 26 new reactors to move forward, increasing the country's nuclear power capacity from around 12.5GW currently to just over 40GW. link
March 2011: China suspends nuclear building plans. Following the accident at Japan's Fukushima Daiichi plant, China has suspended approval for new nuclear power stations as it grows increasingly worried about the nuclear accident in Japan. China currently gets only about 2% of its electricity from nuclear power from 13 reactors, but it has launched an ambitious project to drastically increase those figures. China is currently building 27 new reactors, about 40% of the total number being built around the world, and according to the World Nuclear Association, China wants to build a total of 110 nuclear reactors over the next few years. link
January 2011: Nuclear breakthrough. Chinese scientists have claimed a breakthrough in reprocessing fuel from nuclear power plants so that a kilo of uranium could produce almost 60 times more power than currently possible. State media reported yesterday that techniques developed at the China National Nuclear Corporation, deep in the Gobi desert, would extend the lifetime of the country's uranium deposits from 70 to 3,000 years. China's nuclear capacity is expected to increase exponentially over the next decade and reduce the pollution pumped out by its vast number of coal-fired power stations. The new technology is likely to prove a key step in expanding China's nuclear sector and could spark a construction boom for plants and reactors. Russia, India, Japan and several European countries already reprocess nuclear fuel to separate and recover unused uranium and plutonium, reduce waste and close the nuclear cycle. China has so far failed to disclose whether its new technique differs from those already employed. link
January 2011 - China joins Britain, France and India in the ability to reprocess spent nuclear fuel. China has been working on this technology for 24 years, and has an ambitious program of building new nuclear power stations. link
Renewable energy (including wind, solar and wave power)
November 2013: China will build more renewable power plants through 2035 than the European Union, U.S. and Japan combined, according to the International Energy Agency. link
July 2014: China three years behind on off-shore wind energy. China is three years behind schedule on a plan that would make it the world's biggest market for offshore wind, a setback for the $15 billion industry that's seeking to produce affordable electricity from the one of nature's most reliable energy sources. China set out an ambitious plan in 2011 to build 5,000MW of offshore wind turbines in four years, enough to power 5.4 million homes. With less than 10% of that capacity in place, officials now say they won't meet that goal. China is said to be more cautious on offshore wind than it was on solar and onshore wind because of coists and risks. link
December 2013: China doubles renewable energy capacity amid push to cut pollution.
China doubled the pace of adding renewable energy capacity in the first 10 months of 2013 as the government worked to cut pollution in its largest cities. Including nuclear power, the nation installed 36GW of clean energy capacity in the 10 months through Oct. 31. The additions bolster China's case that it's tackling climate change by using less-polluting forms of energy in economy that has surpassed the U.S. as the biggest polluter. China is on course by 2035 to add more electricity generating capacity from renewables than the U.S., Europe and Japan combined, according to the International Energy Agency. link
August 2012: China plans to spend $372 billion on energy conservation and anti-pollution measures over the next three-and-a-half years. The measures, meant to reduce China's dependence on fossil fuels and slow down its carbon emissions, are part of the so-called 12th five-year plan. They will center on energy-efficiency, emissions reduction and recycling projects. The investments will help the country get halfway toward its goal of cutting energy intensity by 16% below 2010 levels by 2015, says the China Sate Council. China is the world's biggest emitter of greenhouse gases; it plans to cut its carbon dioxide (CO2) emissions per unit of GDP by 40-45% from 2005 levels by 2020.Rapid growth in China has made it difficult for the country to curb greenhouse gas emissions. Last year, China was responsible for 29% of the world's total CO2 emissions. Despite that dubious distinction, China earned the No. 7 spot on a recent ranking of national energy focused on the world's top 12 economies. link
March 2012: China's spending on renewables soars. The remote, wind-blasted desert of northwestern Gansu has started to undergo a transformation as it moves to the frontline of government efforts to reinvent China's economy with a massive investment in renewable energy. Wind turbines, which were almost unknown five years ago, stretch into the distance, competing only with far mountains and new pylons for space on the horizon. Jiuquan alone now has the capacity to generate 6GW of wind energy, roughly equivalent to that of the whole UK. The plan is to more than triple that by 2015, when this area could become the biggest windfarm in the world. China is erecting 36 wind turbines a day and building a robust new electricity grid to send this power thousands of miles across the country from the deserts of the west to the cities of the east.
This is the other side of China's development. Although it is the world's biggest CO2 emitter and notorious for building the equivalent of a 400MW coal-fired power station every three days, it's long-term plan is to supply 15% of the country's energy from alternative and renewable sources by 2020. Most of that will come from nuclear and hydropower, but the government is also tapping the wind and solar potential of the deserts, mountain plateaus and coastlines. Other regions are following. National planners have earmarked seven regions for huge wind projects, each at least 10GW in size. The state grid has struggled to keep up. Two years ago, almost a third of the turbines were wastefully unconnected. In 2012 China will, for the first time, account for half the coal burned globally, according to the World Resources Institute. In 2011 this dirtiest of fuels increased its share of national energy supply to above 72%. Link with video
August 2011: China tops 2011 index rankings for renewable energy. China overtook the US at the end of 2010 to become the world leader in wind power, having installed around 16GW in 2010 or almost half of global installations, taking cumulative installed capacity to 42GW. This is contrasted with an additional 5GW installed in the US last year and a total of 40GW. However, China ranks second globally in terms of grid-connected capacity; more than a third of wind capacity had yet to be connected to the national grid at the end of 2010. China's PV market also experienced strong growth in 2010, installing around 1 GW and taking cumulative capacity to 2.6 GW. link
January 2010: China leading global race to make clean energy. link
March 2010: A recent report by the Global Wind Energy Council found China to be the largest market in wind generation after a 100% growth in 2009, taking its installed capacity to 25.1GW. link

May 2011: China's production of green technologies has grown by a remarkable 77% a year, according to a report commissioned by the World Wildlife and has made, on the political level, a conscious decision to capture this market and to develop this market aggressively. Denmark earns the biggest share of its national revenue from producing windmills and other clean technologies while the United States ranks 17 in the production of clean technologies. link
May 2010: China to impose a carbon tax on industry from 2012. link
[The Chinese Government plans to develop emissions trading schemes in seven key cities and provinces from 2013. These schemes will cover around 250 million people. The Chinese Government aims to work towards a nation-wide approach after 2015. link]
Wind energy in China
April 2013:

Almost 500 new wind projects planned by 2015.

China's National Energy Administration recently announced the inclusion of 491 wind power projects with a combined installed capacity of 27.9 GW into its approval plan for the 12th five-year period spanning from 2011 to 2015. China's installed wind power capacity is expected to reach 100GW by 2015 when wind power will account for 30% of power generation - link
February 2013:

Wind has overtaken nuclear power as China's third largest energy source.

New figures show China has retained its lead as the largest wind energy market for a fourth successive year. According to latest figures China installed 15.9GW of new wind power capacity in 2012, equal to 35% of the world's new onshore capacity. The figures also mean that wind power now accounts for 5.3% of China's energy supply, making it the third largest energy source in the country after coal and hydropower. China has 61GW of cumulative grid-connected wind energy capacity However 15GW, equal to 20% of China's wind power capacity, remains unconnected to the grid because of grid connection issues. The analyst now predicts China will install 16.6GW of new capacity this year, and 17-18GW in 2014 and 2015, allowing the country to meet the government's 2015 target of 100GW of grid-connected capacity more than a year early. link
January 2011

: According to
a report
a
from a wind turbine manufacturer, China has now installed more wind power capacity than the United States. Wind installation surged there last year, far outpacing the US, and now China has an estimated base of 40,000MW of wind power installed. The US, which was the previous leader, ended the year with just shy of that. Not to further exacerbate the already over-dramatized US vs. China clean energy smackdown narrative, but China is totally laying the smack down on the US in clean energy.
link
April 2010: Wind power in China. China is already the world's largest market for wind power, and China's first offshore wind farm, a 102-megawatt array that's set to come to full power this month in the Yangtze River delta near Shanghai, looks to be the start of something big. Chinese officials announced plans for three to four large-scale offshore wind power projects generating up to 1,000 megawatts total. Predictions are that China will install 514 megawatts of offshore wind over the next three to four years, and by 2020 will have invested $100 billion to install up to 30,000 megawatts equal to all of the onshore wind farms currently installed in China. However quality shortcomings are rife in the Chinese turbine industry. A 2009 report on the Chinese market for clean energy technologies last year reported: "Real and perceived quality issues for Chinese domestically manufactured turbines and components negatively impact wind farm efficiency and constrain export market opportunities." link
September 2009: China could meet its energy needs by wind alone, according to a new report. Moving to a low-carbon energy future would require China to make an investment of around $900bn (at current prices) over the same 20-year period. The scientists consider this a large but not unreasonable investment given the present size of the Chinese economy. Moreover, whatever the energy source, the country will need to build and support an expanded energy grid to accommodate the anticipated growth in power demand. 'Wind farms would only need to take up land areas of 0.5 million square kilometers, or regions about three-quarters of the size of Texas. The physical footprints of wind turbines would be even smaller, allowing the areas to remain agricultural. link
Solar Power
January 2104: China sets record for solar installations. China installed a record 12GW of solar power in 2013, doubling its rate of solar installations. This is more than has ever been installed by any country in a single year: no country has ever added more than 8GW of solar power in one year before. It is also more solar than China had installed in all the years prior to 2013 put together, according to Li Shuo, a policy and energy analyst at Greenpeace East Asia. link
(June 2014) China's solar panel production comes at a cost. The environmental cost of Chinese- made solar panels is about twice that of those made in Europe, according to research by Northwestern University and the United States Department of Energy's Argonne National Laboratory. The analysis tallied the costs at every step of production, including the mining of raw materials, transportation and the factory's power supply. link
July 2013: China confirms goal of 35GW solar energy by 2015. China, the world's biggest maker of solar panels, plans to increase fivefold its installed solar capacity to more than 35 gigawatts by 2015 to support an industry faced with declining profits, slowing exports and a supply glut. link (In 2009 the goal was 9GW by 2020.)
Wave Power
April 2010: China proposes 10GW wave energy project along its coastline. China may be fast establishing itself as the global leader in wind and solar energy, but to date it has made little progress in the sphere of marine energy. Now that looks set to change after an Israeli marine renewables firm announced that it will complete construction of a 1MW wave power plant in China by the end of the month. The plant, which cost around $700,000 to build, is in Guangzhou province, and is the first installation in a proposed 10GW renewable energy project to install wave energy systems along the coastline. link
March 2013: Desertification expands due to drought. Four years of drought in southern and northwest China have resulted in severe desertification, and water shortages, affecting the lives of 400 million people, according to The China Green Foundation, which says a total of 2.6 million square km of land has turned into desert – 27.4% of China's land. On average 2,460 sq. km become desert each year, with the drought quickening the process. link

November 2012: China planning 'huge fracking industry'. With about 20% of the world's population and only 6% of the world's water resources, China is one of the least water-secure countries in the world. Its water shortages are made worse by pollution: According to the Ministry of Water Resources about 40% of China's rivers were so polluted they were deemed unfit for drinking, while about 300 million rural residents lack access to safe drinking water each year. If fracking takes off in China as planned, it will likely exacerbate the nation's existing water crisis. link

March 2010: Beijing's sandstorms. China's expanding deserts now cover one-third of the country because of overgrazing, deforestation, urban sprawl and drought. The shifting sands have led to a sharp increase in sandstorms, the grit from which can travel as far as the western United States. The government has spent millions of dollars on projects to rein in the spread of deserts, planting trees and trying to protect what plant cover remains in marginal areas. But the battle is being fought against a backdrop of rising average temperatures and increasing pressure on water resources after three decades of booming growth. link

December 2009.

Earth-friendly elements, mined destructively

.

Some of the greenest technologies of the age, from electric cars to efficient light bulbs to very large wind turbines, are made possible by an unusual group of elements called rare earths. The world's dependence on these substances is rising fast. Just one problem: These elements come almost entirely from China, from some of the most environmentally damaging mines in the country, in an industry dominated by criminal gangs. link (

China controls 97% of rare earth production

.) (

More on rare-earth metals

)

(April 2009) China vies to be world's leader in electric cars - story

Suggested sources for further information
Congressional Research Service (pdf)
The (U.K.) Guardian offers a regular compilation page of environmental items on China.

Footnote. Of 28 million electric bikes sold annually, 27 million are bought by Chinese. link